Posted on
Sat, Nov 26, 2011 : 7:12 p.m.
After practicing all season, Michigan football team unveils special celebration following Ohio State win
By Nick Baumgardner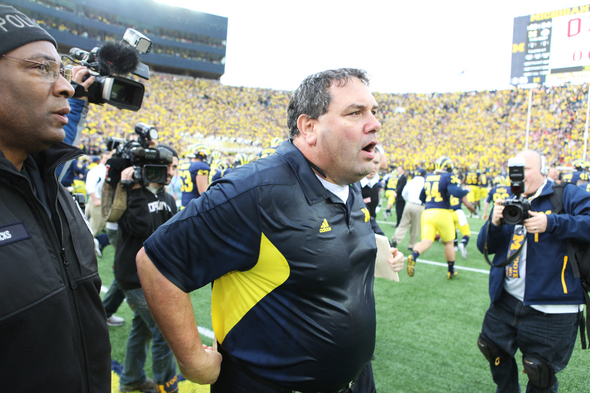 Jeff Sainlar | AnnArbor.com
There was little mistaking it, the Michigan football team's 40-34 victory over Ohio State on Saturday was a special occasion.
So, why not end it with a celebration?
Following sophomore cornerback Courtney Avery's game-clinching interception and Michigan's final kneel down, the entire team rushed to midfield, gathered in a circle and participated in a routine they'd been practicing every week throughout the season.
"That's something we've done every Friday," Michigan senior center David Molk said. "Every Friday we have a short practice, and at the end of practice we do our (victory) formation, we take a knee, we all get together, (junior quarterback Denard Robinson) throws the ball up to the ceiling (of the Al Glick Fieldhouse) and once it hits, we all fall."
In the routine, the ball acted as "grenade," and when it hits the ground, the entire group collapsed to the turf.
"We do that every Friday," Michigan senior receiver Junior Hemingway said. "We throw the ball up, everybody falls down.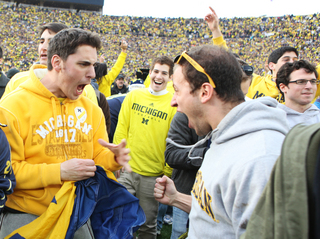 Jeff Sainlar | AnnArbor.com
"It's just a little something."
The planned celebration set off a wild scene, the likes of which Michigan Stadium hasn't seen in years.
Michigan coach Brady Hoke was splashed with water by junior guard Ricky Barnum, an ecstatic Mike Martin shouted a nearly indiscernible interview with the Michigan Radio Network and plenty of the 114,132 in attendance made their way from the stands onto the field.
Hemingway said he could only stand numb, not sure how to react after earning his first victory over Ohio State as a Michigan player.
Senior tight end Kevin Koger's first reaction was to find a current teammate to embrace before lending his own thoughts to former teammates who never had a chance to beat the Buckeyes.
"First and foremost, I just wanted to find a teammate to celebrate with," he said. "I found a lot of those guys running around crazy like chickens with their heads cut off.
"(You think of) the Martell Webb's of the world and the John Ferrara's of the world, guys that didn't get a chance to beat Ohio State. Hopefully they can live through us, because we definitely did it for them."
Hoke said the entire celebration was an outpouring of emotion following a long journey that began in January.
"You saw them on the field, how happy (they were)," he said. "It's been a struggle. They went to work in January, and it wasn't easy.
"It's fun as a coach to see them and see how they responded."
Nick Baumgardner covers Michigan sports for AnnArbor.com. He can be reached at 734-623-2514, by email at nickbaumgardner@annarbor.com and followed on Twitter @nickbaumgardner.