Posted on
Sat, Nov 26, 2011 : 6:52 p.m.
After quick turn of events, Michigan defense shuts the door on Ohio State in final seconds
By Nick Baumgardner
Melanie Maxwell | AnnArbor.com
The
Michigan football
team's defense made a stunning turnaround in nearly every statistical category this season.
On Saturday against Ohio State, though, the Wolverine defenders reverted to a few old habits, allowing a handful of big plays that kept the Buckeyes in the game.
But in the final minutes, with a chance to shut the door, the Michigan defense stood up and said no more.
"Defensively, we wish we wouldn't have gave up some things," Michigan defensive tackle Mike Martin said. "For it to come down to us, defensively, was something we were going to put on our back and make sure we came through for this team."
After an apparent Fitz Toussaint touchdown run gave Michigan a 10-point lead with roughly two minutes to play, the game appeared to be in the bag.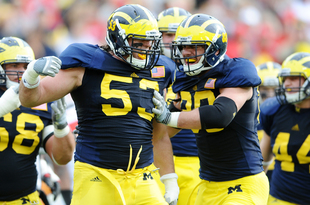 Melanie Maxwell | AnnArbor.com
Toussaint's touchdown was nullified, however, when an official review determined he came just short of the goal line.
"I swear, we have the most touchdowns called back on review," Michigan senior defensive lineman Ryan Van Bergen said. "I don't even like review anymore."
Following the call, Michigan appeared to score again after Denard Robinson entered the end zone on a quarterback keeper, but like the play before, it wasn't to be as a holding penalty wiped out the score. Making matters worse, Michigan was flagged for a personal foul on the play, pushing the ball back to the 26-yard line.
Two plays later, the Wolverines had to settle for a 43-yard field goal from Brendan Gibbons. Meaning the game was still in doubt, and Ohio State had the ball and a chance to win with 1:59 to play.
"Our defense had already made up its mind," Van Bergen said. "We wanted this game to come down to us."
That it did. After being bailed out when Braxton Miller overthrew a wide open DeVier Posey, the Wolverines eventually shut the door on Ohio State when Courtney Avery intercepted a tipped ball.
It wasn't the Michigan defense's finest hour, as the Wolverines gave up 34 points, but it was good enough.
"The aggression and the way we went out and came after their quarterback and jumped routes (at the end), I think we did a great job of that," Van Bergen said.
Players give props to Borges
After misfiring on a crucial fourth down play against Michigan State earlier this season, Michigan offensive coordinator Al Borges took considerable heat from the Wolverine fan base.
But in the team's most important game of the year, Borges seemed to push all the right buttons, putting Robinson and the offense in beneficial situations for most of the afternoon.
The playcalling performance prompted senior center David Molk to refer to his offensive coordinator as a "genius."
"He's an offensive genius," Molk said. "I love how he calls plays. You can question some of them, but at the same time, they're absolutely genius when they work.
"I love what he does."
Michigan senior tight end Kevin Koger, who caught the eventual game-winning touchdown pass in the fourth quarter, said Borges' call on Michigan's final touchdown wasn't the same play the team ran on fourth down against MSU.
It looked the same, but it wasn't.
And this time, it worked.
"It was a completely different play," Koger said. "It was a great play-call on his part."
Robinson and the record book
With five combined touchdowns and 337 yards of total offense, Robinson again made a move up the Michigan football record book.
With 14 completions, Robinson passed Steve Smith and moved into eighth-place on the school's all-time list with 329. His three touchdown passes gave him 38 for his career, moving him by Todd Collins into sixth-place all-time.
On the ground, Robinson's 170 yards moved him in front of former back Billy Taylor for eighth place all-time. Robinson now has 3,216 yards for his career. With two touchdowns, Robinson brings his career total up to 35, passing Rick Leach for fifth-place all-time.
The game also marked the 14th time Robinson has rushed for 100 yards, the seventh-best total in Michigan history.
Mic'ed up
Referee Bill LeMonnier accidentally left his microphone on after reporting Michigan took a 9-7 lead with a safety in the second quarter on Saturday. Everything LeMonnier said — and everything being said around him — was clearly audible in the Michigan Stadium press box.
That included Ohio State head coach Luke Fickell demanding further explanation/complaining about the holding call in the end zone and the scrum that broke out between the players on the ensuing kickoff.
Despite the back-to-back highly contentious on-field moments, nothing salacious was overheard.
In response to Fickell's complaints — which itself was G-rated — LeMonnier said, "He dragged him down by his face mask, Coach." Surprisingly, no profanity from the players made its way across the mic during the short-lived melee either and LeMonnier kept the peace by shouting, "Stay! Stay!" to the players he was separating.
Safety valve
The Michigan defense was credited with its second safety of the season when Ohio State was called for holding in end zone in the first quarter. Michigan also had a safety against Purdue in Week 8.
Both sacks broke a 7-7 tie.
Prior to the season Michigan hadn't had a safety since 2003.
Odds and ends
The pregame video on the Michigan Stadium video boards featured appearances from several former players, including Tom Brady, Brian Griese, Charles Woodson, Mike Hart and Steve Hutchinson. ... Hart and former standout offensive tackle Jake Long watched the game from the Michigan Stadium press box. ... Michigan basketball legend and College Basketball Hall of Fame honoree Cazzie Russell was honored at the game. ... 2012 Michigan basketball signee Mitch McGary confirmed via Twitter that he was in Ann Arbor for Saturday's game.
AnnArbor.com's Pete Cunningham contributed to this report.
Nick Baumgardner covers Michigan sports for AnnArbor.com. He can be reached at 734-623-2514, by email at nickbaumgardner@annarbor.com and followed on Twitter @nickbaumgardner.