Posted on
Thu, May 27, 2010 : 6 a.m.
It's all about wins and losses for Michigan football coach Rich Rodriguez
By Michael Rothstein
Rich Rodriguez received what he's always wanted Tuesday. For the first time since allegations of NCAA impropriety showed up in August, Rodriguez's status as Michigan's football coach isn't tied to anything off the field. It's about whether or not his team wins.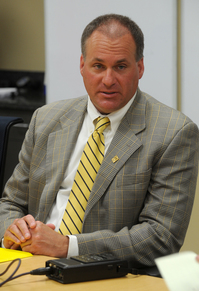 Melanie Maxwell | AnnArbor.com
Michigan athletic director
Dave Brandon
, who has publicly supported Rodriguez since before he took over the school's athletic department in March, made that clear. "Same questions in February," Brandon said about Rodriguez's job security Tuesday. "And same answers." In other words, Rodriguez will coach at Michigan in 2010. Brandon's words and the language throughout
Michigan's 79-page response to the five NCAA allegations
levied against Rodriguez and his football program confirmed that. It started its strong defense of the program and of Rodriguez within the first 500 words of the report, taking a shot at the Aug. 29 story in the Detroit Free Press that triggered the investigation saying the initial media reports were "greatly exaggerated if not flatly incorrect." It continued when Michigan publicly disagreed with the fourth allegation stating Rodriguez "failed to foster an atmosphere of compliance." Brandon made Rodriguez his guy, his football coach. He didn't hire him. But he's sticking by him. Michigan could have pinned the NCAA violations on Rodriguez and his program instead of sprinkling seven letters of reprimand throughout the athletic department.
That Michigan stuck by Rodriguez is unsurprising. The large Michigan fan base may be divided on Rodriguez, but the university brass is not, at least publicly. Michigan supported Rodriguez in February when Michigan announced the notice of allegations. It also did when the story first broke in August. And it has backed him with consistency since former athletic director Bill Martin and Michigan President Mary Sue Coleman selected Rodriguez to replace Lloyd Carr in 2007. After all, Michigan paid $2.5 million of Rodriguez's buyout from West Virginia.
Michigan's leaders stuck by Rodriguez even though Michigan is 8-16 in two seasons. The Wolverines have won three Big Ten games in that span, have yet to reach a bowl game and have had their most unsuccessful two-year stretch since before Bo Schembechler took over the program. The offense has been inconsistent. The defense has been worse. Michigan's special teams looked horrific in April's spring game. Throughout it all, Coleman, Martin and now Brandon remained confident in Rodriguez. It has led to this moment. When Michigan released its report Tuesday it served as a turning point in Rodriguez's career in Ann Arbor. From here, he can succeed or fail on his terms. On the field.
Michael Rothstein covers University of Michigan sports for AnnArbor.com. He can be reached at (734) 623-2558, by e-mail at michaelrothstein@annarbor.com or follow along on Twitter @mikerothstein