Posted on
Tue, Nov 16, 2010 : 11:55 a.m.
Michigan senior defensive tackle Adam Patterson makes most of his chance to start
By Michael Rothstein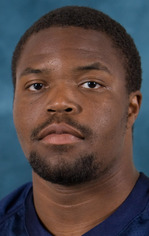 On a rainy afternoon in West Lafayette, Ind., Adam Patterson's five years of work in the Michigan football program paid off.
Shortly after warmups before Saturday's Michigan-Purdue game, Patterson was told he would start at defensive tackle, taking over for the injured Mike Martin.
His coaches told Patterson to relax and not be nervous. But …
"Yeah," Patterson said. "It was kind of hard to relax."
Patterson had four tackles in Michigan's 27-16 victory against Purdue. The road from Columbia, S.C., to a starting role - even if for just one game - was tough.
Patterson played sparingly as a true freshman in 2006, when Michigan went to the Rose Bowl. He recorded his first sack as a sophomore in 2007. Then, in the season-opener against Utah in 2008, he forced a fumble, but injured his knee and didn't play the rest of the season.
He looked to what his mother, Debbie Cherry Patterson, frequently told him. Believe. You'll eventually get to play.
It was the message she and Patterson's father, Don, preached throughout his first four seasons at Michigan. It is what Cherry Patterson believed as she attended every one of the Wolverines' games since the start of his sophomore year.
"What doesn't kill him would make him stronger," Cherry Patterson said. "It's made him stronger, this whole experience and everything has a reason.
"There's a reason for everything."
Last year, playing behind defensive end Brandon Graham, Patterson primarily played on special teams. In the off-season he moved back to his natural position at defensive tackle and found himself behind Martin, once again backing the Wolverines' best defensive player.
All the while, Patterson remembered what his parents told him.
"I (believed them)," he said. "I mean sometimes I was like, 'Eh, whatever.' But I kind of had a feeling that I might actually get a shot."
Against Iowa on Oct, 16, Patterson received his first extended stretch of playing time when Martin left the game with an ankle injury. Patterson was exhausted after the game.
"It was great to actually get out on the field and play long enough to get tired," Patterson said. "That's actually pretty good." Then came Saturday at Purdue, a turnover-filled game, but the Michigan defense didn't allow a touchdown.
"Played pretty well," Michigan coach Rich Rodriguez said of Patterson. "He really did."
Martin is expected to return to his starting role Saturday when Michigan (7-3, 3-3 Big Ten) plays host to Wisconsin (9-1, 5-1) at noon (ESPN). But in the interim, Martin encouraged Patterson throughout his time on the field. Patterson said that helped him relax.
After waiting and waiting, Patterson's finally played. He has 11 tackles this year, recorded a sack, broke up a pass and was one of Cam Gordon's personal escorts to the end zone on Saturday for Michigan's only defensive touchdown in 2010.
Playing more recently also allowed Patterson to wonder. Often, the thoughts come at night, when he's home and away from Schembechler Hall. With his final home game approaching, it has intensified as well.
"It's always going to be that thought in my head. What if I had played as well as I am right now?" Patterson said. "What would it have been like if I had played that way then?
"… This is the last game, so it's motivation, but I'm happy to actually be honored and out there."
Michael Rothstein covers University of Michigan basketball for AnnArbor.com. He can be reached at (734) 623-2558, by e-mail at michaelrothstein@annarbor.com or follow along on Twitter @mikerothstein