Posted on
Tue, Dec 27, 2011 : 5:59 a.m.
Michigan's Denard Robinson looks to become next Al Borges QB to make Year 2 leap
By Kyle Meinke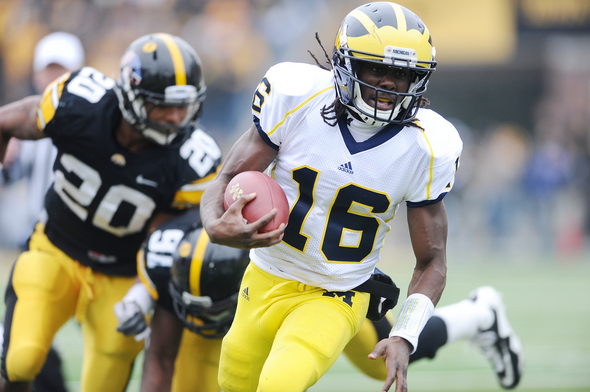 Melanie Maxwell | AnnArbor.com
Michigan quarterback
Denard Robinson
ended the regular season playing perhaps the best football of his career.
The junior had his best overall performances in the final two games, when he led Michigan to 85 points and a pair of wins. He peaked against Ohio State, when his stat line was an absurd 14-of-17 passing for 167 yards and three touchdowns.
He also rushed for 170 yards and two touchdowns, a performance that carried Michigan to a 40-34 win and a Sugar Bowl matchup next Tuesday against Virginia Tech (8:30 p.m., ESPN).
Offensive coordinator Al Borges credits that development, more than anything, to Robinson becoming comfortable with the nuances of the spread-West Coast offense.
Which raises the question: Just how good can Robinson be, given an entire off-season to soak in Borges' scheme?
"It's so different now than when we first started," Borges said last week. "When he gets a chance in the off-season, puts his little 7-on-7 drills together with the rest of the guys and then gets into spring football. ... By the time we hit next fall, I think he'll hit the ground running pretty good. He'll be very comfortable under center."
Even at Robinson's lowest points this season — including a midseason lull that had some critics calling for backup Devin Gardner to start — Borges insisted Robinson's performance arc under him was normal.
And, sure enough, Robinson finished with a flourish. He completed 133 of 237 passes this year for 2,056 yards and 18 touchdowns.
But, his mistakes also added up. He had 14 interceptions, which tied for seventh in the country.
Quarterbacks tend to struggle in new systems. Borges' system is no different.
He often cites the development of former UCLA quarterback Cade McNown as a precedent for Robinson.
When Borges was hired at UCLA before the 1996 season, he inherited McNown, a sophomore returning starter. But McNown struggled in that initial season, completing 176 of 336 passes (52.4 percent). He had 16 interceptions (versus 12 touchdowns) and a Pac-10-worst 115.2 passer rating.
In their second year together, though, McNown was 189-of-312 passing (60.6 percent) and had 24 touchdowns against just six picks. He led the country with a 166.0 passer rating.
Another Borges protege, San Diego State's Ryan Lindley, followed a similar arc. Despite being a returning starter in Borges' first year in 2009, Lindley's completion rate dipped by 2 percent, to 54.7, and his interceptions spiked by seven, to 16.
In his second year under Borges, Lindley was 243-for-421 passing (57.7 percent) for 3,830 yards, 28 touchdowns and 14 picks. He had a passer rating of 149.4, which was 21st nationally — one spot behind Robinson.
Lindley became a top NFL prospect in his second year under Borges (although that stock took a major hit this year without him).
Borges said he expects Robinson to make a similar leap next year.
"I think he's catching on," Borges said. "He's doing pretty much what every quarterback I've had in the first year has done. He started a little slow. Again, I said this before, is our passing game is so different from what they've done. There were going to be pains because there always is."
"He's starting to absorb the concepts and be able to understand what we want, and it's showing up at the end more than it did earlier."
Borges said Robinson's evolution will continue in the off-season, when he will have Robinson work on his understanding of the offense, footwork, timing and read progressions.
He'll be working on those same concepts this week in preparation for the Hokies, whose defense ranks 14th overall and seventh in points allowed per game.
Michigan scores 34.2 points per game.
Kyle Meinke covers Michigan football for AnnArbor.com. He can be reached at 734-623-2588, by email at kylemeinke@annarbor.com and followed on Twitter @kmeinke.