Alabama loses 2 defensive backs in 2 days with Michigan looming in opener
Posted on Sat, Aug 11, 2012 : 7:15 p.m.
Michigan quarterback Denard Robinson has touted his gains in the passing game all offseason, yet is tasked with facing the country's reigning No. 1 defense in the opener.
That task has become slightly more manageable -- slightly -- after Alabama lost two defensive backs in the past two days.
The Crimson Tide announced Friday that cornerback Travell Dixon left the team for "personal reasons," then revealed Saturday that safety Jarrick Williams tore an ACL during Friday's practice and is lost for the season.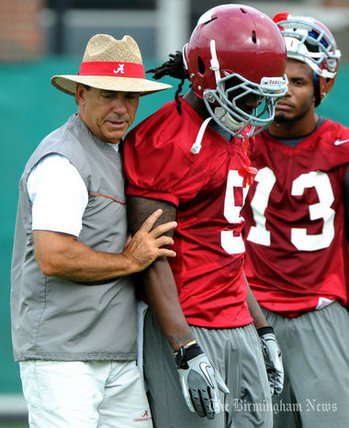 Photo courtesy of The Birmingham News
Dixon was a junior college transfer who was in the mix to receive playing time as a reserve.
Williams recorded five tackles in seven games last year as a freshman. He was fighting to back up Vinnie Sunseri at strong safety.
Alabama also is replacing in its secondary two first-round NFL draft picks, Mark Barron and Dre Kirkpatrick, as well as key contributors DeQuan Menzie and Phelon Jones.
"We are going to have some young guys in the secondary who are going to have to be back-up players," Saban told reporters, according to al.com. "And they're probably going to have to have some roles."
How will Alabama compensate for the losses? A couple snippets from Andrew Gribble of al.com:
The young player with the newest role is freshman Eddie Williams, a five-star prospect from Panama City, Fla., who switched from wide receiver to safety Friday. At 6-foot-3 and 204 pounds, Williams, who played safety in high school, is "big and very physical," Saban said, but remains an absolute novice with the mental aspects of the position.

Two more highly touted freshmen -- safety Landon Collins and cornerback Geno Smith -- are probably going to have a role, Saban said. Collins, one of the highest-rated recruits in the country, appears physically ready for the SEC while Smith has been receiving looks at the Crimson Tide's "money" position in the secondary.

Alabama, with its frequent use of nickel and dime packages, needs more than just four reliable starters to fill its secondary.
Alabama finished first in the country in pass defense last year, allowing opponents to gain just 111.5 yards per game through the air. The next closest team was South Carolina at 131.7 yards per game.
It also was first against the run, first in scoring defense and -- unsurprisingly -- first in overall defense.
Michigan averaged 182.8 yards passing per game last year, 93rd in the country, but is expected to be better with Robinson in his third year as a starter, and second in coordinator Al Borges' spread-West Coast scheme.