Posted on
Tue, May 24, 2011 : 3:10 p.m.
Five Michigan teams record perfect APR scores; all 27 varsity programs avoid NCAA penalties
By Michael Rothstein
All 27 of the University of Michigan varsity sports teams are safe from APR penalties from the 2009-10 academic year.
The NCAA released its annual multi-year Academic Progress Rate numbers on Tuesday afternoon and only one sport, football, came close to the multi-year penalty line of 925.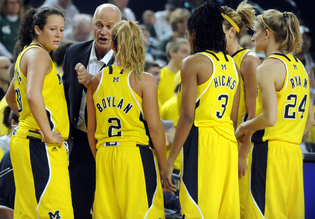 Melanie Maxwell | AnnArbor.com
The Michigan football team had a 928 multi-year score, below the national APR average for football of 946.
The APR is calculated by the eligibility and retention of athletes over a four-year cycle, which has been a problem for Michigan football during the transition from former coach Lloyd Carr to former coach Rich Rodriguez. This multi-year APR is judged from the 2006-07 season to 2009-10.
Michigan football's APR number fell for the fourth straight year. It is expected that the number will level off or improve next season as there has been little attrition under new football coach Brady Hoke.
Every other Michigan sport was well above the line instituted for sanctions.
Five sports had perfect APR scores of 1,000: men's golf, men's gymnastics, men's tennis, women's basketball and women's tennis.
"I am pleased that all of our teams rank above the NCAA standard for APR but there's definitely room for improvement," Michigan athletic director Dave Brandon said in a statement. "I applaud the efforts of the five programs with perfect scores during the four-year cohort and the 12 teams that achieved a perfect score for the 2009-10 academic year."
Of Michigan's other main sports, the men's basketball team had an APR rate of 970 and the hockey team had a score of 988.
The Michigan men's basketball APR rose for the third straight year, up to 970 from 956.
The NCAA also released APR scores for individual head coaches.
Rodriguez had an APR of 946 for this past season, an improvement of 49 points from his 897 score a year ago. The 946 is the national average for all Division I teams.
Hoke, Michigan's new football coach, had a 944 APR in his final year at San Diego State.
Michigan basketball coach John Beilein's APR score dropped from 1000 — a perfect score — to 980, likely due to the departure of Manny Harris. His APR score, though, is well above the 945 national average for basketball coaches according to the NCAA site.
Twelve Michigan sports had perfect single-year APR scores: men's cross country, men's golf, men's gymnastics, men's ice hockey, men's tennis, women's basketball, women's cross country, women's swimming and diving, women's tennis, women's indoor track and field, women's volleyball and women's water polo.
Michigan football had a single-year APR of 946 and men's basketball's score was 980.
Michael Rothstein covers University of Michigan basketball for AnnArbor.com. He can be reached at (734) 623-2558, by email at michaelrothstein@annarbor.com or follow along on Twitter @mikerothstein