Posted on
Thu, Oct 6, 2011 : 5:58 a.m.
Almost a Wildcat, Michigan center David Molk now happily parks his Cadillac in Ann Arbor
By Nick Baumgardner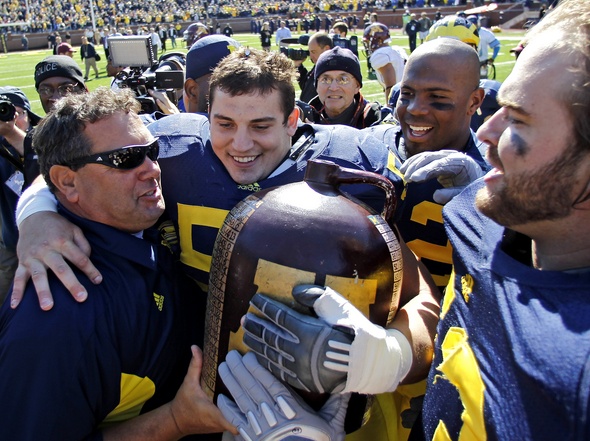 Associated Press
Long before
David Molk
became the heartbeat of the
Michigan football
team's offensive line or a finalist for the
Rimington Trophy
, he made a childhood bet with his father.
The proof of that bet sits outside Schembechler Hall just about every day.
"We made a deal when I was really young," the Wolverine senior center explained. "He said that if either (my brother or I) got a full scholarship to college, we'd get any American-made car we want.
"It's a Cadillac, and it's outside in the parking lot (right now)."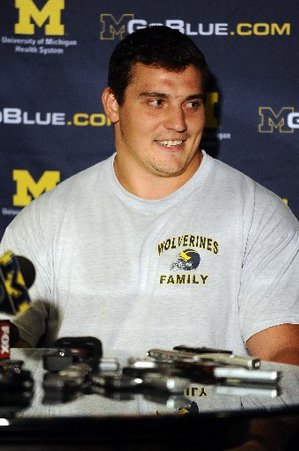 Melanie Maxwell I AnnArbor.com
Molk's prized 2006 STS has no doubt been a reward well earned. But if Michigan's opposing coach for Saturday had anything to say about it, that car would be parked in Evanston, Ill., not Ann Arbor.
Prior to his senior season at Lemont Township High School in Lemont, Ill., Molk said the thought of playing football in college wasn't something that consumed him.
In fact, he says it barely crossed his mind.
"It was almost like, 'Oh, I have a year left, and then that's it, football's done,'" Molk said of his high school days.
But that was before Northwestern coach Pat Fitzgerald came calling.
Then a linebackers coach and recruiting coordinator with the Wildcats, Fitzgerald became infatuated with Molk's work ethic, his ability and his love for the game. And since Molk grew up in Northwestern's back yard, he figured the duo to be a perfect fit.
Fitzgerald was the first to offer Molk a scholarship, and to this day, remains a big fan.
"He plays with an attitude, man," Fitzgerald remarked earlier this week. "He plays the game the way it's supposed to be played. He plays with great quickness, great balance and plays with his feet apart, which to me is a key to being a great offensive lineman.
"And then he just does a great job of finishing plays. He's got a nasty attitude about him, he likes getting after people and grinding them up. He's a fun guy to watch."
Molk says even now that he was close to taking Fitzgerald up on his offer, as Northwestern was among his top choices, along with Michigan, Iowa and Wisconsin.
THURSDAY LIVE CHAT
Come back to AnnArbor.com at noon Thursday for a live chat with Kyle Meinke. He'll recap the Wolverines' win over San Diego State, discuss news that emerged this week and preview the game against Minnesota on Saturday.
He said he even remembers the day the offer came. Molk was doing what he normally did at Lemont, lifting weights, when his father ran into the room shouting some rather important news.
"He goes, 'Dave, Northwestern offered you and you're going to play college football,'" Molk recalls. "'And, you're going to college for free!' He was more happy about that, he didn't care that I was going to play."
Molk did go to college for free, but it wasn't at Northwestern.
And while that's a fact that seems to sadden Fitzgerald to this day, it's one that the current Michigan coaching staff is overly thankful for.
"The center is the quarterback of the offensive line, and David Molk certainly fits that mold," Michigan offensive coordinator Al Borges said. "He can get us all working in the right direction.
"We're lucky (to have him)."
Molk entered his final season at Michigan as a member of the Rimington (top center) and Lombardi Award (top lineman) watch lists, and was also voted by his peers as one of the team's three captains.
He's also rated by ESPN.com as the second-best center prospect for the 2012 NFL Draft.
He's not really a fan of media interviews, and if forced to give one, he generally spends more time talking about teammates than his own individual effort. He's also a motivator, and a player that admittedly isn't afraid to get in the face of a teammate if need be.
AnnArbor.com file photo
Just ask mammoth offensive tackle
Taylor Lewan
, who has seen a dip in penalties this season in part because, Molk says, "I taught him to be nice to people, especially the (officials)."
Molk's a throwback and, pound-for-pound, one of the top linemen in the Big Ten. Which is why he'll have the admiration of both his own coaching staff Saturday, as well as the one he's playing against.
Fitzgerald has had to come to grips with the fact that Molk's Cadillac, and his unique skill set, ended up at Michigan.
And though he won't be rooting for him Saturday, he says he will be every week thereafter.
"A lot of times I just watch him as a fan," Fitzgerald said. "Unfortunately, we've got to play against him this week. But I'll be a fan of his as we move forward.
"I'm really proud of the job he's done."
Nick Baumgardner covers Michigan sports for AnnArbor.com. He can be reached at 734-623-2514, by email at nickbaumgardner@annarbor.com and followed on Twitter @nickbaumgardner.