Posted on
Tue, Aug 7, 2012 : 9:30 a.m.
WR Amara Darboh 'shocked' teammates, named Michigan's most impressive freshman on 1st day
By Kyle Meinke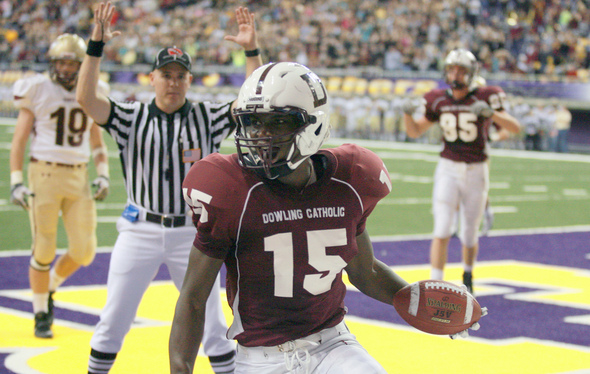 Bill Neibergall | The Des Moines Register
The
Michigan football
team is in search of a third starting wide receiver and, although it's far too premature for a true leader to emerge, one player is off to a fast start.
He happens to be a true freshman.
Amara Darboh earned rave reviews from teammates for his play Monday in the Wolverines' first fall practice. Senior receiver Roy Roundtree called him the best freshman of the day, regardless of position.
"He had a couple catches that shocked us," senior quarterback Denard Robinson said. "He competed today. You could tell he wants to play."
Michigan is dealing with turnover at receiver, after graduating top wideout Junior Hemingway and dismissing projected starter Darryl Stonum. Roundtree and junior Jeremy Gallon are returning starters, but who plays alongside them?
It would be big for Michigan if Darboh were capable of the job because he's, well, big.
Darboh checks in at 6-foot-2, 220 pounds. For comparison, Hemingway, another big-bodied wideout, played last season at 6-1, 222 pounds.
"He's really fast and strong," said Roundtree, who is rooming with Darboh during camp. "Amara, he just showed out today. I feel like he's really being comfortable. I told him, 'It's football, man. It's just a faster pace.' And he did it."
The senior has been impressed with Darboh, but acknowledges he has a ways to go before he has a handle on the mental aspects of the position.
"I quizzed him last night to make sure he was on his Ps and Qs," Roundtree said. "He asks a lot of questions, but he did a great job.
"His head is spinnin', just like all the other freshman. Asking questions. But he's a great kid."
Darboh was born in Sierra Leone, but moved to Des Moines, Iowa, after his parents were killed in the African country's civil war.
He will battle for time with returner Jerald Robinson, as well as possibly Devin Gardner. The quarterback has been practicing at receiver, although it's unknown whether he's making the move full time or situationally.
There's also another freshman, Jehu Chesson, who was not as impressive as Darboh on the first day but showed flashes of talent.
"He can spread the field," Roundtree said. "Skinny guy, but he's tall and can run great routes. He goes up for the balls like Coach (Jeff) Heck(linski) wants him to. He's going to be good.
"I feel like they recruited two great wide receivers."
Kyle Meinke covers Michigan football for AnnArbor.com. He can be reached at 734-623-2588, by email at kylemeinke@annarbor.com and followed on Twitter @kmeinke.