Posted on
Fri, Nov 4, 2011 : 10:30 a.m.
Amid fluidity in secondary, Michigan will need cornerback J.T. Floyd to continue his rise to prominence
By Kyle Meinke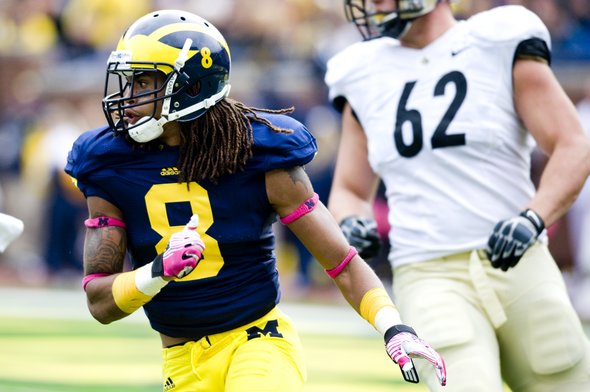 Joseph Tobianski | AnnArbor.com
Twelve months ago this week, Michigan cornerback J.T. Floyd suffered an ankle injury that ended his season four games early.
He had played well, especially considering he was playing without injured starting cornerback Troy Woolfolk opposite him.
Now, Floyd again is playing without Woolfolk, but for an entirely different reason.
He also no longer is playing well. He's great.
And, with all the moving parts on defense, the rise of Floyd becomes of pronounced importance for the Michigan football team, which travels to face Iowa (5-3, 2-2) at noon Saturday on ESPN.
Melanie Maxwell | AnnArbor.com
"Everybody was kind of questioning whether he'd bounce back from his injury fully or not, and he's absolutely answered the challenge — every time," senior defensive lineman
Ryan Van Bergen
said this week.
Floyd has been so outstanding this year, opposing offenses have eschewed throwing deep routes toward him almost all together. He has 29 tackles, fifth on the team and first among the cornerbacks. He also has one interception, five pass breakups and forced one fumble.
Floyd was good last year, but has since grown into one of the Big Ten's better cornerbacks. He also has played an important role on the Wolverines' revamped defense.
Michigan was ninth-worst nationally against the pass last season. Opposing quarterbacks posted a rating of 144.79, 104th in the country, and completed 63.8 percent of their passes, 106th nationally.
This year, Michigan is 25th against the pass and allowing 67.4 fewer passing yards per game. It is sixth in scoring defense.
The improvement is a function Floyd's maturation. Coaching and schemes help, too.
"I think we were a little bit more predictable last year, in comparison to this year," Van Bergen said. "There's a lot of guys last year you'd see standing in the same spots on all our defenses.
"But this year, you can't tell if a corner is playing press-man, or if he's just squatting in cover-2, and sometimes they'll bail out in cover-3. The things we do to mix it up keeps teams guessing."
Van Bergen said the coaches also singled out Floyd in particular, challenging him "more so than anybody else."
"The things that he's been working on, they've showed up on Saturdays, and they make him an intimidating player to throw against," Van Bergen added.
The Wolverines will be banking on that player to show up against Iowa.
Due to injury, Floyd now is the most experienced player in the Michigan secondary. He is playing opposite Blake Countess, a freshman with only one career start.
Countess has played well, but didn't turn 18 until two days before fall camp. He's young, inexperienced and prone to youthful mistakes — especially at Kinnick Stadium, one of the most difficult road venues in the Big Ten.
Additionally, the depth at safety is in question with starter Jordan Kovacs (knee) and Marvin Robinson (undisclosed) dealing with injuries. Neither played last week, and the status on both is in doubt this week.
So, with starting safety Thomas Gordon, Countess and either Kovacs or Woolfolk in the secondary, Floyd has become the most experienced player at his current position in the defensive backfield.
That means he will be an important cog in stopping standout Iowa receiver Marvin McNutt. The senior wideout is one of the Big Ten's best receivers, and already has set the Iowa career touchdown receptions record this year with 25.
He has 48 receptions for 858 yards and nine touchdowns this year. By comparison, no Michigan receiver has more than 23 catches, 450 yards and two touchdowns.
McNutt is large-bodied receiver at 6-foot-4, 215 pounds. Michigan hasn't faced a receiver of his caliber and size since Notre Dame's Michael Floyd in Week 2 — and he had 13 catches for 159 yards against the Wolverines, both season highs.
The Wolverines, who have no starters taller than 6-foot in the secondary, have struggled against receivers of McNutt's size.
If Floyd wants to become an elite cornerback — and Van Bergen said he's expressed that — it starts by stepping up in a young secondary and shutting down a star such as McNutt.
PREDICTION
The Wolverines are more talented than Iowa, but also have played only one good half of football out of four on the road. They're young, particularly on defense — two freshmen are expected to start at linebacker, another at cornerback and Kovacs' status is unknown — and quarterback Denard Robinson has been inconsistent on the road. Additionally, Iowa has been tremendous this year at Kinnick Stadium, where they are unbeaten and averaging 39.2 points per game.
In the end, though, Michigan's defense will be enough to slow McNutt and tailback Marcus Coker, and Robinson and tailback Fitz Toussaint will churn out yardage on the ground for the Wolverines. They outplay the Hawkeyes, but mistakes committed because of youth and the road environment will keep it close. Michigan 31, Iowa 24
Kyle Meinke covers Michigan football for AnnArbor.com. He can be reached at 734-623-2588, by email at kylemeinke@annarbor.com and followed on Twitter @kmeinke.