Posted on
Thu, Feb 2, 2012 : 5:59 a.m.
An early look at the Michigan football depth chart, and how the incoming recruits fit in
By Kyle Meinke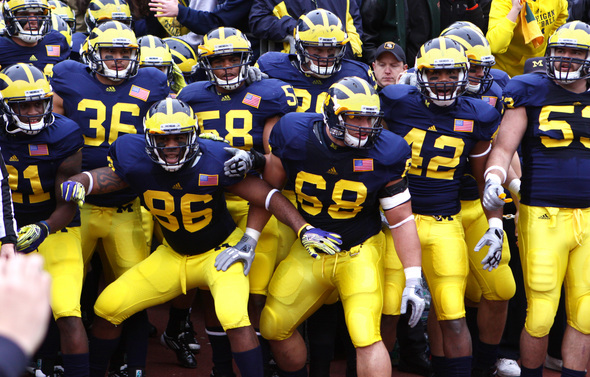 Jeff Sainlar | AnnArbor.com
A sign the
Michigan football
program is starting to turn the corner?
Not many true freshmen are expected to play significant roles next year, and perhaps only one will start.
But, there a few who could push returners, especially at positions such as offensive and defensive line, where graduation has decimated the two-deep.
Here's an early look at what next year's depth chart might look like and how the incoming recruits fit into the puzzle.
Quarterbacks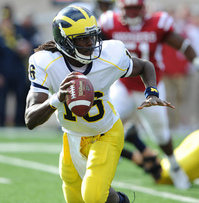 Starters lost:
None
Projected starter:
Denard Robinson
In the mix:
Devin Gardner
Recruiting class:
None
Breakdown:
There's been some talk Robinson will switch to another position, or that Gardner should at least challenge for the position outright. That's silly. Robinson is the starter, and there's no equivocations there. Of course, Gardner could continue to see the field in "deuce" formations, with Robinson lined up elsewhere, and that set might be employed more often than last year. And don't be surprised to see it expanded, with Robinson actually running routes.
It's usually a rule of thumb that a program should take at least one quarterback per class, but not getting one is OK here. Michigan has an entrenched starter in a senior Robinson, and a clear heir in a junior Gardner, with top 2013 prospect Shane Morris already locked up for next year's class.
Offensive line

Starters lost:
C David Molk, RT Mark Huyge
Projected starters:
LT Taylor Lewan, LG Ricky Barnum, C Rocko Khoury, RG Patrick Omameh, RT Michael Schofield
In the mix:
Chris Bryant, Jack Miller, Kyle Kalis, Ben Braden, Elliott Mealer
Recruiting class (4):
Kyle Kalis, Ben Braden, Erik Magnuson, Blake Bars
Breakdown:
Depth is tenuous here, which is why Kalis and/or Braden might find their way onto the field as true freshmen. There's no doubt the staff would prefer to redshirt them, but that is a luxury the Wolverines might not be afforded with the departures of Molk and Huyge.
Offensive line coach Darrell Funk was clear Wednesday that none of the incoming recruits were brought in to play center, which means Michigan will be forced to turn to a returner there. Khoury and Miller are mostly toss-ups to replace Molk, a tough assignment after the departing senior won the Rimington Trophy last year as the nation's best center.
At right tackle, things become a little more interesting. Most likely, the Wolverines will move Schofield back here after he spent most of last season filling in at left guard for the oft-injured Barnum. However, should Barnum be moved to center — and there seems to be some possibility of this — then Schofield likely would stay at left guard and either Kalis (a five-star who measures 6-5, 305 pounds) or Braden (6-6, 319 pounds) would be forced into the lineup.
Either way, Bryant and Kalis likely will be the primary reserves at the non-center spots. Magnuson has tremendous top-end potential, and projects to be the team's successor to Lewan at left tackle. However, at 6-foot-6, 275 pounds, he has to first develop his physique.
Tight ends
Starters lost: Kevin Koger, Steve Watson
Projected starter: Brandon Moore
In the mix: A.J. Williams, Ricardo Miller
Recruiting class (2): A.J. Williams, Devin Funchess
Breakdown: Michigan loses everything here in Koger, a team captain who departs after starting 31 games and recording 59 catches. The Wolverines' returners combine for two career catches, both by Moore.
Moore will be the leader to start here, but expect Williams — whom Funk said will not be switching to the offensive line — to see the field at least as the second tight end. He also could challenge Moore for the primary tight end role. Funchess is a better pass-catcher than Williams, but also needs more polishing. He could redshirt, particularly if he doesn't find a home on special teams.
Receivers
Starters lost: Junior Hemingway, Darryl Stonum
Projected starters: Roy Roundtree, Jeremy Gallon, Amara Darboh
In the mix: Jerald Robinson, Drew Dileo, Jeremy Jackson, Jehu Chesson
Recruiting class (2): Amara Darboh, Jehu Chesson
Breakdown: The receiving corps were inconsistent last year (not that it was all their fault), as Wolverines quarterbacks completed just 155 passes, a 22-year low. Now, they lose their top-two wideouts in Hemingway (graduation) and Stonum (dismissal).
Among returners, only Roundtree has put together an impactful season, and that came two years ago. He had 19 catches in 2011. He is expected to start next year alongside the up-and-comer Gallon.
That means there is a hole for one starter, and it likely will be filled with a bigger body (Roundtree is 6-foot, Gallon is 5-8). Although Robinson will be the early leader for the spot, Darboh could, in time, become the one true freshman to start on offense. Receivers coach Jeff Hecklinski is impressed with his hands, and Darboh also has a terrific combination of size (6-2, 200 pounds) and speed (4.42-second 40-yard dash).
Tailbacks
Starters lost: None
Projected starter: Fitz Toussaint
In the mix: Vincent Smith, Thomas Rawls, Stephen Hopkins
Recruiting class (2): Drake Johnson, Dennis Norfleet
Breakdown: Toussaint broke onto the Big Ten scene last year, averaging 135.6 yards per game after being awarded the featured back role for the Purdue game. He rushed for at least 100 yards in all but one of those five games, finished with more than 1,000 yards overall and is anchored as the starter.
Smith will factor in as the third-down back, especially on true passing downs because he is the team's best blocker. He also is dangerous on screens. Rawls, coming off his true freshman season, could also fit into the rotation if his consistency improves, especially in the blocking schemes.
Johnson likely will redshirt. Norfleet likely won't see time on offense, but Hoke said Wednesday he could compete to absorb Stonum's spot in the return games.
Fullbacks
Starters lost: John McColgan (although he lost his spot midway through the season)
Projected starter: Stephen Hopkins
In the mix: Sione Houma
Recruiting class (1): Sione Houma
Breakdown: Hopkins usurped McColgan for the starting duties midway through last season, and showcased versatility (blocking, rushing, receiving) at the position. He is putting on weight in the off-season, and will be the guy. Houma is the Wolverines' first true fullback recruit since Vince Helmuth in 2007, but will play only if needed. He is a likely redshirt as he bulks up (he's listed at 6-foot, 215 pounds).
Special teams
Starters lost: None
Projected starters: Matt Wile on kickoffs and punts, Brendan Gibbons on field goals
In the mix: Will Hagerup
Recruiting class: None
Breakdown: Hagerup was suspended four games to begin last season, then never found the form that made him a star as a freshman. He struggled so badly, in fact, that Wile took over the punting duties midway through the Sugar Bowl, something Hoke would not have done if Wile wasn't truly pushing (exceeding?) Hagerup for this spot. It'll be a battle that will persist throughout fall camp, but expect Wile to emerge.
Defensive line
Starters lost: Mike Martin, Will Heininger, Ryan Van Bergen
Projected starters: Craig Roh, Will Campbell, Ondre Pipkins, Jibreel Black
In the mix: Frank Clark, Nathan Brink, Quinton Washington, Richard Ash, Chris Wormley
Recruiting class (6): Ondre Pipkins, Chris Wormley, Tom Strobel, Matt Godin, Mario Ojemudia, Willie Henry
Breakdown: This is, without question, the biggest point of concern heading into next season. The line play was terrific last year, but it was a long process to get there, despite having stalwarts such as Martin and Van Bergen with which to work. Now, Michigan loses both of those guys, as well as Heininger, and must start from scratch.
The depth in the middle is troublesome. Campbell is a former five-star and showed measured growth last season, but has yet to round into a consistent player heading into his senior season. Coaches say Washington already is one of the strongest players on the team, but he has no experience.
It might be up to Pipkins to become the stop-gap in the middle. He's bursting with potential, but few true freshmen are impactful players in the trenches. He also is 6-foot-3, 320 pounds, which means he probably will have to lose some weight to become an every-down player.
At end, things are a little more promising. The team loses Van Bergen, but has three capable players at the other end in Roh, Black and Clark. One could slide over to the other end to get the best four in the lineup at the same time.
Linebackers
Starters lost: None
Projected starters: Jake Ryan, Kenny Demens, Desmond Morgan
In the mix: Brennen Beyer, Brandin Hawthorne, Joe Bolden
Recruiting class (4): Bolden, Kaleb Ringer, Royce Jenkins-Stone, James Ross
Breakdown: Linebacker might be Michigan's deepest position heading into future years, with every starter returning next year and a talented incoming group bolstering the depth. Ryan was fantastic as a redshirt freshman, and should be even better after a year of seasoning. Demens was solid in the middle, and his grasp of the defense's language can't be ignored (he's responsible for most playcalls). Morgan was fine as a true freshman, but will be pushed by Hawthorne and perhaps Bolden for his job.
In future years, Jenkins-Stone and Ross could become a pair of heavy-hitters for the Wolverines. They might have found roles if they were coming in last season, but the depth at the position could allow them to redshirt next year. Position coach Mark Smith said no decisions have been made, although did say Bolden and Ringer are ahead of schedule as early enrollees and will slot at corner spots.
Cornerbacks
Starters lost: None
Projected starters: Blake Countess, J.T. Floyd
In the mix: Courtney Avery, Raymon Taylor
Recruiting class (1): Terry Richardson
Breakdown: Floyd had a breakout season after losing much of 2010 to injury. He filed for the NFL draft advisory board, but wisely returned to school. Playing alongside the burgeoning Countess should allow Floyd to take another step forward next year.
Countess, for his part, will try to avoid a sophomore slump after becoming Michigan's best freshman a year ago. He has great instincts and close-out speed, and he will form a solid 1-2 punch with Floyd.
It will be interesting to see how the coaches uses Taylor. They were higher on him than most freshmen last year, although he had a hard time getting onto the field because of Countess. He could push Avery as the primary nickel back.
Richardson is one of the most talented players in his class, but likely will redshirt because he's not really needed, and he's the only corner in his class.
Safeties
Starters lost: Troy Woolfolk
Projected starters: Jordan Kovacs, Thomas Gordon
In the mix: Marvin Robinson, Josh Furman
Recruiting class (3): Jarrod Wilson, Allen Gant, Jeremy Clark
Breakdown: Michigan loses Woolfolk, but returns Gordon, who was more effective anyway. His opportunistic play — he led the Big Ten in fumble recoveries — was a big plus in the secondary, and he developed a strong rapport with Kovacs, who has become one of the league's best safeties. The former walk-on is a lock to become a captain heading into his third season as a starter.
Depth could be an issue. Robinson played in just five games as a sophomore last year while dealing with legal issues, and Furman, a redshirt freshman, played only in mop-up time.
Wilson is considered the top athlete of the three freshmen (he's 6-foot-2, taller than any starter in the secondary), but also is raw and would be well-served by taking a redshirt. His early enrollment, though, could make him a candidate for special teams. And, Hoke showed last year with Delonte Hollowell that he's OK with burning a redshirt if a freshman is good enough to contribute on special teams.
Kyle Meinke covers Michigan football for AnnArbor.com. He can be reached at 734-623-2588, by email at kylemeinke@annarbor.com and followed on Twitter @kmeinke.