Posted on
Sat, Aug 4, 2012 : 9 a.m.
An expert on living in the public eye, Michigan's Denard Robinson ready for Heisman Trophy hype
By Nick Baumgardner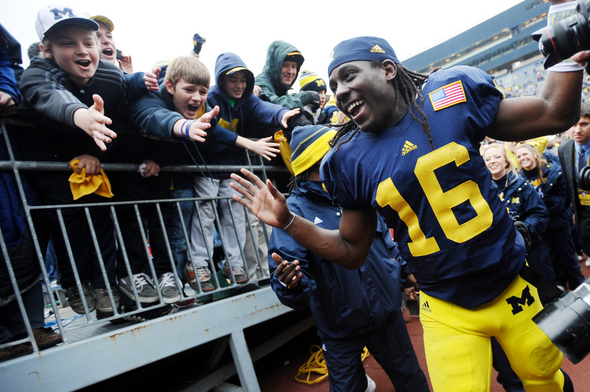 AnnArbor.com file photo
Denard Robinson
rarely gets a moment's peace these days.
A full-fledged celebrity in Ann Arbor for the past few years, Robinson's popularity has began to take on national scope of late.
Whether it's in the student section at Crisler Center, a hockey game at Yost Ice Arena or an airport bathroom -- all eyes appear to be on Denard.
"We were at the airport coming to Chicago (last week) and Denard went to the bathroom," Michigan offensive tackle Taylor Lewan said. "And there was this guy who looked over at me and Jordan (Kovacs), so we figured that was kind of cool that he knew who we were.
"But then Denard walks out and the guy's eyes light up. But he doesn't care, he just smiles and puts stuff in his bag and walks away. ... He gets that a lot. But he does a great job of handling it all."
The attention paid to the Michigan football team's dynamic quarterback is expected to jump to even great lengths when the season begins, as Robinson has already been talked about by many as a preseason Heisman Trophy candidate.
Robinson's always been under the microscope at Michigan, and virtually every step he takes on the field is dissected continually by everyone in the stadium.
But he's a true Heisman candidate now, and that microscope will surely get worse in 2012.
Robinson says he understands that. But also doesn't really care either way.
"It's all the same to me," Robinson says. "I still see myself as a regular person. I'm no different than anyone else, I'm not the man, I'm no different than the guy sitting next to me.
"I'm always going to be humble about my situation."
Humble or not, Robinson does acknowledge that he hears his name mentioned with the Heisman Trophy. During his early-season explosion in 2010, his name circulated in the discussion for a brief moment, but eventually faded away.
The same was the case prior to last season, but Robinson's early struggles with Al Borges' West Coast Offense got rid of that conversation as well.
In 2012? Big things are expected from Robinson as an individual. He gets that.
But he also understands that in order to win an award like the Heisman, your team has to be really, really good.
"It comes off team wins," he said. "How many times the team wins, that's how many times I'll be up for the Heisman. If we keep winning, that helps with the Heisman stuff."
When Tom Harmon won Michigan's first Heisman in 1940, the Wolverines went 7-1 and finished the season ranked No. 3 overall. When Desmond Howard struck the pose in 1991, the Wolverines won 10 games, captured the Big Ten title and played in the Rose Bowl.
Charles Woodson's 1997 victory? That ended with a national championship.
Asked whether or not he'd take the time to promote Robinson for a Heisman candidacy, Michigan coach Brady Hoke said the program wouldn't ignore that possibility -- but at the end of the day, he says, the team always comes first.
"When we have a profound guy who we think is special, we'll talk about him and we'll promote him," he said. "But, at the same time, Michigan's always been Michigan.
"And it's a team."
Robinson's Heisman candidacy officially begins Sept. 1 in Arlington, Texas when the Wolverines tangle with defending national champion Alabama.
All eyes, as usual, will be squarely focused on Robinson. But he won't be pandering, instead, his eyes will be focused on the other 10 players standing next to him in the huddle.
Step one for Robinson's Heisman hope is to win.
Win, rinse, repeat.
"If we don't," Robinson says, "then I have no chance."
Nick Baumgardner covers Michigan sports for AnnArbor.com. He can be reached at 734-623-2514, by email at nickbaumgardner@annarbor.com and followed on Twitter @nickbaumgardner.