Posted on
Thu, Aug 5, 2010 : 12:03 p.m.
Another reason for Michigan football to start practice? Break in the new turf
By Michael Rothstein
CHICAGO - Michigan football coach Rich Rodriguez wants to start the preseason for more reasons than you might think.
Sure, the beginning of a new season leads to renewed optimism, energy and for Michigan, a chance to forget the 2009 season.
It also means something else for the third-year coach - beating up the new FieldTurf in Michigan Stadium.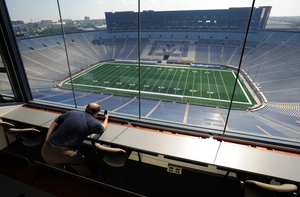 File photo
At Big Ten media days this week, Rodriguez said he still hadn't seen the new turf inside Michigan Stadium. That'll change soon.
"We'll probably scrimmage over there a couple times in August," Rodriguez said. "It should look pretty nice."
New turf often leads to some football issues, though. When the turf is put down, it takes time to settle. There are two ways to fix that - play on it or hope it rains a lot.
Rodriguez is hoping for both so the dreaded turfmonster - when a player trips or slips on new turf - doesn't show up in Michigan's opener against Connecticut on Sept. 4.
Michigan first installed FieldTurf in 2003.
"You kind of get it, not worn down but prepared more so," Rodriguez said. "When turf is first laid out, it's a little softer than normal, than it would be, so that's one reason we want to go over there a couple times."
Rodriguez is so particular about the turf being perfect he has gone to extremes in the past.
He actually watered the turf at West Virginia even though it can't, well, grow. Rodriguez came close to doing it when Michigan installed its new turf practice fields, but a rainstorm came the night before he was planning to do it.
He's hoping he doesn't have to do it again.
"When I've done it in the past, I think they've been like 'This guy much be crazy,'" Rodriguez said. "Watering a turf field? He must have lost his marbles."
Michael Rothstein covers University of Michigan basketball for AnnArbor.com. He can be reached at (734) 623-2558, by e-mail at michaelrothstein@annarbor.com or follow along on Twitter @mikerothstein.