Posted on
Wed, Apr 21, 2010 : 8 p.m.
At linebacker or defensive end, Brandon Graham should make an impact in NFL
By Dave Birkett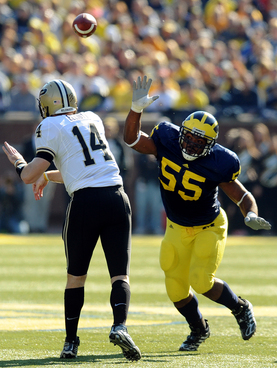 LaMarr Woodley spent most of his Michigan football career playing defensive end, but the Pittsburgh Steelers saw enough in him to turn him into an outside linebacker when they drafted him three years ago.
Twenty-nine sacks and one Pro Bowl later, the move looks like a stroke of genius.
Woodley said he expects his friend and former Michigan teammate Brandon Graham to follow the same career path in the NFL.
"He's athletic enough he can do it," Woodley said. "Playing defensive end sometimes for a long period of time, you haven't taken the amount of reps to prepare for that position. I think he'll adjust to it real well. Once he gets into camp and gets practice doing it, I think he's going to be excellent at it. Plus, he's got a lot of speed."
Graham led the nation with 26 tackles for loss and won the Chicago Tribune's Silver Football Award as Big Ten MVP last year as a defensive end. Still, some scouts, analysts and talent evaluators think he projects better as a 3-4 outside linebacker as a pro.
Graham is expected to be a first-round pick when the NFL draft begins at 7:30 p.m. Thursday.
"I kind of like him at 3-4 outside linebacker," NFL Network draft analyst Mike Mayock said. "The first time I put a tape on, he reminded me an awful lot of Woodley. They both were tremendously stout against the run and they had some explosion getting up the field.
"I don't know if he's got the same lower-body explosion that Woodley does or not. And let's face it, Woodley was only a second-round pick, probably because of his height, which is something Brandon Graham is going to face."
At 6-foot-1 and 268 pounds, Graham is considered undersized for the NFL. For that reason, ESPN analyst Todd McShay said Graham's "perfect fit" would be in a 3-4 scheme like the one the Steelers run, where pass-rushing outside linebackers are coveted no matter their frame or body type.
"Any team that will allow him to get up the field and get after the quarterback, I think he'll do a good job," McShay said. "I could see a team like Atlanta, the Falcons, even though they run a 4-3, they're looking for a pass rusher and they're looking for a guy that can come in and make an impact opposite (John) Abraham and they don't mind if you're a little bit undersized as well. He's so short. That's the thing that hurts him with several teams.
"But again, I think he's a top-20 talent and if he falls anywhere below, some team's going to get a real good value on him."
Graham worked out as a linebacker at his personal pro day earlier his month. One NFL front-office executive familiar with the workout said Graham is never "going to look like a ballerina dropping," but that's not why teams covet him.
"He knows how to bend underneath people and flatten and get to the quarterback, that's what he knows how to do," the executive said. "That's a God-given ability. Nobody really taught him that."
Graham said last week he visited or had private workouts with the Falcons, Titans and Jaguars, all 4-3 teams, and 3-4 teams the Jets and Patriots. The NFL front-office man said he wouldn't worry about playing Graham in either system.
"I think No. 1 he's a football player," the executive said. "No. 2, he's a great pass rusher. And No. 3, I don't know if he can play linebacker, your guess is as good as mine, but he has some tangible assets that we've seen and he's been very productive.
"So I think whatever team takes him, I think he'll work out. Now will he have some downs before he ends up? Sure, they all do. But when he's on an edge, boy, he's a (monster)."
Dave Birkett covers University of Michigan football for AnnArbor.com. He can be reached by phone at 734-623-2552 or by e-mail at davidbirkett@annarbor.com. Follow him on Twitter @davebirkett.