Away they go: Multiple ex-Michigan football players begin NFL careers with rookie camp
Posted on Fri, May 11, 2012 : 12:30 p.m.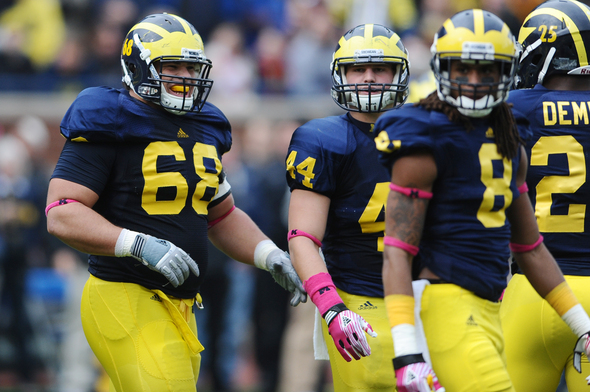 Melanie Maxwell | AnnArbor.com

And so it begins.

The Michigan football program's three 2012 NFL draft picks, Mike Martin, Junior Hemingway and David Molk, all officially began their pro careers Friday at their respective rookie camps.

Martin, a third-round choice of the Tennessee Titans, told TitansOnline.com he's ready to start his football career -- all over again.

"It's good to be here," Martin said. "It feels like college all over again, starting from square one, but I'm excited. I'm just trying to get to know everyone."

Martin and the rest of his fellow Titan rookies took part in team meetings and organized on-field workouts Friday.

The camp will run through Sunday.

Hemingway, meanwhile, arrived in Kansas City on Thursday to begin his quest for a spot on the Chiefs roster.

"In KC finally!!! Ready to work," the seventh-round draft choice tweeted.

As for Molk, the seventh-round pick of the San Diego Chargers is the only Michigan draftee that's inked an NFL contract.

The Chargers also began camp Friday and Molk, apparently, is only focused on football.

"Not going to buy a house, especially in this housing market," he said earlier this week. "I don't need any more room than I have now. I don't need a big townhouse. Just give me a little crappy apartment and a TV and a nice chair, and I won't know the difference."

Also opening NFL rookie camp Friday is Carolina Panther undrafted rookie Ryan Van Bergen, who reported to camp in Charlotte, N.C. on Thursday, according to his Twitter account.