Posted on
Thu, Dec 1, 2011 : 5:55 a.m.
B1G Notes: Michigan, Michigan State get only As on football report cards
By Nick Baumgardner
The Big Ten regular season ended less than a week ago, but plenty has already happened.
Two schools need a new coach (Illinois and Penn State). One school has a new coach (Ohio State).
One school may get a massive postseason shaft (Wisconsin or Michigan State), while another (Michigan) may be a major benefactor by just sitting on its couch.
It was a season that'll likely be remembered more for its off-field drama than on-field prowess, but it was football nonetheless. And with the regular season portion out of the way, now is as good a time as any to hand out our B1G Notes Big Ten report cards.
In alphabetical order, here we go.
ILLINOIS

Grade: D-
The only reason this isn't an F is because the Illini (6-6, 2-6) started the season out with six straight wins. A late-season collapse (an off-field shooting incident didn't help either) eventually cost Ron Zook his job. Zook clearly lost his football team along the way, and will now likely be headed to a television booth near you.
Offseason wish: An offense. The Illini averaged 11 points in their final six losses. Sixth-grade Pee Wee teams think that's bad.

INDIANA

Grade: F
Is there a lower option? No? OK, then. F it is. Horrible, terrible, putrid, awful -- pick one, it doesn't matter. Indiana (1-11, 0-8) simply didn't get it done this season under first-year coach Kevin Wilson. The Hoosiers did plenty of roster house-cleaning, but may need to do more before all is said and done.
Offseason wish: Pride. Indiana lost to a MAC team (Ball State) and a Sun Belt team (North Texas) this season. Rare territory for a Big Ten school.

IOWA

Grade: C
The Hawkeyes (7-5, 4-4), at the end of the day, were pretty boring. They were high (knocking off Michigan) and they were low (losing at Iowa State). Iowa was basically a model of inconsistency all season long. And though it had a shot to make noise in the Legends Division, no one seemed to take Iowa seriously.
Offseason wish: Better luggage. Something has to explain Iowa's 1-4 mark on the road, right?

MICHIGAN

Grade: A
Brady Hoke should win the conference coach of the year and the Wolverines (10-2, 6-2) have a chance to earn their first BCS bid since 2006. If you'd have told someone that after last season's Gator Bowl, you'd have probably been committed.
Offseason wish: No dramatics. It's been some time since this was achieved, no?

MICHIGAN STATE

Grade: A
The Spartans (10-2, 7-1) had a brutal Big Ten stretch featuring consecutive games against Ohio State, Michigan, Wisconsin and Nebraska. In the end, MSU was the first-ever qualifier for the Big Ten Championship Game. And, it beat Michigan for a fourth straight year.
Offseason wish: A quarterback. For the first time in three years, someone other than Kirk Cousins will be under center next season. He's not an easy guy to replace.

MINNESOTA

Grade: D
Given all the distractions the team dealt with early on after Jerry Kill's seizure, the Gophers' (3-9, 2-6) ability to improve and grab three victories was sort of impressive.
Offseason wish: Talent. Minnesota had very, very, very, very little on its 2011 roster. Healthy coach or not, that has to change.

NEBRASKA

Grade: B
Nebraska's league schedule was almost impossible. At Wisconsin, vs. Ohio State, vs. Michigan State, at Penn State and at Michigan. In the end, nine wins is more than respectable for the Cornhuskers (9-3, 5-3).
Offseason wish: Another dimension. Taylor Martinez simply couldn't throw the football, rendering the Cornhuskers as basically a hybrid option team at times. Too easy to defend.

NORTHWESTERN

Grade: C
The Wildcats (6-6, 3-5) played hard and won four of their last five to reach bowl-eligibility, but they also lost to Army. This isn't the 1950s, that's not acceptable.
Offseason wish: Pat Fitzgerald. His name seems to pop up in almost every coaching search nationally. Always. Any offseason without him leaving is a great thing for this program.

OHIO STATE

Grade: C
Given the circumstances, this could've been much worse. However, it also could've been better. The Buckeyes (6-6, 3-5) shouldn't have lost to Purdue and they also had a very real chance at beating Michigan and Michigan State, which would've made for quite the story.
Offseason wish: Nothing. The Buckeyes already got Urban Meyer. Christmas came early, gang.

PENN STATE

Grade: Incomplete
I just can't grade this team on the field, considering the circumstances surrounding Jerry Sandusky and Joe Paterno. Penn State (9-3, 6-2) had a shot at winning a league title, but all was lost when this horrible story broke.
Offseason wish: Normalcy. Of all the wishes, this one may be the most far-fetched.

PURDUE

Grade: D+
Purdue (6-6, 4-4) is going bowling and it beat Ohio State, but I really don't have anything else nice to say about the Boilermakers' season. It was what it was -- bland and relatively uneventful.
Offseason wish: Excitement. This team just screams boring. Even if Danny Hope's mustache is awesome.

WISCONSIN

Grade: A-
I really, really want to give the Badgers a B because of the blown opportunity here, but they're 10-2 and in the Big Ten title game. That's not too bad. Even so, Wisconsin (10-2, 6-2) fans should know full well how close this team should have been to a national title bid this season.
Offseason wish: Another NFL lockout - That might be the only way Montee Ball returns to school for his senior season.
-----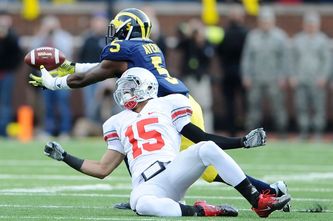 Melanie Maxwell | AnnArbor.com
Sky high:
Michigan (10-2, 6-2)
When Michigan's Courtney Avery intercepted Ohio State's Braxton Miller on Saturday to seal the deal for the Wolverines, roars of relief could be heard from all of Michigan Stadium, Ann Arbor, Washtenaw County, the Lower Peninsula, the Upper Peninsula and everyone in Toledo who's afraid to wear maize and blue throughout the year.
For the first time in seemingly an eternity, Michigan fans have bragging rights over Ohio State fans. No matter how -- or why -- it happened, the Wolverines appear to have their pride back.
And if you're familiar with Michigan, you know how important that is.
Now, thanks to the ridiculousness that is the BCS, Michigan has a chance to sit back, relax and watch teams in front of it fall by the wayside -- possibly paving the way for the school's first BCS bid since 2006.

Rock bottom: The loser of the Big Ten Championship Game

For Michigan State and Wisconsin, this puppy really is all or nothing. The winner takes some serious glory: First ever Big Ten title game trophy and a trip to the Rose Bowl.
The loser, well, the loser gets dump-trucked: No Big Ten title, no BCS bid, has its division title rendered useless and gets the chance to get whooped by an SEC team in the Capital One or Outback Bowl.
Still think this whole championship game thing is a good idea?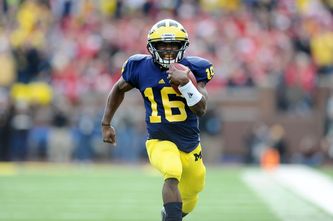 Melanie Maxwell | AnnArbor.com
Last week's heavy lifter:
Denard Robinson, Michigan QB
Robinson accounted for five touchdowns and more than 330 yards of total offense as the Wolverines finally rid their closet of Ohio State ghosts.
Individually, it was arguably his most efficient performance as a college quarterback, as he completed 14-of-17 passes for 167 yards, three touchdowns and zero interceptions on the biggest stage of his life.
And, he's Denard Robinson -- so he also rushed for 170 yards and two more scores.

Standout stats

5
Number of touchdowns
Montee Ball
needs to tie
Barry Sanders
' single-season FBS record of 39. Ball has two more games to get there.
1901
The last time a Michigan coach won 10 games in his debut season, a feat
Brady Hoke
accomplished this year. The last man?
Fielding H. Yost
.
6
Possibly the number of licks it takes to reach the center of a Tootsie Pop, and also the number of consecutive losses it takes for
Ron Zook
to be fired by Illinois.
36.6
Average margin in Wisconsin's 10 wins this season. Conversely, the Badgers were a mere 12 points away from a perfect season.

Quotable

"I've known Urban, he's a good football coach, a good guy and I welcome him in. But it's still Michigan and Ohio and neither one of us is going to play the game."
-- Michigan coach Brady Hoke on Ohio State's hiring of Urban Meyer.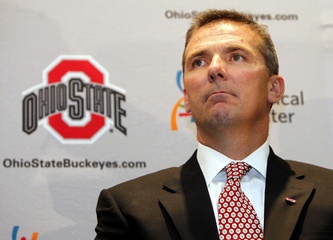 AP Photo
Off the cuff
Let's get this one out of the way: Urban Meyer is a fantastic hire at Ohio State, and he's certainly the best possible candidate to guide the Buckeye program through the rest of this Jim Tressel mess moving forward.
But at his introductory news conference, he appeared to be anything but.
Meyer began the presser by dropping his notes on the ground, insisting he won't work as hard in Columbus as he did in Gainesville, then proceeded to publicly call the SEC better than the Big Ten (which it clearly is), describe Florida as his dream job and note that he'll "always be a Gator."
Meyer being Meyer, most of this will likely be overlooked.
But the entire awkward situation surrounding Meyer, the violations, athletic director Gene Smith's job status and Luke Fickell's situation appeared to become that much more uncomfortable.
In the long run, this should be a home run. But out of the gate, it just felt weird.
And weird appears to be a growing theme in Columbus these days.
Nick Baumgardner covers Michigan basketball for AnnArbor.com. He can be reached at 734-623-2514, by email at nickbaumgardner@annarbor.com and followed on Twitter @nickbaumgardner.