Posted on
Thu, Dec 8, 2011 : 5:58 a.m.
B1G Notes: Breaking down the Urban Meyer's a Hero/Traitor Bowl and the rest of the Big Ten's postseason games
By Nick Baumgardner
The college football bowl season is upon us, 70 teams in 35 games. Oh, what a time we'll have.
Or at least that's what the folks at Tostitos, Kraft, Beef 'O' Brady's, Little Caesars and Bell Helicopter would have us believe.
The Big Ten will be well represented this winter, with a league-record 10 participants. Will the conference have a strong showing? Or will it embarrass itself yet again?
Here's the rundown of each matchup, with a rating on the AnnArbor.com "watchable scale" (1 low, 10 high):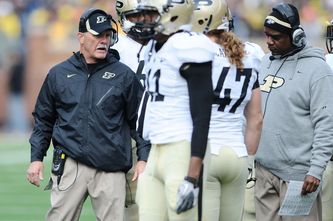 Melanie Maxwell | AnnArbor.com
The "Detroit Finally Gets a
Good Draw" Bowl
Purdue (6-6) vs. Western Michigan (7-5), Little Caesars Bowl (4:30 p.m., Dec. 27, ESPN)
Early line: Purdue -2 1/2
Lowdown: The last time a Big Ten team was in this game (formerly the Motor City Bowl), it was Purdue and it drew 60,624 fans. The Boilermakers aren't very good, and the Broncos have the potential to be very dangerous. Could actually be entertaining.
Watchable scale: 5 - At least it's an excuse to eat Crazy Bread.

The "I Almost Forgot This One" Bowl
Iowa (7-5) vs. Oklahoma (9-3), Insight Bowl (10 p.m., Dec. 30, ESPN)
Early line: Oklahoma -14
Lowdown: My heading says it all, doesn't it? I nearly forgot to add this one to the list. It's that exciting. Iowa can't play outside of Iowa City, and against Oklahoma, it likely stands little chance.
Watchable scale: 3 - A possible three-score blowout at 10 p.m. on a Friday? I wonder what Food Network's showing.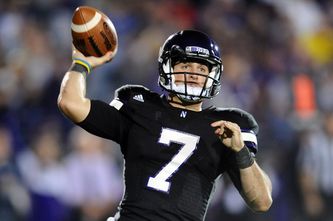 Melanie Maxwell | AnnArbor.com
The "Hope You've Got Four Hours to Kill" Bowl
Northwestern (6-6) vs. Texas A&M (6-6), Meineke Car Care Bowl of Texas (Noon, Dec. 31, ESPN)
Early line: Texas A&M -9 1/2
Lowdown: An old-fashioned, Texas-style gun-fight that should start at lunch time and end by dinner. Not a lot of defense in this one, as the teams combined to average 69.1 points per game. The Aggies basically get a home game here, but will be sans its coach after Mike Sherman's firing.
Watchable scale: 3 - It's New Year's Eve. Surely you have better things to do?

The "Yep, We're Really Doing This" Bowl
Illinois (6-6) vs. UCLA (6-7), Kraft Fight Hunger Bowl (3:30 p.m., Dec. 31, ESPN)
Early line: Illinois -3
Lowdown: Two teams without coaches, two teams who define the "not deserving of a reward" category. I'm not sure what else to say, this should be awful.
Watchable scale: 0 - The annual holiday "Rocky" marathon should be nearing Part IV by this time. Ivan Drago is more entertaining.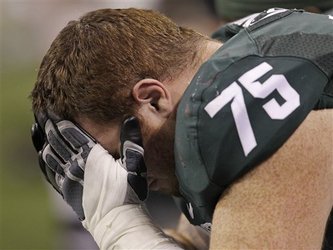 AP Photo
The "We Don't Want
to be Here" Bowl
Michigan State (10-3) vs. Georgia (10-3), Outback Bowl (1 p.m., Jan. 2, ABC)
Early line: Georgia -3
Lowdown: Both teams would rather be playing in a BCS game, no doubt. But, this should actually be a very good football game. The Spartans and Bulldogs are high-level clubs with something to prove. A rarity in pre-title game bowl tilts.
Watchable scale: 9 - Two good teams, game's not too early in the morning. Worth the time, I'd say.

The "Let's Get This Over With" Bowl
Penn State (9-3) vs. Houston (12-1), TicketCity Bowl (Noon, Jan. 2, ESPNU)
Early line: Houston -6
Lowdown: Penn State's season has been an absolute nightmare off the field, and Houston was one blown Conference USA title game away from breaking into the BCS. This is hardly a consolation prize. It's more like an extension of pain.
Watchable scale: 4 - Houston's offense vs. Penn State's defense could be interesting. Or at least that's what I'm telling myself.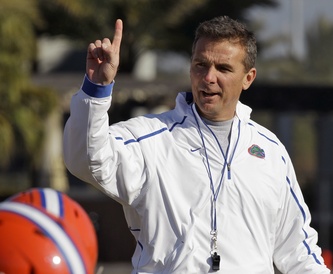 AP Photo
The "Urban Meyer's a Hero/Traitor" Bowl
Ohio State (6-6) vs. Florida (6-6), TaxSlayer.com Gator Bowl (1 p.m., Jan. 2, ESPN2)
Early line: Florida -2
Lowdown: Urban Meyer's new team (Ohio State) against Urban Meyer's jilted old team (Florida). Now this is good television. On the field, these programs are shells of their former selves. But as far as exterior stories go, this has it all.
Watchable scale: 7 - Over/under on mentions of Urban Meyer? 10,000? Heck, we're at four in this little writeup. If he walks into the ESPN television booth, all Buckeye-Gator message boards may explode.

The "Angry Coach" Bowl
Nebraska (9-3) vs. South Carolina (10-2), Capital One Bowl (1 p.m., Jan. 2, ESPN)
Early line: South Carolina -1
Lowdown: Bo Pelini screams at everyone and Steve Spurrier hasn't met a headset or visor he can't chuck into the ground. The game's played in the shadow of Disney World, but not even a visit from Mickey Mouse is likely to calm these two down.
Watchable scale: 5 - There's talent on the field, but Michigan State-Georgia is on at the same time. I'd watch that instead.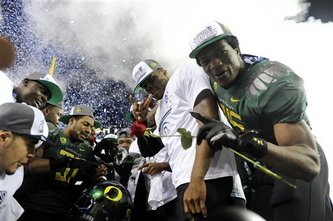 AP Photo
The "Yes, We Really Deserve
to be Here" Bowl
Wisconsin (11-2) vs. Oregon (11-2), Rose Bowl (5 p.m., Jan. 2, ESPN)
Early line: Oregon -6 1/2
Lowdown: Both teams actually had to win something to advance here, a rarity, so you know you've got a pair of quality squads to watch. An added bonus, LaMichael James and Montee Ball are two of the more exciting players in college football.
Watchable scale: 10 - It's the Rose Bowl and, unlike in years past, this speed vs. strength battle might actually be a good one.

The "We're Not Apologizing for Getting Paid" Bowl
Michigan (10-2) vs. Virginia Tech (11-2), Sugar Bowl (8:30 p.m., Jan. 3, ESPN)
Early line: Michigan -1 1/2
Lowdown: Michigan backed its way in and Virginia Tech wasn't supposed to be here at all. But, hey, who's counting. The Wolverines and Hokies will no doubt pack the Superdome and draw solid television ratings. But will the game hold up? We'll see.
Watchable scale: 7 - Michigan's Denard Robinson and VIrginia Tech's David Wilson make this interesting. Also, it's the only game on that day.
****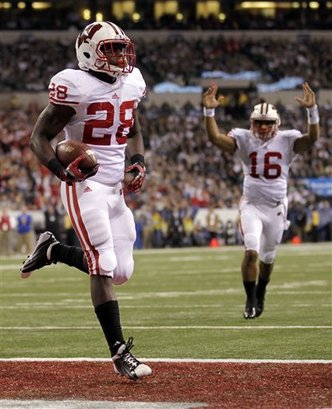 AP Photo
Sky High:
Wisconsin (11-2, 6-2)
The outright 2011 Big Ten Conference champions. We really don't have to say much else, there, do we?
I've been tough on the Badgers all season (and will continue to be), because they should have been pushing for a BCS Championship game rather than a Rose Bowl bid.
But, Pasadena is a pretty good consolation prize. And, on top of it all, Montee Ball is a Heisman Trophy finalist.
Life's pretty good in Madison right now.

Rock Bottom: Michigan State (10-3, 7-1)
The Spartans had a chance to go to the Rose Bowl for the first time in the personal computer era, but couldn't get the job done.
Instead, it's bloomin' onions for everyone. Bloomin' onions and a whole lot of heartache.
Michigan State had a fabulous season, but the Big Ten has a true championship game now. And like it's been for the Big 12, the old Pac-10 and the SEC in the past -- it can be an all-or-nothing affair.
No offense to the Outback Bowl, but Michigan State was left with nothing after a devastating three-point loss in Indianapolis.

Last week's heavy lifter: Montee Ball, Wisconsin Jr. RB
If Montee Ball's not scoring touchdowns, the Earth is probably on the verge of collapse.
Ball continued his chase of Barry Sanders' single-season NCAA touchdown record with four more scores in the Big Ten Championship Game against Michigan State.
Ball now has 38 touchdowns on the year, one away from Sanders' record.

Standout stats
2
Teams without coaches (Illinois and UCLA) in the 2011 Kraft Fight Hunger Bowl.
41
Sacks racked up this season by the Michigan State defense, better than three per game.
44.6
Points per game this season by Wisconsin's nationally fourth-ranked scoring offense.
64,152
Attendance at the inaugural Big Ten Championship game. Lucas Oil Stadium lists its football capacity at 67,000.

Quotable
"Michigan sat home tonight on the couch and watched us. We played our hearts out — you saw it. I don't see how you get punished for playing and someone else gets to sit on the couch and get what they want. If this is the way the system is, I guess it's a broken system." — Michigan State quarterback Kirk Cousins following a Big Ten Championship game loss to Wisconsin.

Off the cuff
It's December, the bowls have been announced, fans are in an uproar, schools have been jobbed, others have been unfairly rewarded.
And, frankly, I'm tired.
How many more years of ridiculousness are going to pass by before this "system" gets blown to bits? How many more schools with solid resumes are going to get left out in the cold because another program was a juggernaut 50 years ago?
How many more meaningless, sponsor-blitzed exhibition games are going to be forced before folks get the point that the only people taking joy in college football's postseason are odds makers and gamblers?
College football's 'good ol' boy' garbage is beyond played. The system's a disaster, everyone knows it, thousands talks about it, no one denies it.
I'm tired of it.
Call me when March Madness tips off.
Nick Baumgardner covers Michigan sports for AnnArbor.com. He can be reached at 734-623-2514, by email at nickbaumgardner@annarbor.com and followed on Twitter @nickbaumgardner.