Posted on
Thu, Nov 3, 2011 : 5:58 a.m.
B1G Notes: Michigan State still the favorite in Legends Division
By Nick Baumgardner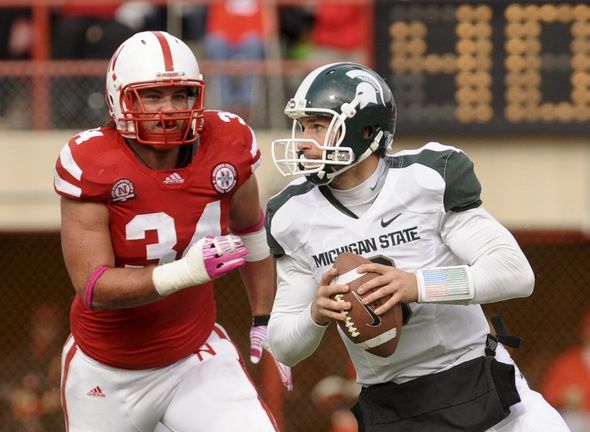 AP Photo
Which Legend will make history?
After the Michigan football team bounced back with a victory last week and Nebraska spoiled Michigan State's bid for a perfect Big Ten run, the Legends Division is a logjam.
Unfortunately, professional wrestling stipulations don't apply here. Meaning we can't take all three teams, put them in a steel cage and see who comes out standing. We've simply got to let the season play out.
Boring, I know, but it's all we have.
So who survives to talk about it in Indianapolis? The Wolverines, the Cornhuskers and the Spartans all have a shot.
But which team has the easiest road to the Big Ten championship?
Pole position: No. 15 Michigan State (6-2, 3-1 Big Ten)

The Spartans hold the tie-breaker with Michigan, but more importantly, MSU has far and away the easiest close to the season in this group.
Michigan State hosts Minnesota (Saturday), travels to Iowa (Nov. 12), hosts Indiana (Nov. 19) and travels to Northwestern (Nov. 26). Combined records of those teams: 11-22.
The Spartans have already run the difficult part of their 2011 gauntlet, and though last week was rough, all isn't lost.
Fan anger scale if they don't make it: 10 out of 10. Cue Mike Valenti, a collapse here could get interesting.
In second: No. 9 Nebraska (7-1, 3-1)

The Cornhuskers grabbed a tie-breaker with the Spartans last week, but their final month of the season is far more difficult.
Nebraska gets a bit of a breather this week when it hosts Northwestern, but then it travels to league unbeaten Penn State (who will be fresh off a bye week) just before taking a visit to Michigan. If Nebraska can survive those two unscathed, it'll have to finish up against Iowa at home.
The combined record of Nebraska's final four: 23-10.
Fan anger scale if they don't make it: 7 out of 10. It would be a 6, but Bo Pelini's rage is always good for one extra point.
The dark horse: No. 13 Michigan (7-1, 3-1)

Michigan already lost to Michigan State, and has yet to earn any sort of tiebreak against Nebraska. More importantly, the schedule is just more challenging.
The Wolverines have back-to-back road games against Iowa and Illinois before finishing up with back-to-back home tilts against Nebraska and Ohio State.
The combined mark of Michigan's final four is the same as Nebraska's, 23-10. However, back-to-back road games are never easy. And I don't think we have to bring up the Wolverines' recent history with Ohio State.
Do we?
Fan anger scale if they don't make it: 4 out of 10. Michigan really wasn't supposed to be here in the first place, but Wolverines fans never take losses in stride.
****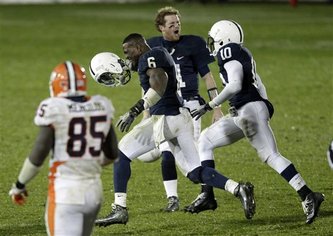 AP Photo
Sky high:
Penn State (8-1, 5-0 Big Ten)
Every week, we keep saying Penn State really isn't that great. Every week, the Nittany Lions basically tell us where we can shove our statement.
It's never pretty, it's never easy and it's usually a borderline trainwreck, but it doesn't matter: Penn State is the only team unbeaten in the Big Ten play and sits in complete control of the Leaders Division with three games left to play.
Penn State survived an unexpected blizzard and caught a break when Illinois kicker Derek Dimke clanged a last-second field goal off the post last week.
The offense is suspect (PSU had just 209 total yards), but the defense has been dominant (PSU allows a league-low 12.4 points per game).
The path gets tougher for Penn State, as it finishes with games against Nebraska, at Ohio State and at Wisconsin, but for now, the road to Indianapolis runs through Happy Valley.
Whether you like it or not.

Rock bottom: Iowa (5-3, 2-2 Big Ten)

The Hawkeyes aren't in total shambles record-wise, and still have a chance to put together a fine season.
But losing to Minnesota? Seriously?
Minnesota?
Iowa gets 252 yards rushing from Marcus Coker, has a 446-371 edge in total yards, forces three total fumbles and still loses? To a team that's looked beyond inept all season?
Holy Hayden Fry, that's bad.
After going up 21-10 early in the fourth, Iowa completely fell apart. Minnesota held the ball for 13:25 in the fourth quarter alone before getting a three-yard score from MarQueis Gray late to go up 22-21.
The Hawkeyes had a chance to recover, but pitifully turned the ball over on downs in just 26 seconds before Minnesota killed the last 2:22 off the clock to polish off Kirk Ferentz's nightmare.

Last week's heavy lifter:
Gerald Hodges, Penn State junior LB
Penn State's offense has been atrocious, but that has nothing to do with Hodges and the defense. The junior linebacker made a career-high 19 tackles, 14 solo, Saturday during a 10-7 win over Illinois.
For good measure, Hodges added a sack, two pass breakups and a forced fumble.
No word on whether or not he cooked the team meal or cleaned up the locker room after the game.

Standout stats

23
Games since a Michigan running back had received at least 20 carries in a contest. Fitzgerald Toussaint (20 carries, 170 yards) became the first Wolverine back since Carlos Brown (2009, vs. Illinois) to do so.
86
Total passing yards by Michigan State's Kirk Cousins in a 24-3 loss to Nebraska, just 42 yards more than the Hail Mary touchdown he threw to beat Wisconsin a week earlier.
274
Rushing yards in two games by Ohio State's Daniel "Boom" Herron. Herron missed the first six games of the season via suspension, but since his return, the Buckeyes are 2-0. Think he was missed, much?
1,104
Combined yardage totals by Northwestern and Indiana in the Wildcats' 59-38 win in Bloomington last week.

Quotable:

"Whether it be two straight or 10 straight, there's really no fun in losing. If you can accept (losing), then maybe it's time to do something else. Go collect stamps." — Iowa coach Kirk Ferentz on dealing with a loss to Minnesota last week.

Off the cuff:

A lot can happen in a span of 30 seconds.
In 30 seconds: A cup of coffee could be warmed, Denard Robinson could run the 40-yard dash almost seven times, a Rubik's Cube could be solved (not by me, I can do it in about five minutes), rice could be cooked (partly, anyway) and, apparently, the Wisconsin football team could have its heart broken — twice.
As if Michigan State's last-second hail mary to defeat the Badgers two weeks wasn't bad enough, Ohio State's Braxton Miller twisted the knife last week.
Miller's scramble and blind heave took roughly 15 seconds of real time to complete. Kirk Cousins' toss to Keith Nichol a week prior? About the same.
In a total of 30 seconds, Wisconsin went from being a national title contender to a team searching for ways to snap a two-game losing streak.
I wonder how long it takes the folks in Madison to get over that.
Bet it's more than 30 seconds.
Nick Baumgardner covers Michigan basketball for AnnArbor.com. He can be reached at 734-623-2514, by email at nickbaumgardner@annarbor.com and followed on Twitter @nickbaumgardner.