Posted on
Thu, Apr 26, 2012 : 4:41 p.m.
BCS out, playoff in? College football takes giant step in that direction
By Kyle Meinke
Michigan athletic director Dave Brandon has remained one of the most vocal opponents to a college football playoff, even as momentum built for such a system in the past year.
He called the notion of a playoff "ridiculous" in a WolverineNation story earlier this year, saying "I don't care what you come up with, it's not going to be a fair playoff."
Just three months later, change appears to be afoot after college football's bigwigs said after three days of deliberation that they favor a four-team playoff over the current BCS system.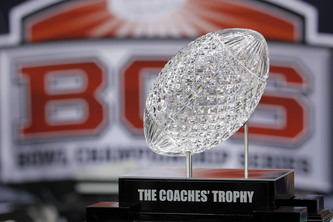 Associated Press
"Yes, we've agreed to use the P word," Pac-12 Commissioner
Larry Scott
said.
The playoff would be limited to four teams. What's left to figure out is how to pick the teams, where and when to play the games and what to do with the bowls. The new format would go into effect after for the 2014 season.
As for the current Bowl Championship Series, it's on life support. Any chance that it survives past the next two seasons? "I hope not," Southeastern Conference Commissioner Mike Slive said Thursday.
"This is a seismic change for college football," BCS Executive Director Bill Hancock said after the 11 conference commissioners and Notre Dame's athletic director wrapped up three days of meetings at a beachside hotel in south Florida.
Hancock said the commissioners will present a "small number" of options for a four-team playoff to their leagues over the next month or so at conference meetings. Hancock estimated about two to seven configurations are being considered.
Now it's up to each conference to determine which option it likes best. The commissioners will get back together in June and try to come up with a final version, and eventually the university presidents will have sign off on it. That would probably come in July.
Hancock warned that if no agreement is reached, the fallback could be sticking with an overhauled version of the old system, which aims for a No. 1 vs. No. 2 championship game.
The Associated Press contributed to this story.