Posted on
Mon, Aug 13, 2012 : 5:59 a.m.
Biceps say it all: 'Black beast' Thomas Rawls an enforcer in Michigan football backfield
By Kyle Meinke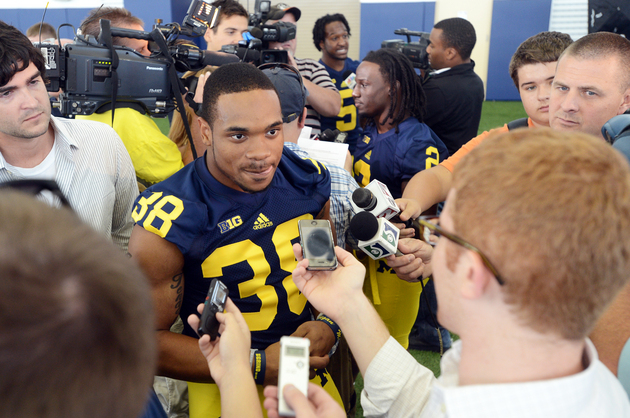 Melanie Maxwell | AnnArbor.com
Thomas Rawls is a punisher. A wrecking ball. A guy more interested in inflicting pain than avoiding it.
Those are among the countless descriptors used this offseason to characterize the Michigan football team's physical sophomore tailback -- and they can all be distilled into one tidy word.
And it's tattooed down his bulging right bicep.
"Tenacious."
Down his left bicep is another tattoo, which reads "Bete noire." He says it's French for "accomplish your hopes and dreams," which he could do in the opener against Alabama with the status of starter Fitz Toussaint yet undecided.
Literally translated, though, it means "black beast" or "a person to be strongly detested or avoided."
Defenses might tend to identify more with the latter.
"I mean, when he runs, he's tryin' to hurt the guy," Michigan running backs coach Fred Jackson said Sunday at the team's media day. "Anybody who tries to tackle him will know they've been hit.
"He don't take many blows, he gives blows -- and that's what you're looking for in a running back."
The 5-foot-10, 218-pound Rawls has received an impressive amount of praise for a guy with 13 career carries, just as he did during last year's camp when he had zero.
WIN UM vs. ALABAMA TICKETS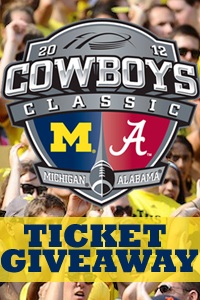 Want to check out Michigan take on defending national champion Alabama?
Click here to visit the AnnArbor.com Michigan Football News and Views Facebook page
and vote for who will be the Wolverines' most important player, besides Denard Robinson, in the 2012 season. That vote will earn you a chance to win three free tickets.
A little-known fact, though: Rawls, according to Jackson, was winning the tailback battle heading into the final week of last year's camp until a hit by linebacker Mike Jones dislocated his shoulder.
The injury was significant physically, but also handicapped his growth mentally, and he never did crack the regular rotation last year.
"It was a major setback," Rawls said.
The script was flipped this year when Toussaint, now entrenched as the starter, was suspended following a drunken-driving arrest last month. He returns to camp Monday after missing a week of practices, but his status for the season opener against Alabama is undecided.
Next in line: Rawls.
If Toussaint indeed is held out of the lineup for that game, Rawls' debut as a starting college tailback would come against the reigning No. 1 rush defense, and the nation's best rush defense of the past half decade.
That's an imposing assignment for most tailbacks. Rawls is not most tailbacks.
"I don't think it's going to phase him," said Jackson, whose son, Fred Jr., coached Rawls at Flint Northern. "I think he's going to play as if he's been there, even though he hasn't."
Added Rawls: "I'm ready. No Michigan running back is scared of anyone or anything."
Rawls said he's an even better tailback now, after spending a season soaking in on- and off-field lessons dispensed by Toussaint and senior tailback Vincent Smith. That includes improving his vision, which, like Toussaint's early, wasn't good.
And, like Toussaint, is getting better.
"Usually a guy with good vision is a little bit taller," Jackson said. "Thomas is probably, maybe, 5-8. He tells me he's 5-11 and I'm 6-2, I think, and I look down on him and eat soup off his head.
"But he's shorter than Fitz, and Fitz has got to be 5-9. You can't usually see a guy like that, with that kind of vision, with that kind of feet, and he has good enough feet to do what we need him to do.
"He's got Mike Hart kind of feet, but a lot faster than Mike."
That's a striking comparison, considering Hart is the Wolverines' all-time leading rusher. But Rawls has had his sights set on Hart ever since he first overcame academic hardships to earn his scholarship to Michigan.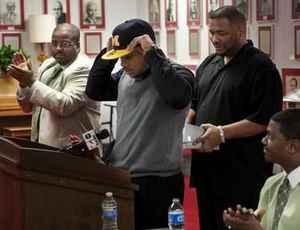 Flint Journal
Rawls beat the streets of Flint, unlike some of those closest to him.
"Growing up back home, I had a lot of friends shot and killed," Rawls said. "Guys I even played football with, family shot and killed. Guys I grew up with in high school, family, getting locked up and going to jail.
"But one thing about all that: Even though it is horrible and it is sad, it also gave me motivation to keep driving and going a different route, a positive route."
It has left him angry. And he runs that way, according to coaches. What does that mean, exactly?
"Just running real physical and feel like can't nobody stop you -- feel like you can't be hit," Rawls said. "Puts you in the zone where there's no fear. It's just all fun, but you're also taking care of business.
"Just running angry. It's just a mentality you gotta have -- you gotta have it. It starts in your heart, and that's what I got."
A couple days after signing his letter of intent, Rawls celebrated his fortune by visiting a local tattoo parlor.
He scripted "Tenacious" down his right arm, "Bete noire" down the left.
Black beast.
Something to be strongly detested or avoided.
Kyle Meinke covers Michigan football for AnnArbor.com. He can be reached at 734-623-2588, by email at kylemeinke@annarbor.com and followed on Twitter @kmeinke.