Posted on
Wed, Aug 4, 2010 : 5 p.m.
Big Ten coaches, players meet regularly to stay up to date on how to deal with agents
By Dave Birkett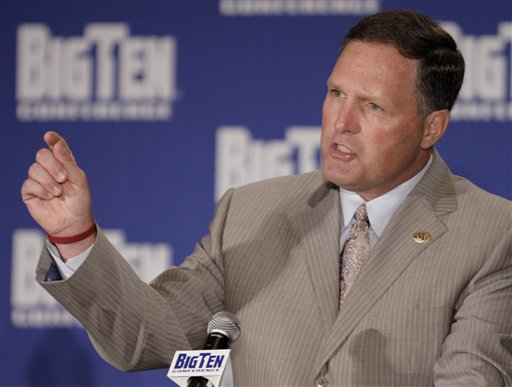 Associated Press
CHICAGO - The last time Troy Woolfolk checked, he had 86 unanswered messages on Facebook. More than a couple, he suspects, are from agents hoping to represent him in the NFL.
Woolfolk, a senior cornerback for the Michigan football team, said 15 or so agents already have contacted him through the popular social networking site. While that's not against NCAA rules - agents can reach out to college athletes as long as they don't provide impermissible benefits - Woolfolk and others said agents are getting more invasive in the way they do business.
Along with Facebook, Big Ten players and coaches said they've been approached by agents or their runners through e-mail and telephone, at bowl games, malls, popular campus hangouts, even at the league's annual football media days earlier this week.
"This place has been swarming with agents for the past two days," Minnesota coach Tim Brewster said Tuesday. "Agents are all over the city. They're in the hotel. You think that there hasn't been a ton of contact between agents and these seniors that are all here? It's a joke."
None of the players AnnArbor.com spoke to said they'd been offered illegal benefits, but this summer several ACC and SEC schools opened investigations into whether their athletes attended an agent-funded party in Florida.
Brewster said the easiest way to curtail the agent problem is for the NFL Players Association, which certifies player representatives, to fine or suspend any agent guilty of breaking NCAA rules.
"If I cheat, I'm going to lose my job. I'm going to be fired, period," Brewster said. "If an agent cheats, what happens to him? So the NFL Players Association has to get something in place that says if an agent's involved with an ineligible athlete, if it's proven to be, he needs to lose his license. He needs to lose his license for a year, two years, whatever it may be. And I think that'll create some sanity."
For now, coaches and universities are left to police and educate players on what interactions are and are not permissible with agents.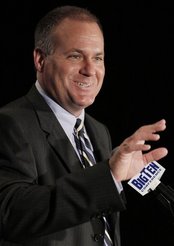 Associated Press
Michigan coach
Rich Rodriguez
said coaches and the university's compliance department hold several rules seminars a year - "Summer, camp, during the season, spring," Rodriguez said - where the topic of agents is discussed.
"It's obviously an issue and something we worry about as coaches, and I'm sure institutions and compliance offices worry about it because that element's out there," Rodriguez said. "You got to do all you can from a coaching standpoint, from a compliance standpoint to educate your players, which we do. Our players heard it the other day.
"Our players have to be smart, not only with themselves but with their families. I think that's part of the process, not only educating (players) about what's out there as far as agents and runners and people trying to get in on you and get your money and giving you favors in turn for money later and all that stuff. We have to do what we can to educate their families, too."
Rodriguez said he prefers for his players to wait until after the season to talk to agents, though some conversations happen earlier.
Woolfolk said he sends a standard reply to all agents who e-mail or Facebook him letting them know, "I'm busy right now during the season, here's my dad's number and you can hit him up if you really want to talk."
Woolfolk's father, Butch, played in the NFL and is evaluating agents for Woolfolk to choose after the season.
Michigan guard Steve Schilling said he's had informational sessions "with a couple" agents, but will hold off on further talks until after the season.
"You need to gather some information," Schilling said. "You don't want to make an uneducated guess and regret it if you have a short time after the season's over to pick one and get ready, start training. But in terms of my experience with it, it's all been positive. I haven't even come across anything that was questionable."
Like Michigan, other Big Ten schools have regular compliance meetings to inform players of the do's and don'ts when it comes to agents.
Purdue defensive end Ryan Kerrigan said the Boilermakers brought in an NFL personnel man to give players a different perspective on agents last year.
Illinois coach Ron Zook, who spent six years as an NFL assistant, said he encourages players to have dialogue with agents but keep him and the Illini compliance department informed "so there's not a behind-the-scenes, behind-the-door, behind-the-curtain mentality."
And Minnesota hosts a sort of agent job fair after every season where agents from all over the country come in and meet with players.
"You can be just fine waiting until after your season to come to an agreement with an agent because all an agent's doing, he gives you money," Brewster said. "What those players don't understand, it's not a gift. That's a loan that you have to repay. And it's really unfortunate. So many kids get caught up in owing agents $100,000 before they've even gone to a draft. Agent's got a kid convinced he's going to be a second-rounder and he's a free agent who gets cut the second week of training camp and he's got a bill to an agent for $150,000.
"It's (a) huge (problem). And anybody who doesn't think it's a huge issue has got their head in the sand."
Dave Birkett covers University of Michigan football for AnnArbor.com. He can be reached by phone at 734-623-2552 or by e-mail at davidbirkett@annarbor.com. Follow him on Twitter @davebirkett.