Posted on
Sun, Jun 5, 2011 : 8:03 p.m.
Big Ten commissioner Jim Delany 'disappointed' in former Ohio State coach Jim Tressel
By Michael Rothstein
Calling it a break in the chain of reporting, Big Ten commissioner Jim Delany said he was disappointed and surprised about the downfall of former Ohio State football coach Jim Tressel, but that he wasn't angry.
Tressel was forced to resign Monday after being accused of lying about his knowledge of and eventually covering up major NCAA violations at Ohio State. When the investigation into Ohio State started in December 2010, he publicly supported Tressel.
At the time, he didn't know what Tressel really knew.
"I was disappointed. I was surprised and I felt badly about it but, you know, I kind of reserve anger for my dog," Delany said Sunday. "I try not to get terribly angry.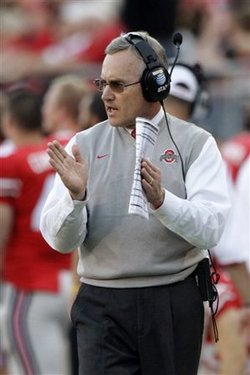 "I was disappointed. I was surprised. I wish it hadn't happened. But it wouldn't be accurate for me to say I was angry. I knew it was serious, but I don't remember going into a rage."
During Tressel's 10 years at Ohio State, the program became the flagship of Big Ten football. He had won or shared seven league titles and OSU became a perennial representative in the BCS for the Big Ten. Even in December, with the Buckeyes playing in the Sugar Bowl against Arkansas, Delany defended Tressel and the Ohio State program.
He acknowledged Sunday that he's "enough of a realist" to know that coaches can hide things even when people might think he's telling the truth.
"I was disappointed when that happened. I didn't feel much more than disappointment," Delany said. "I knew it was a very serious matter because I know and we've been really, for a long, long time making it very clear to our coaches and to our athletic directors and our faculty that when that kind of information becomes available, you have no choice.
"Your only choice is to forward it through the system, and I recognized at the time that the failure to forward that through the system was a fundamental error. And I wasn't exactly sure how the NCAA or the institution would handle it."
That, Delany said, was Ohio State's biggest issue. It is something he said the league has instructed its coaches, athletic directors and presidents to do over the past two decades.
If they hear of something illicit, they have to pass it on instead of hold onto it. That was Tressel's biggest failing.
"The chain broke when the coach became aware of the information and didn't forward it in the chain of command," Delany said. "If you really look at everything else about that investigation with regard to the awareness of the tattoos and the coach having that knowledge, it was forwarded in a timely way to the NCAA.
"A lot of times in positions of authority you run into information that you wish wasn't there. But the reality is when you get that, you have certain duties and responsibilities to handle it in certain ways, and I think that's where the breakdown occurred."
Now, Delany said, Ohio State must wait until the NCAA Committee on Infractions hearing on Aug. 12 in Indianapolis to begin to determine what will happen to the Buckeyes.
He said he wasn't sure yet if Ohio State would be eligible for the first Big Ten football title game on Dec. 3 in Indianapolis.
That, along with other punishments, will be determined after the NCAA releases its decision.
"There are a whole broad range of things that could happen," Delany said. "But I can't predict what that might be."
Going on a retreat
Along with the selection of Indianapolis and Chicago for various Big Ten title games, the other major issue discussed at the Big Ten presidents and chancellors meeting was a high-level retreat that will take place in August.
The main topic of discussion will be something Delany broached in May about the cost of attendance and the improvement of the college experience for student-athletes.
"What our presidents really focused on is how do we re-establish the collegiate model, what are the welfare issues for student athletes, what are the academic issues for student athletes," Delany said. "What are the issues related to financing and cost associated with intercollegiate athletics that can bring us to a place where the system is more sustainable, healthier, and I think better for all the coaches, players and fans that are around it.
"We had a lot of great discussion."
The collegiate model Delany is referring to is the idea to give athletes a stipend to handle other expenses currently not covered by the NCAA scholarship.
Michael Rothstein covers University of Michigan basketball for AnnArbor.com. He can be reached at (734) 623-2558, by email at michaelrothstein@annarbor.com or follow along on Twitter @mikerothstein