Posted on
Sun, May 9, 2010 : 6 a.m.
Big Ten expansion talk makes sense - it'll eventually make plenty of dollars, too
By Dave Birkett
First it was Notre Dame, then Texas, then came the plan to annex the East.
Since the Big Ten announced in December the timing was right to "conduct a thorough evaluation of" expansion, the conference has gone through a dizzying array of prospective incarnations.
Columnists from Kentucky to Nebraska have weighed in on the merits of joining the first BCS superconference, and last week came the sensible plan of growing by five: Missouri, Nebraska, Pitt, Rutgers and Syracuse.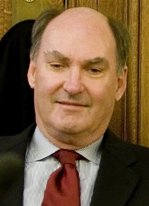 Big Ten commissioner Jim Delany said the conference is sticking to its original 12- to 18-month timetable for a decision, but the smart money is on movement by the end of the summer.
Conference athletic directors will meet in Chicago later this month, and university presidents have their annual retreat the first weekend of June. Expansion is bound to be a topic of conversation at both gatherings, and unlike years past when the subject came up, the Big Ten looks guaranteed to grow.
While the whos and hows still need sorting through - that five-team plan would be perfect if Notre Dame was a part - the why of expansion is obvious: Money, and lots of it.
Three years after launch, the Big Ten Network is a cash cow that's made conference schools the envy of their peers. Big Ten schools, Michigan included, hauled in an estimated $22 million in rights fees last year.
SEC teams have won four straight national championships in football, ACC teams have won the last two NCAA titles in basketball, but neither conference keeps its members as flush with cash as the Big Ten.
By adding more schools, the conference guarantees itself and its network (of which it's a 51-percent stakeholder) deeper revenue streams.
As is, the Big Ten Network rakes in an estimated 88 cents per cable/satellite subscriber in its eight-state footprint (Michigan, Ohio, Illinois, Indiana, Iowa, Minnesota, Pennsylvania, Wisconsin) and six cents a subscriber elsewhere, according to research firm SNL Kagan. Penetrate a new state, New Jersey and its estimated 2.6 million cable households, for instance, and watch the money flow (that's $2.3 million for the calculatorly impaired).
Beyond subscription fees, the network stands to benefit from more programming (five new teams means three more conference football games a week), increased ad revenue, and a Big Ten championship game. And if the conference could land a school with national appeal like Notre Dame, well, that 88-cent fee might become a bargain.
So what are the chances the Big Ten adds Notre Dame, the big fish it failed to hook a decade ago? Depends who you ask.
Notre Dame athletic director Jack Swarbrick has repeated his school's desire to remain independent, but the Irish might lose their game of chicken amid collateral damage.
The Big East, of which Notre Dame's a member in all sports but football, won't survive if the Big Ten pillages three or four of its members. UConn, Pitt, Syracuse and Rutgers are all on the Big Ten's radar.
If you believe in the superconference model, the fallout doesn't stop there. The ACC would swallow the Big East's less desirables, the SEC would expand (hello, Texas?) and the Pac-10 would move into the plains, leaving four 16-team leagues to break away from the NCAA.
The Irish aren't what they used to be as a football program, but they still hold widespread appeal (as evidenced by their TV deal with NBC). More importantly, they're exactly the type of school the Big Ten needs to make expansion worthwhile. Texas would be even better for its TV markets and fertile recruiting territory, but that's a pipe dream that even a shrewd businessman like Delany will have a hard time pulling off.
Big Ten Network president Mark Silverman said the network's interests are "one of many factors that go into determining if (the conference) should expand."
"That's really all I know," Silverman said last week. "Unfortunately, there's a lot more excitement in the speculation than the reality of what's happened so far."
That's true, but the speculation isn't baseless.
Silverman wouldn't address specific schools or say what getting into certain markets would mean for his network, and he wouldn't venture a guess what the conference will look like five years from now.
"Call me back in 12 to 18 months," he said, "and I'll let you know."
Dave Birkett covers University of Michigan football for AnnArbor.com. He can be reached by phone at 734-623-2552 or by e-mail at davidbirkett@annarbor.com. Follow him on Twitter @davebirkett.