Posted on
Tue, Oct 5, 2010 : 5:04 p.m.
Big Ten is becoming a league full of playmakers and high-scoring offenses
By Jeff Arnold
Mark Dantonio was offered a choice, and it seemed aimed at the Michigan State football coach's defensive background.
Would he prefer Michigan sophomore quarterback Denard Robinson run or pass when the Wolverines host fellow unbeaten in-state rival Saturday (3:36 p.m., ABC) at Michigan Stadium.
"I would rather see our offense was on the field, personally," Dantonio deadpanned on Tuesday while on the weekly Big Ten coaches teleconference.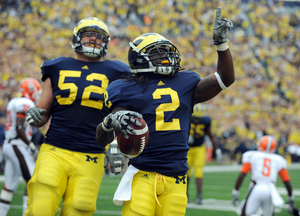 Lon Horwedel | AnnArbor.com
As daunting as containing Robinson and his 382.6 yards of total offense per game may be, Big Ten coaches league-wide are forced to game plan for opposing offenses that are scoring early and often this season.
Six Big Ten teams average at least 30 points a game. Two of the league's traditional bruisers - Ohio State and Michigan - average more than 40 points.
The Buckeyes and Wolverines each have scored more than 60 points in a game this season. Michigan's 41.4 points per game ranks eighth in the nation and the Wolverines trail only Oregon in yards of total offense (565) accumulated each week.
For Dantonio, that adds up to a lot of headaches.
"This is an extremely explosive offensive football team," Dantonio said. "When you see the number of plays that they run relative to the number of points they put up and the number of big plays that they have, it's amazing."
While Michigan (5-0, 1-0 Big Ten) ranks second in scoring offense, the Wolverines are 11th in the Big Ten in time of possession. The Wolverines average just under 29 minutes in possession time per week - almost four minutes less than Ohio State, which leads the league in scoring (44.2 ppg) and that is second in time of possession (33:46).
Big Ten coaches said Tuesday they anticipate that the high scoring Saturdays to be less common as either injuries begin to factor in or as weather begins to worsen. Indiana coach Bill Lynch also believes scoring will slow once some of the league's high-scoring offenses face tougher defenses.
But so far, they see a league in which high-scoring offenses are more common than ever.
"There are a lot of skillful players in the Big Ten conference," Ohio State coach Jim Tressel said. "As you go through the Big Ten schedule, every game is a battle and people sometimes ask, 'Is this going to be a high-scoring or a low-scoring (game),' but it's all determined by offensive execution or defenses being solid."
Michigan coach Rich Rodriguez said Tuesday that offensive schemes - both Big Ten-wide and nationally - have evolved to the point where it has become more difficult to shut teams down. Although Rodriguez credits some of the shift to technology and coaches becoming more creative, he said an increase in skilled playmakers has also added to the way teams are able to produce.
"You still have great defenses (in the Big Ten), but there's some explosive offenses and some creative systems that you have to go against," Rodriguez said.
Yet, as Indiana found out last weekend in a 42-35 loss to Michigan, offensive firepower isn't always enough. Despite 35 first downs and holding onto the ball for 41 minutes and scoring five touchdowns, Indiana - one of the league's top offensive units - lost for the first time.
It's a mystery Lynch is still trying to figure out in a week when he must get his team ready to handle the league's top scoring offense in Ohio State.
"You would think all that stuff would lead you to a win, and it didn't because of the big plays (Michigan) had," Lynch said. "It just shows you how important big plays are and, particularly, big plays that go for touchdowns. It was great for the fans - I know they got their money worth, because it was one of those games when the last team that got the ball last was going to win it.
"But you've got to score points in this league to win and year in and year out, it shows itself."
Jeff Arnold covers sports for AnnArbor.com and can be reached at (734) 623-2554 or by e-mail at jeffarnold@annarbor.com. Follow him on Twitter @jeffreyparnold.