Big Ten player poll: Ohio State's Terrelle Pryor exciting, overrated
Posted on Tue, Aug 3, 2010 : 1:19 p.m.
CHICAGO - Terrelle Pryor wasn't at Big Ten football media days, but the Ohio State quarterback still generated plenty of buzz.
In an AnnArbor.com survey of 11 Big Ten players, Pryor was the landslide pick as most exciting player in the league and received votes as the Big Ten's most overrated player.
"He's exciting. Either way though, sometimes," one player said.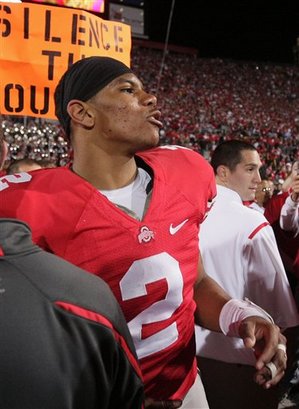 Every player was granted anonymity for the survey and told they couldn't vote for their own teammates, coaches or stadiums. Some chose not to answer every question. The results:
Who's the most exciting player in the Big Ten? Terrelle Pryor, Ohio State - 8 Adrian Clayborn, Iowa - 1 Denard Robinson, Michigan - 1 Comment: "I've seen how fast he is." N/A - 1
Who's the most overrated player in the Big Ten? Terrelle Pryor, Ohio State - 3 Tate Forcier, Michigan - 1 Keith Smith, Purdue - 1 Nick Toon, Wisconsin - 1 N/A - 5
Which Big Ten coach would you most like to play for? Kirk Ferentz, Iowa - 4 Comment: "They just always have such a well-coached team." Joe Paterno, Penn State - 3 Jim Tressel, Ohio State - 3 Pat Fitzgerald, Northwestern - 1
Which coach would you least like to play for? Rich Rodriguez, Michigan - 3 Comment: "I just see him headlining ESPN for all the wrong reasons." Bret Bielema, Wisconsin - 1 Tim Brewster, Minnesota - 1 Mark Dantonio, Michigan State - 1 Bill Lynch, Indiana - 1 Joe Paterno, Penn State - 1 Ron Zook, Illinois - 1 N/A - 2
What Big Ten stadium has the best atmosphere? Penn State - 5 Comment: "Just the whole college town atmosphere and the white out." Ohio State - 3 Michigan - 1 Iowa - 1 Wisconsin - 1
What Big Ten stadium has the worst atmosphere? Northwestern - 9 Comment: "They got like a high school stadium." Indiana - 1 N/A - 1