Posted on
Thu, Nov 17, 2011 : 7:31 p.m.
Big Ten predictions: It's Ohio State vs. Penn State for Notorious B1G title
By Nick Baumgardner
What would the general reaction have been a year ago if someone posed the notion that this year's Ohio State-Penn State game featured no Jim Tressel and no Joe Paterno?
Current Buckeye interim coach Luke Fickell is pretty up front with his reaction. He'd have called you crazy.
But on Saturday, crazy will turn into reality when the Nittany Lions visit Columbus in one of the strangest matchups in series history.
"You never know what the world's going to throw you," Fickell said earlier this week. "And that's part of life."
The fallout from both programs' off-the-field issues has been severe.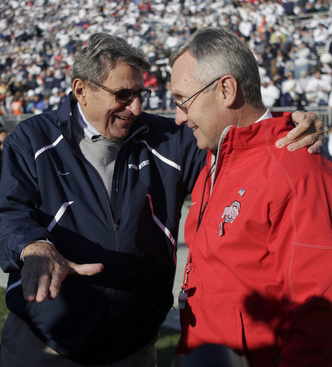 AP file photo
Ohio State was saddled with the "failure to monitor" distinction by the NCAA this week in the wake of the team's extra benefits fiasco that cost Tressel his job in May.
Penn State, meanwhile, continues to drown under the massive current of the recent Jerry Sandusky scandal, the Paterno removal and the public perception of the program.
On the field, Fickell and Penn State interim Tom Bradley are in similar spots.
There's a good chance they're both lame-duck bosses, and they're forced into the unenviable situation of trying to focus on football when their respective fan bases want to discuss anything but.
Because of that, and because the pair are acquaintances off the field, the two shared a private phone conversation this week.
"Coach Fickell called, and obviously I know Coach Fickell because I've seen him on the road recruiting and we know each other, it was a very easy conversation," Bradley said. "One of the things Coach wanted to assure me was that every (precaution) would be taken for our safety and my players' safety and we wouldn't have to worry about that.
"He was excited to just go out and play a good football game."
Both coaches want the focus to stay on the field.
Ohio State is trying to rebound from a gut-wrenching loss at Purdue a week ago, while Penn State is trying to keep its head above water in the race for the Big Ten Leaders Division crown.
Those storylines would normally be front-page news.
But not this year.
Not even close.
"We want to focus on the football game and make sure we keep it at that," Fickell said. "We don't (want to) get into the personal sides of things. If you're human, your thoughts and your prayers have to go out to everybody involved and the hardships and the tough times that everybody's going through."

B1G Predictions

Members of the AnnArbor.com sports department are picking the winners of Big Ten football games this season, with bragging rights in our corner of the newsroom at stake. Check out last week's results below, after you play along with us by choosing your own winners.
Note: To avoid redundancy, you won't find Michigan's game here. A Michigan-Nebraska poll and Kyle Meinke's prediction will be published Friday.

INDIANA (1-9, 0-6) at No. 12 MICHIGAN STATE (8-2, 5-1)
Noon, BTN

Nick Baumgardner: If Michigan State botches this one, my old dorm room may burn to the ground. Michigan State.
Pete Cunningham: I've run out of ways to cleverly state that Indiana is horrible. Michigan State.
Jim Knight: Upset of the Big Ten season here? No way. Michigan State.
Kyle Meinke: I flipped a coin to decide this one. It landed on Indiana. I laughed. Michigan State.
Rich Rezler: This will be a more interesting matchup on Dec. 28, when it's Tom Crean vs. Tom Izzo. Michigan State.
No. 15 WISCONSIN (8-2, 4-2) at ILLINOIS (6-4, 2-4)
Noon, ESPN2

Baumgardner: Ron Zook doesn't want to talk about his job security. Wisconsin won't help him there, Badgers by a ton. Wisconsin.
Cunningham: Fitz Toussaint gained 192 yards against this run defense. Montee Ball will need to ice his wrist after flipping the ball to the ref in the end zone so many times. Wisconsin.
Knight: Illinois' second-half slide continues. Wisconsin.
Meinke: Illini coach Ron Zook walked out of a presser this week. He might be walking out of those doors for good. Wisconsin.
Rezler: Lots of pushups for Bucky. Wisconsin.
IOWA (6-4, 3-3) at PURDUE (5-5, 3-3)
Noon, BTN-X

Baumgardner: If there's a less intriguing game in the country Saturday, I'd like to know. Ugh, Boiler up. Purdue.
Cunningham: At Iowa, this would be a blowout. In West Lafayette, I'm not so sure. Iowa.
Knight: Had to happen sometime. Iowa gets a victory on the road. Iowa.
Meinke: The the Hawkeyes are winless on the road. The Boilermakers are winless after a victory this year. Ladies and gentlemen, your 2011 Big Ten! Purdue.
Rezler: Iowa's new slogan: "Iowa, doing its part to keep America from watching 10 Big Ten teams in bowl games." Iowa.
MINNESOTA (2-8, 1-5) at NORTHWESTERN (5-5, 2-4)
Noon, BTN-X

Baumgardner: Well, I think I found my answer to the less-intriguing question. Northwestern wins, but everyone watching loses. Northwestern.
Cunningham: I imagine the Minnesota locker room to be something like the shower scene from Bull Durham. Jerry Kill: "Two and eight...How did we ever win two?" Assistant coach: "It's a miracle." Jerry Kill: "It's a miracle." Northwestern.
Knight: Would you believe four in a row for the Wildcats? Northwestern.
Meinke: Northwestern, winner of three in a row, seems to have found its groove since losing five straight. Of course, playing Rice helps — and so does Minnesota. Northwestern.
Rezler: The thing about beating Rice is that you're hungry for another win one week later. Northwestern.
No. 21 PENN STATE (8-2, 5-1) at OHIO STATE (6-4, 3-3)
3:30 p.m., ABC

Baumgardner: On the field, this is a matchup of two pretty formidable defenses. Off the field, it's a battle of which program looks worse publicly. Ohio State.
Cunningham: The Interim Bowl! Brought to you by RadioShack: You've got questions, we've got answers. Loser has to pay for Urban Meyer's moving van. Penn State.
Knight: Ohio State is asking fans not to taunt Penn State. The final score may not be so polite. Ohio State.
Meinke: The Notorious Bowl features two programs in deep doo-doo. I'll take the one that is playing at the scene of the crime. Ohio State
Rezler: Notorious Bowl? I like that, Kyle. So the winner is the Notorious B1G? Penn State.
Last week: Baumgardner 4-1, Cunningham 4-1, Knight 4-1, Meinke 3-2, Reader polls 3-2, Rezler 3-2.
Overall: Cunningham 19-9, Knight 19-9, Baumgardner 18-10, Rezler 18-10, Reader polls 17-9-1, Meinke 17-11.