Posted on
Wed, Nov 30, 2011 : 6:47 p.m.
Big Ten says it's not paying fans to attend its football title game; Is someone?
By Kyle Meinke
This story was updated at 6:47 p.m.

It's safe to say Big Ten Conference officials didn't want to begin their first football championship weekend by announcing it would not pay fans to attend the title game at Lucas Oil Stadium in Indianapolis.
Yet, here we are.
A peculiar Craigslist ad was posted at 9:24 p.m. Tuesday requesting "seat-fillers" for a Saturday night event in Indianapolis. It did not explicitly say it was for the Big Ten championship game, but did indicate attendees "must have red or dark green casual clothing" and be able to tolerate crowds.
They would be paid for attending.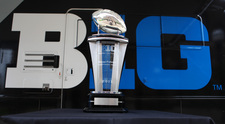 Jeff Sainlar | AnnArbor.com
The Big Ten denied it was behind the ad in an email to AnnArbor.com this afternoon. It later tweeted from an official Twitter account: "Fans, please be aware, regarding the Big Ten Football Championship Game, the Big Ten is NOT paying fans to attend. #B1GFCG."
The Big Ten recently announced tickets are still available for its first championship game, which will feature Michigan State (10-2) and Wisconsin (10-2). On Stubhub, a seat can be had for as little as $9.
AnnArbor.com obtained a copy of an email that was sent to someone who responded to the Craigslist ad, which has since been deleted. It read:
"Thanks for expressing interest in helping us fill empty seats on Saturday night. We have gotten your e-mail address, and will be sending out details Saturday morning to match the expected number of needed seat-fillers. Our client has asked for discretion about this opportunity, as "seat-filling" is behind-the-scenes aspect of this event production.

"On the day of the event event, we will designate a parking garage and validate your parking. Seat fillers will be assigned seats inside or near the event close to the event start time. We expect fillers will need to be checked in around 6:30pm on Saturday. The event itself begins shortly after 8pm, and we expect it to conclude close to midnight. You will receive payment at the end of the evening upon turning in the paperwork given to you at the beginning of the evening.

"No experience is necessary, and there are no age, sex, or race requirements. We are asking that all participants wear red or dark green t-shirts and/or hats.

"This is an exciting opportunity to be paid to see a live sporting event! We look forward to seeing you on Saturday."
The email was signed "ICC." A spokesperson for the Greater Indianapolis Chamber of Commerce said the body was not involved, and doesn't go by "ICC" anyway. It goes by GICC.
John Dedman, vice president of communication for the Indiana Sports Corporation, an organizer of the title game, said "seat-fillers" have never been requested in his six years with the group.
That tenure includes staging other conference tournaments, a Final Four and next year's Super Bowl.
Dedman said the ISC was bombarded today with media requests seeking comment, and that damage control was difficult because it was a travel day for Big Ten and event officials.
"The most frustrating part is there's no way to prove it's not you," he added. "But I feel very secure when I tell you no one's trying to find seat-fillers for this game. The demand simply is too high."
Michigan State sold out its allotment of tickets, but Wisconsin did not. It returned the remaining tickets, which were made available to the public Wednesday morning. Seats remain available.
Kyle Meinke covers Michigan football for AnnArbor.com. He can be reached at 734-623-2588, by email at kylemeinke@annarbor.com and followed on Twitter @kmeinke.