Posted on
Thu, Oct 20, 2011 : 2:59 p.m.
Big Ten's suspension of William Gholston for punch to Michigan's Taylor Lewan was inevitable
By Kyle Meinke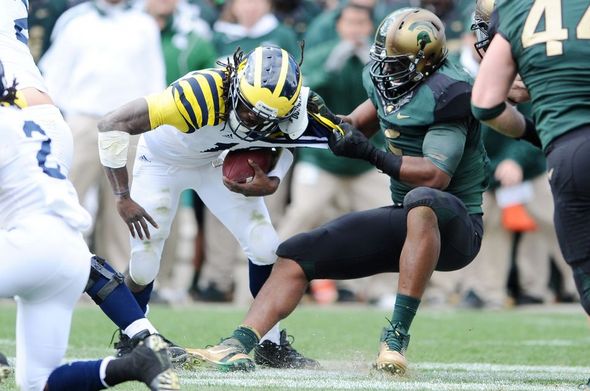 Melanie Maxwell | AnnArbor.com
This story was updated at 4:43 p.m.
It was inevitable.
The Big Ten suspended Michigan State defensive end William Gholston on Thursday for a punch he levied to the neck of Michigan left tackle Taylor Lewan on Saturday, and he will sit out this week's prime time game against Wisconsin.
Based on precedent, this was the appropriate course of action.
The league suspended former Michigan linebacker Jonas Mouton one game for a punch he threw against Notre Dame in 2009. It's taken similar action before, and will again.
This time, the Big Ten did not specify the precise action for which Gholston is being suspended, but it did say it came at the end of the third quarter of Michigan's 28-14 loss. That indicates it was for the punch.
Already this year, Illinois suspended linebacker Jonathan Brown for a blow to the groin of a Northwestern player. Just this week, Miami suspended defensive tackle Micanor Regis for punching a North Carolina wide receiver.
The difference between those two cases and this one, of course, is that the school suspended those players. Michigan State, after a three-day internal investigation, elected not to suspend Gholston for his punch of Lewan, nor his helmet twist of quarterback Denard Robinson.
This, again, was inevitable.
After all, Michigan State coach Mark Dantonio has shown he's willing to be subjected to public scorn in an effort to defend his players. Right or wrong, it is a reality.
He allowed Chris L. Rucker to play against Iowa last year only two days after completing an eight-day stint in jail. He gave troubled running back Glenn Winston two chances, including letting him back on the team after a fourth-month jail sentence for two assault charges related to the beating of an MSU hockey player.
Clearly, Dantonio is willing to make unpopular choices to get his guys back on the field. His choice to not punish Gholston will be unpopular among some critics, but it also follows suit.
Overall, the Spartans had six personal fouls and 13 penalties, and have drawn criticism locally and nationally for their aggressive play. Again, though, Dantonio's not one to care. He said earlier this week he was not insulted by the perception of his program.
"Not at all," he said. "I'm proud of how our team plays. We're just playing the game hard. The lack of composure is frustrating, but we're not coaching that."
Gholston seemed to accept his punishment begrudgingly, noting in his statement he was provoked by Lewan.
"I deeply regret momentarily losing my composure late in the third quarter of last Saturday's game against Michigan," the statement read. "Although provoked, my response was inappropriate."
Michigan State athletic director Mark Hollis seemed to echo those thoughts.
"Make no mistake; there is no place for a thrown punch in a football game," he said in a statement. "At the same time, it was important to get beyond the two-second video clip. It is critical that we strive to reduce and eliminate the sporadic incidents that detract from the game. In order to do that, we all must understand, be accountable and manage the environment to reduce these types of reactions.
"We wanted the Big Ten to understand the totality of the situation and that this act does not reflect the culture and values of Spartan Football and Michigan State University."
Dantonio's refusal, then, to suspend Gholston is unsurprising, and expecting him to punish a player for throwing a punch in a physical, sometimes dirty game -- and that went both ways -- was futile.
And, really, that's not the worst thing in the world. After all, it was the Big Ten, not Michigan, that suspended Mouton.
But in the end, regardless of who imposed it, a suspension of Gholston was the only appropriate recourse.
Kyle Meinke covers Michigan football for AnnArbor.com. He can be reached at 734-623-2588, by email at kylemeinke@annarbor.com and followed on Twitter @kmeinke.