Posted on
Thu, Nov 10, 2011 : 1 p.m.
Big Ten title game will be interesting, but it likely won't thrill a nation
By Nick Baumgardner
The inaugural Big Ten Championship Game is less than a month away.
On Dec. 3 at Lucas Oil Stadium in Indianapolis, one of the country's most storied conferences will make history with its first one-game-decides-all title bout.
But if a tree falls in Indiana next to a pair of bland teams, does anyone see it?
The luster of the game will no doubt capture attention, especially in the Midwest.
But nationally? Maybe not.
Consider this: There's still a real chance the game could feature a matchup between Penn State and Iowa.
Off the field, Penn State's in shambles. The entire Jerry Sandusky scandal has greatly overshadowed anything the Nittany Lions have done between the lines. On the field, they've barely been able to squeak by in just about every game they've won.
As for Iowa? Well, the Hawkeyes lost to Minnesota two weeks ago.
Need we go on?
The conference's most marquee matchup at this point may well be a rematch between Michigan State and Wisconsin.
But neither of those teams is exactly stellar. Wisconsin failed to get itself together in crunch time during back-to-back weeks, while Michigan State ruined its shot at a perfect league season by getting thumped at Nebraska before barely getting by Minnesota at home a week ago.
Not exactly Alabama vs. LSU, is it?
The blandness doesn't stop there.
Look at the rest of the league.
Michigan can't seem to figure out an offensive identity, Nebraska got pushed around on its own field by Northwestern, and Ohio State has proven it can win games — so long as the forward pass is eliminated as a legal play.
Illinois looked like it was ready to set the world on fire a month ago, but now the Illini seem content on only showing up for games after a halftime snack.
Northwestern is still Northwestern, a talented squad that scares the stuffing out of folks, but seems to be a few key pieces from being legit.
Minnesota, Purdue and Indiana?
I don't have anything nice to say, so I'll heed the advice of mothers everywhere.
Every team is flawed, no team really goes down as elite, and though the opening kick of the first Big Ten title game will captivate an audience due to its newness, but the remaining 59:55 might put folks to sleep.
You can call parity; I'll call it something else.
Lackluster.
***
Sky high: Iowa (6-3, 3-2)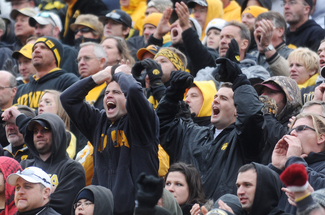 Melanie Maxwell | AnnArbor.com
Up from the ashes, or something like that.
Whether or not Junior Hemingway's knee was down Saturday doesn't matter now.
The Hawkeyes knocked off Michigan, and are in complete control of their own destiny moving forward in the Legends Division.
Believe it.
One week after embarrassing itself with a loss to woeful Minnesota, Iowa finds itself in as good a position as anyone to advance to the Big Ten Championship Game.
It won't be easy, but nothing's impossible. Iowa hosts Michigan State this week before closing at Purdue and at Nebraska.
Win them all, and Fox's ratings for the Big Ten title game are officially wrecked.
Rock bottom: No. 19 Nebraska (7-2, 3-2)

The only reason Nebraska takes this spot over Michigan is because the Cornhuskers blew their remaining shot at a Big Ten crown at home, to Northwestern.
Michigan lost on the road in one of the toughest environments in the league. Nebraska lost in Lincoln, a place it claims is difficult to play in.
Northwestern laughed at that notion Saturday.
There are bad losses, and then there's this one.
Nothing against the Wildcats (a talented club), but Nebraska has to be better than this in November at home.
Last week's heavy lifter: Montee Ball, Wisconsin junior RB
The man crush continues.
Ball rumbled for a career-high 223 yards and three more touchdowns last week in a 62-17 thrashing of Purdue. What's more impressive? He did it on 20 carries, racking up an average of more than 11 yards per rush.
Ball has 1,076 rushing yards on the season, second to Iowa's Marcus Coker for the Big Ten lead. His 21 rushing touchdowns by far lead the conference, and he continues to be the league's leading individual scorer at 16.2 points per game.
He has 24 total touchdowns, tying a Wisconsin single-season record. Two more scores and he'll tie a Big Ten single-season mark.
Standout stats
703
Rushing yards allowed by Purdue over the past two weeks in losses to Michigan and Wisconsin. To date, Purdue's leading rusher (Ralph Bolden) has 469 yards rushing.
3
Individual 100-yard rushing performances by Ohio State in a win over Indiana. Boom Herron (141), Carlos Hyde (105) and Braxton Miller (105) became the first Buckeye trio to complete the feat since 1989.
7.3
Penalties per game committed this season by Indiana, last in the Big Ten and 102nd nationally.
11.5
Sacks this season by Illinois' Whitney Mercilus, the nation's leader.
Quotable:

"I think he could be really good next year, I've just got to convince him of that." — Wisconsin coach Bret Bielema on junior running back Montee Ball, a player who will have the option of either returning to school or heading to the NFL Draft a year early.
Off the cuff:
There's no hiding it, no overlooking it and no sense denying it: The alleged situation with Jerry Sandusky and Penn State is disgusting, deplorable and tragic. But rather than solely focusing energy on how horrible and irresponsible Penn State was in handling the situation (which clearly appears to be the case), or continuing to discuss Joe Paterno's fate in all of this, remember the real issue here.
The individuals and families who were victimized by these alleged heinous acts.
This situation goes beyond football. Far beyond.
Children were taken advantage of by someone they trusted, and several others appeared to look the other way.
Any guilty parties in this situation will be dealt with.
But the victims will likely never receive full restitution for what happened.
And that, more than anything else, is the truest shame of all.
Nick Baumgardner covers Michigan sports for AnnArbor.com. He can be reached at 734-623-2514, by email at nickbaumgardner@annarbor.com and followed on Twitter @nickbaumgardner.