Posted on
Thu, Dec 23, 2010 : 6 a.m.
Big Ten's bowl fortunes look ominous, especially with 4 games against SEC
By Pete Bigelow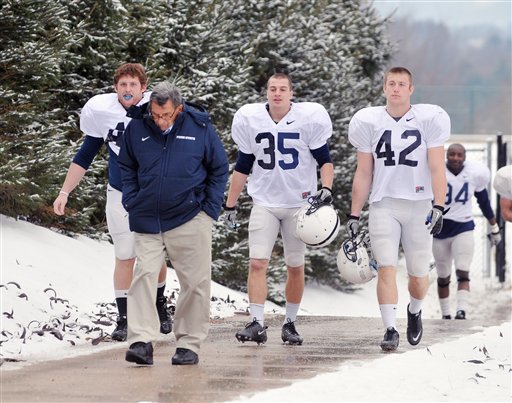 Associated Press
Angered by the Big Ten's soulless division names, its bland new logo or its populated new trophy case?
Save the vitriol for another day.
Right now, the Big Ten has more pressing problems. In a few short weeks, conference officials might actually yearn for the good old days of the division-naming crisis.
Should the Big Ten's member schools endure subpar bowl seasons, the conference will have an image problem much greater than one caused by whatever garish logo adorns its marketing material.
No question, it's going to be an uphill fight this postseason. Of the record-tying eight conference teams playing this postseason, just two are favored to win.
This is nothing new for the Big Ten.
Prior to last year's 4-3 bowl record, for which the conference did a lot of patting itself on the back, it hadn't posted a winning postseason record in seven years.
Since 2003, the Big Ten has compiled a 19-31 overall bowl record.
Since 2003, the conference has gone 3-5, 3-3, 3-5, 2-5 and 3-5 before bottoming out with a 1-6 record in 2008, a collective failure so great it spawned fears of a slow fade into sepia-toned memories and a lot of hysterical hand-wringing.
By that point, of course, the fall had already occurred. The conference had claimed only one national championship in the previous 13 years, and that one came courtesy of a late yellow flag in 2002.
A positive emerged from that '08 Big Ten bomb.
It sharpened focus on the shortcomings, cemented a consensus that the Big Ten couldn't stand pat and ultimately spurred discussions of expansion.
But the fruits of that exploration, the Nebraska Cornhuskers, don't arrive until next year. So that leaves the current crop of eight bowl-bound teams on its own for one more year.
It's a dicey outlook.
The conference's bowl season kicks off Tuesday night with a falling-apart Iowa program serving as a three-point underdog to Missouri in the Insight Bowl.
Texas Tech is favored by 11 points over Northwestern. Florida is favored over Penn State in the Outback, Alabama holds a seven-point edge over the Spartans, Mississippi State is a five-point favorite over Michigan.
It's those last three games, along with Ohio State's date in the Sugar Bowl against Arkansas, which matter most.
Four head-to-head matchups with SEC teams.
Four chances to beat the conference that has pulled ahead of the Big Ten in terms of national prominence.
Four chances to make a dent in that image problem.
No division names or logo can correct that disparity - nor do they present as rich an opportunity.
There's no question the SEC is the deepest conference in the nation right now. It has a chance to win its fifth consecutive BCS championship, and accomplish that feat with four different schools.
If the Big Ten teams can break even in their four games against the SEC … if Michigan State can knock off defending national champion Alabama in the Capital One Bowl … if Penn State's third-string quarterback can somehow scare a distracted Florida team.
Any and all would help the Big Ten chip away at the SEC's dominance.
Image can be a funny thing.
The Big Ten placed three teams in last year's final Top 10, and should do so again this year. Since 2003, it actually has a 9-9 record in bowl games against SEC teams.
(More disconcerting would be the Big Ten's 3-11 bowl record against the Big 12 in the same timeframe and the 2-6 postseason mark against Pac-10 teams, but those are stories for another day).
But that's not what will be remembered if the Big Ten shanks its way through another subpar bowl season.
Fans will remember another failed litmus test against the SEC, another subpar bowl season in a decade full of them, another notch in the second-tier status currently assigned to the conference.
After the debacle surrounding the division names and a new logo, that's not where Big Ten officials want the conversation to move.
Pete Bigelow covers Michigan football for AnnArbor.com. He can be reached at (734) 623-2556, via e-mail at petebigelow@annarbor.com and followed on Twitter @PeterCBigelow.