Posted on
Tue, Nov 2, 2010 : 5 p.m.
Big Ten's wide open race, Joe Paterno goes for No. 400 and Rich Rodriguez finds no magic button
By Pete Bigelow
One month remains, and the Big Ten race is wide open.
Four conference teams enter November tied atop the standings with one loss apiece. Ohio State, Wisconsin, Michigan State and Iowa are all vying for the title.
"I thought going into the year that our conference would have a chance to have a presence in the national scene," Ohio State's Jim Tressel said. "I think after nine games, that's proven to be true."
A series of six tiebreakers would be used to determine the conference's BCS representative should four teams finish tied for third place.
(See attachment at bottom of page.)
In reality, the Big Ten probably won't need them. If anything, the conference has been in flux all season.
Consider that No. 1 Ohio State was clobbered by Wisconsin, which was soundly beaten by Michigan State, which was destroyed by Iowa. Perhaps the circle of cannibalizing their own will come full circle when the Buckeyes and Hawkeyes meet Nov. 20.
"It's great that we have four teams ranked and, at the end of the season, it will be something comparable to that," Iowa's Kirk Ferentz said. "There's a lot of football left. We're only at the halfway point of the conference race.
"A lot of things can still happen."
Iowa may have the toughest road of the four contenders ahead. The Hawkeyes play on the road three times, and host Ohio State in the Nov. 20 clash.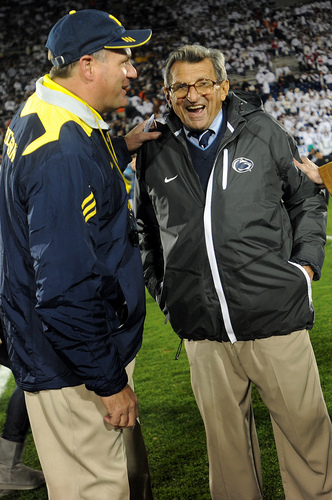 Melanie Maxwell | AnnArbor.com
ONE WIN AWAY
The last thing
Joe Paterno
wanted to talk about Tuesday afternoon was the possibility he'd reach win No. 400 of his coaching career this weekend against Northwestern.
"I don't really care about it," said Paterno, who notched No. 399 in Saturday's 41-31 win over Michigan.
Others around the conference celebrated on his behalf.
"Let me put this in perspective," Michigan State coach Mark Dantonio said. "Jim Tressel just got to 100 in 10 years. … I've remarked to my wife, do we have 50 yet? So it's amazing."
Paterno has served 534 games as head coach, second in college football history behind the 578 coached by Amos Alonzo Stagg at Chicago. The other 10 current Big Ten coaches have been on the sidelines for a combined 601 games, winning 363 times.
"It's hard to even have any of us in the business comprehend exactly what that is," Tressel said. "It's amazing."
POSTSEASON GLUT? Iowa and Northwestern became bowl eligible with wins Saturday, giving the Big Ten five bowl-eligible schools. Three more are one win away from postseason eligibility.
For the first time, the conference has eight bowl alliances. But that might not be enough for all the eligible teams should Indiana or Purdue, both sitting at the four-win mark, also become eligible.
"We went through that a couple of years ago, and it's not great," Ferentz said of his 6-6 squad in 2007. "It's always a nice reward, but I'm not sure what we did deserve it. It wasn't much fun, but you get what you deserve a lot of times."
MORE OF THE SAME In his appearance on the Big Ten conference call Tuesday, Michigan coach Rich Rodriguez echoed many of the same sentiments he did on Monday regarding his team's defensive woes.
"I wish it was just one thing," he said, "because if it was, that'd be a lot easier to fix. It seems like it's a different issue or different thing every week. We have a finger on what we have to do, but it's not as easily solved as pushing a magic button."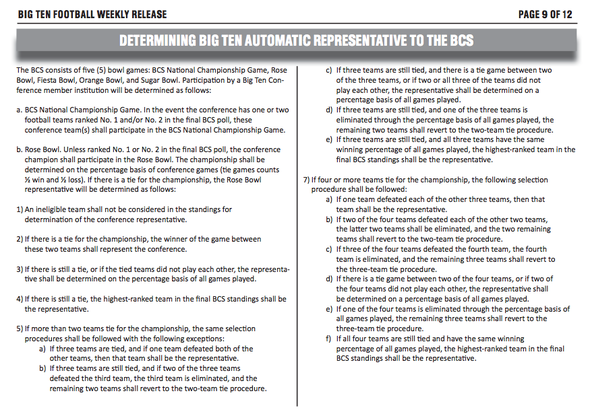 Pete Bigelow covers Michigan football for AnnArbor.com. He can be reached at (734) 623-2556, via email at petebigelow@annarbor.com and followed on Twitter @PeterCBigelow.