Posted on
Sun, Aug 19, 2012 : 9:30 a.m.
Bob Asmussen defends picking Michigan No. 1 in preseason AP poll
By Kyle Meinke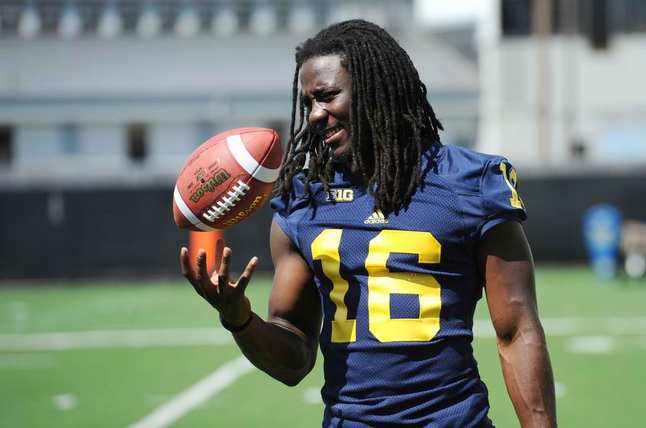 Melanie Maxwell | AnnArbor.com
The
Michigan football
team opens the season as a two-touchdown underdog against the defending national champs. It could do so without a suspended starting tailback and defensive end.
It's breaking in new starters at six of the nine line positions.
It must travel to face three teams ranked in the preseason AP Top 25, and a fourth -- Notre Dame -- that is one spot outside the poll.
Bob Asmussen knows all of this -- and yet, he believes the Wolverines are the best team in the nation.
Asmussen, an Illinois beat writer and longtime reporter for the Champaign News-Gazette, was the only voter in the country to give Michigan top billing in the preseason AP Top 25. The Wolverines finished No. 8 overall in the poll, which was released Saturday.
Asmussen already is taking heat for it.
Photo courtesy IlliniHQ.com
A closer look at the AP Top 25
AP Top 25
1. USC (25) 1,445 points
2. Alabama (17) 1,411 points
3. LSU (16) 1,402 points
4. Oklahoma (1) 1,286 points
5. Oregon 1,274 points
6. Georgia 1,107 points
7. Florida State 1,093 points
8. Michigan (1) 1,000 points
9. South Carolina 994 points
10. Arkansas 963 points
11. West Virginia 856 points
12. Wisconsin 838 points
13. Michigan State 742 points
14. Clemson 615 points
15. Texas 569 points
16. Virginia Tech 548 points
17. Nebraska 485 poitns
18. Ohio State 474 points
19. Oklahoma State 430 points
20. TCU 397 points
21. Stanford 383 points
22. Kansas State 300 points
23. Florida 214 points
24. Boise State 212 points
25. Louisville 105 points

Bob Asmussen's ballot:
1. Michigan
2. USC
3. Alabama
4. LSU
5. Oklahoma
6. Florida State
7. Oregon
8. Georgia
9. South Carolina
10. Oklahoma State
11. Wisconsin
12. West Virginia
13. Arkansas
14. Michigan State
15. Virginia Tech
16. Texas
17. Clemson
18. Nebraska
19. TCU
20. Ohio State
21. Boise State
22. Stanford
23. Kansas State
24. Washington
25. North Carolina

"I don't think I'm famous -- infamous, maybe," Asmussen told AnnArbor.com by phone, noting he received several emails and tweets within a couple hours of the poll's release and "not of the favorable variety."
"I decided late spring on Michigan, and said, "OK, I'll take the hits.' Up (in Ann Arbor), I'll be fine, but elsewhere, you can imagine the fan reaction to this. Even the Illinois reaction, they don't like Michigan, so they're like, 'Why are you doing this?'"
Michigan has been ranked around No. 8 in most preseason polls, including at No. 8 in the coaches poll. It hasn't been ranked No. 1 by any major national outlets.
Asmussen knows he's in the minority, but is standing behind the pick. Why?
"First of all, Brady Hoke has done a great job," Asmussen said of the second-year Michigan coach. "I think when he came in there, it could have been a disaster. And instead, he managed that season last year. So, I'm impressed with the way he's turned that thing.
"I think they have extreme momentum going into the year, coming off the bowl and they played well down the stretch last year. I like that, and I think that's important to this team because, they obviously lost their way under (Rich Rodriguez).
"I like what he does, I like the staff he has there. So start with the coaching. I think it's fantastic, and everywhere (Hoke's) gone, he's done this. He's been good, and now he actually has the bodies to help him win a national championship."
Michigan is a 12.5-point underdog for its Sept. 1 opener against Alabama, but Asmussen ranks the Crimson Tide No. 3, two spots behind the Wolverines.
And he's taking the Wolverines.
"I think they had all summer to get ready for Alabama, and I think there will be a little bit of a hangover with Alabama," he said. "If you look at their history, (the Crimson Tide) don't win back-to-back titles. They win a title, then they fall back. And nobody talks about this, but their defense got clubbed (by turnover).
"I just have a gut feeling, for no reason, that Michigan wins that game. Then all bets are off at that point. Now, they may lose 38-10 and I'll get ridiculed and that's OK, but I just have a feeling, for whatever reason, they'll be OK in that game."
Asmussen shrugged off concerns about Michigan's revamped defensive line, which will break in new starters at each position against what could be the nation's best offensive line.
"When I look at playing Alabama, I"m not looking at the Alabama offense," he said. "Remember, (tailback) Trent Richardson isn't there. (Quarterback A.J.) McCarron's OK, not great. To me, it's not really a weakness versus a weakness, but the lesser part of the two teams is Michigan's defense and Alabama's offense.
"I mean, Alabama isn't going to score 60 against anybody, and so I think Michigan will hold them off."
Asmussen said he is a firm believer in momentum. He believes the Wolverines' strong finish in 2011 -- when they rocked Nebraska, ended a seven-game skid against Ohio State and then beat Virginia Tech in the Sugar Bowl -- will propel them into 2012.
And after a win against Alabama, he sees them being the best in the land.
"People think I did this to cause a stir, and that wasn't it," he said. "I just kind of went with my gut. It's a hunch, and if I'm wrong, I'll know very soon. My email box will be filling up by about midnight Sept. 1."
Other bits from Asmussen:
On quarterback Denard Robinson, another reason he picked Michigan No. 1: "Denard is unlike any other player in the country, in my opinion. I know there's a lot of great quarterbacks, but he has the potential to do kind of what (Baylor's Robert Griffin III) did last year. Maybe not put up the giant numbers in both areas, but if he even gets close to that, he has an offense, he could have a special season.
On Michigan's offensive line, another perceived weakness with new starters at three spots: "Now I know they got hit a little hard on offensive line, but there's probably some offensive linemen lying around. I don't worry about that part. And on defense, I know they got hit a little bit, but I know there's players there."
On picking Michigan over USC, which was tabbed No. 1 overall by voters: "It's a coin toss. I like Southern Cal too. I just think, 'I don't know why I have a feeling on Michigan, but that's the one.' It'd be No. 1 and No. 1a if I could vote them like that. (But) Southern Cal manages to lose a game every year they shouldn't lose, be it to Cal or Oregon State or somebody, and I just have a hunch that'll happen in there somewhere."
On whether he ranks teams based on their current talent, or projected finish at the end of the season: "I'm looking ahead a little bit. ... Honestly, I looked at the returning talent, the coaching staff, and to me, it's important how you finished last year. I do think there's a carryover. ... But you do project a little bit, you look at their schedule a little bit."
On whether the criticism bothers him: "No way. I think if you're a sports writer and criticism bothers you, then you have a real problem. I'm completely immune to it. Now my wife, she's not immune to it, so I got to keep her away from the email and Internet and stuff. ... When the emails come in, not that I have the time, but I'm going to write everybody back and be as kind as humanly possible.
"The preseason ballot is just guesswork, honestly. What I'd say to anyone who is going to be critical of me is, 'Did you think the (Pittsburgh) Pirates would be leading the NL Central this year?' There's all sorts of examples in sports where you think that's impossible, there's no way that team can do this,' and I always say, 'Well we don't know."
Kyle Meinke covers Michigan football for AnnArbor.com. He can be reached at 734-623-2588, by email at kylemeinke@annarbor.com and followed on Twitter @kmeinke.