Posted on
Wed, Dec 14, 2011 : 6:38 p.m.
Bowl Bonanza winners: Ann Arbor couple off to The Big Easy to cheer on Michigan in the Sugar Bowl
By Nick Baumgardner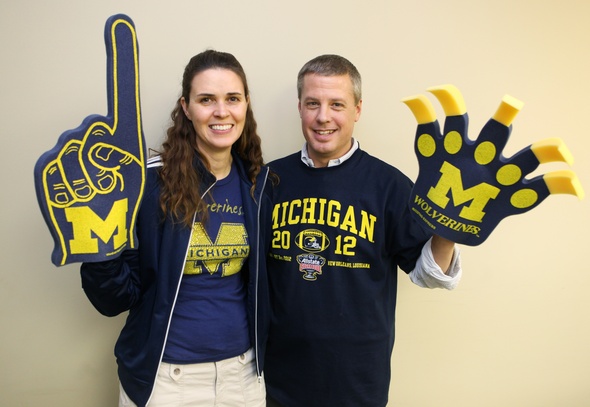 Jeff Sainlar I AnnArbor.com
For four straight days, Ann Arbor resident Colleen van Lent feverishly sought out a chance to follow the Michigan football team to its first BCS appearance since 2006.
And on the fifth day, she changed things up.
The strategy paid off.
Colleen and her husband, Mike van Lent, won AnnArbor.com's Bowl Bonanza sweepstakes and will now receive a University of Michigan Alumni Association-organized prize package that includes a trip for two to the 2011 Sugar Bowl on Jan. 3 in New Orleans.
"I entered my name (Thursday) through (Monday), and then on (Monday) night I'd asked (Mike) if he'd entered yet," Colleen said. "He said 'no,' so I checked the rules and put his name in.
"I was hitting refresh on my email all day (Tuesday) over and over to see who had won. And I got home and he said, 'Oh, I won.'"
Longtime fans of the Michigan football program, Mike, who began graduate school at Michigan in 1993 and is now employed at Soar Technology in Ann Arbor, and Colleen, who is currently a lecturer at Michigan's School of Information, will receive a prize package valued at $4,200.

As part of the Alumni Association's Champions Tour, the van Lents will receive airfare to New Orleans, a three-night hotel stay, two tickets to the Sugar Bowl, a souvenir package and more. The contest was brought to you in part by The M Den, the official carrier of Wolverines' Sugar Bowl merchandise. (Complete sweepstakes rules.)
Mike's infatuation with the Wolverine football program began in grad school, while Colleen's started when she moved to Ann Arbor in 2000.
After marrying, the two moved to Los Angeles and lived there for seven years.
Asked why they decided to return to Ann Arbor, the pair said the city itself was reason enough.
"The prospect of sending children to school and buying a house in L.A. and all that was exceedingly scary," Mike said. "We'd both lived in Ann Arbor and loved it, and decided this was our No. 1 choice for a place to live."
The van Lents now gather as a family each Saturday to watch Michigan play. Their three children are 6-year-old Christopher, 5-year-old Catherine and 2-year-old Becca.
Christopher, Catherine and Becca will be staying with grandparents when Colleen and Mike head to New Orleans for a vacation and experience the two are more than ready to share.
Nick Baumgardner covers Michigan sports for AnnArbor.com. He can be reached at 734-623-2514, by email at nickbaumgardner@annarbor.com and followed on Twitter @nickbaumgardner.