Posted on
Mon, Sep 19, 2011 : 5:38 p.m.
Brady Hoke and players react to Denard Robinson's passing-game struggles, and other notes
By Nick Baumgardner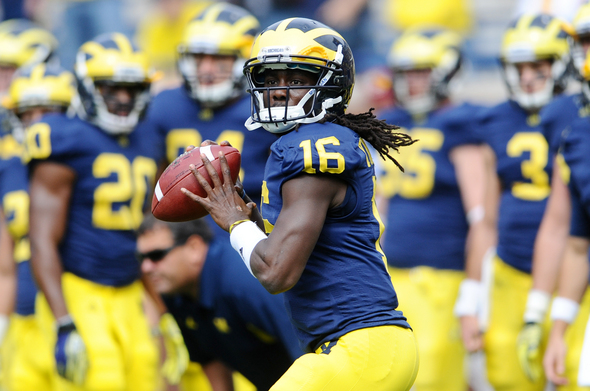 Melanie Maxwell | AnnArbor.com
Michigan junior quarterback Denard Robinson doesn't need help running the football.
Through three games, he's averaged 117.3 rushing yards and has an average of 7.0 yards per rush. But in the Wolverines' new hybrid offense, he's being asked to have two facets. And that other part isn't working for him just yet.
"We need to complete a couple balls if (teams are) going to load the box and play man coverage, which (Eastern Michigan) did," Michigan coach Brady Hoke said Monday. "And that's smart. We've got to complete a couple of those things to loosen people up."
Robinson has completed 49.1 percent of his passes, and he averages 177 yards per game and has four interceptions to go against his six touchdowns.
Following the 31-3 victory over EMU on Saturday, Robinson seemed somewhat irked when asked about his passing struggles. On Monday, Hoke and players offered their thoughts.
"There's no question that as coaches we can do a better job, maybe make him a little more comfortable with the throws," Hoke said. "We can always see from our vantage point what we can help him with, and then we have to make sure we set our feet a little more."
Senior center Dave Molk acknowledged that there have been issues with inconsistency in the passing game when he explained that Robinson still needs some development when it comes to pro-style passing.
One thing Molk won't say, though, is that the electric signal caller is hurting Michigan's chances to win.
"He just needs to progress as a player, and that's something that he'll find within himself," Molk said. "When he figures that out, he'll figure that out. Right now, what he does is working.
"He's an incredible player, and we all know that. We all know that he's just a winner."
Senior tight end Kevin Koger, a team captain, further deflected any criticism of Robinson, saying that the wide receivers need to do a better job when it comes to the smaller details of Michigan offensive coordinator Al Borges' offense.
Robinson is the team's most recognizable player, and in turn, carries more pressure on his shoulders individually. Koger says he knows that. But said that he's one of 11 on offense, and that the other 10 players on the field need to do a better job of picking up Michigan's passing attack.
"I feel like sometimes he's too hard on himself," Koger said. "It's like, 'I know you're a great player and you're expecting a lot out of yourself,' which he should, but a lot of that stuff is on us.
"Not every pass is going to be perfect. As receivers, we have to help him complete those passes."
Top 25 a curse?
Michigan made its first appearance in the national rankings Sunday, entering at No. 22 in The Associated Press Top 25, and No. 21 in the USA Today coaches' poll.
The Wolverines are ranked, and senior defensive end Ryan Van Bergen says he wants no part of it.
"I think it's a curse, honestly," Van Bergen said. "I'd rather not be ranked until the end of the season when it comes down to bowl teams. When you're ranked, all that does is put something on the chalk board for the other team.
"I'd rather not be ranked until the end of the season. Let's figure out who's the best at the end of the season."
Hoke echoed Van Bergen's feelings about national rankings to a degree, saying that he takes no stock into them until the season's finished. Hoke also added that he did not vote for Michigan in the coaches' poll.
Van Bergen said a 3-0 start and a spot in the national rankings won't be something that the team grabs a false sense of security from this year, adding that previous hot starts in 2009 and 2010 lulled the club into feeling confident.
"The last couple years it's felt like a much bigger accomplishment," Van Bergen said of the early-season success. "We felt much better about ourselves, we had some undeserved confidence because we didn't play very well. Right now, I think we're at the stage where we recognize that we haven't played very well, but we're 3-0.
"We haven't put together a full game offensively or defensively, yet we found a way to win in our three games. We have the awareness that we haven't played well yet, and we have to keep getting better and improving."
Hoke credits Roh and defensive line, but wants more up front
Hoke said Monday that junior defensive end Craig Roh "played his best football of the year" against Eastern Michigan.
After not collecting a tackle during the season's first two weeks, Roh broke out against the Eagles with five tackles and a sack. Hoke added that he "felt" his defensive front more against EMU than he had in the previous two weeks, crediting sophomore end Jibreel Black and senior tackle Mike Martin for their improved efforts.
But that doesn't mean the group has been good enough just yet.
"The standard for defensive line at Michigan is going to be the highest in the country at some point," Van Bergen said. "I think it is right now, especially in (Hoke's) mind. We're definitely not playing up to that standard right now, myself included.
"Coach Hoke's going to maintain that, he's a defensive line guy, Coach (Greg) Mattison is a front seven guy and Michigan has traditionally had a dominant defensive front seven. We have to set ourselves to that standard that they have, and we have to play better. … We don't want to be held to a lower standard, we want to be held to that high standard."
Staff confident in Gibbons
Michigan sophomore kicker Brendan Gibbons made his first field goal of the season Saturday on his first attempt, a 21-yarder.
And though it's only been one short attempt, Hoke said that the staff is comfortable with Gibbons — who went 1-of-5 last season — in the place-kicking role.
"It was great," Hoke said. "He's been great all fall. He worked hard over the summer, mentally has himself in a good place. He's been very consistent all fall camp and to this point of the season. I like the mechanics to everything, from the snap to the hold. I've been impressed with him, and I'm very confident in him."
Sticking with the kicking game, Hoke also complimented freshman punter/kickoff specialist Matt Wile for his early-season play.
"I think for a young guy to come in and do both punting and kickoffs, and he can do long field goals, for a young freshman he's hanging in there," Hoke said. "He had the one punt that's not what he wants, but he's done a nice job. There's a maturity level that you have to have and some accountability to your teammates (you have to have)."
Odds and ends
Hoke said that the job of starting punter won't automatically go back to sophomore Will Hagerup when he returns from his four-game suspension prior to the Big Ten opener against Minnesota on Oct. 1. "It makes for good competition," he said. "It enhances our competition." … Injured outside linebackers Cam Gordon (back) and Brandon Herron (leg) are both expected to be available this week against San Diego State. Hoke said that Gordon is further along than Herron at this point, and if Herron is indeed a full-go, he'll be involved in an "intense" competition with junior Brandin Hawthorne at weakside linebacker. … According to Hoke, sophomore running back Stephen Hopkins is battling a "sub flexor" (elbow) injury. Hopkins did not have a carry in the win over EMU.
Nick Baumgardner covers Michigan basketball for AnnArbor.com. He can be reached at 734-623-2514, by email at nickbaumgardner@annarbor.com and followed on Twitter @nickbaumgardner.