Posted on
Wed, Jan 12, 2011 : 8 a.m.
Brady Hoke earned respect and admiration from former Michigan football players
By Pete Bigelow
When the news of Brady Hoke's hire scrolled across the bottom of his television, former Michigan defensive lineman Shantee Orr just started laughing. Three hours later, he still couldn't shake the feeling.
"Man, it's crazy, it's crazy," he said. "This threw me for a loop."
Orr welled with pride when he saw his former defensive line coach ascend to the head-coaching position at Michigan on Tuesday afternoon following a two-year tenure at San Diego State.
Like a lot of people who share a Hoke connection, he was thrilled with the decision.
Former Wolverines spoke of Hoke as a father figure who also let the defensive linemen have more fun than any other unit on the team during his run as defensive line coach from 1997 to 2002.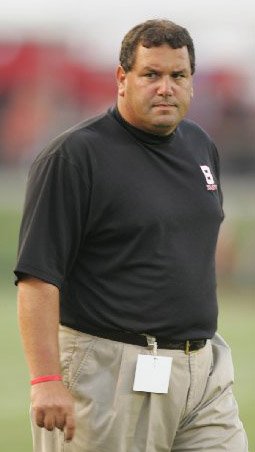 AnnArbor.com file photo
"I'm really excited for him," said Orr, who lives in Houston. He's a good guy. I know the actual person. I have been around him more hours than anybody, and he is a good guy."
Former Wolverine and current Pittsburgh Steeler LaMarr Woodley barely crossed paths with Hoke - they met during the recruiting process but Hoke left Michigan as Woodley arrived in 2003.
He underscored that Michigan fans and former players alike need to extend patience. He's worried the transition to a pro-style offense will take time, and that people need to support Hoke over the long term.
"I mean, hopefully they'll look good next year, but it will probably take a while for them to be adjusted," he said. "I don't want to go into that Michigan State situation, where they're hiring and firing.
"We have to stick behind coach Hoke and give him time to bring in the guys he needs for his formula."
Offensively, that may take a while as Michigan switches from Rich Rodriguez's spread offense back to a pro-style attack. On defense, where the Wolverines suffered through their worst season in school history, there's hope for a faster turnaround.
Hoke has a defensive background, and served as both the head coach and defensive line coach at San Diego State.
"I think that shows his passion for defense," said Grant Bowman, who played for Hoke for three years and served as Michigan's co-captain during the 2003 season.
"I think he will get the ship righted right away."
Bowman, who recently graduated from Columbia Business School, echoed the sentiment expressed by a lot of former players that Hoke was a players' coach who had a lot of fun with the Wolverines, but only if they were meeting the expectations of the position.
"I don't think you're going to find anybody who played for him or was recruited by him that didn't love him," he said. "I'm not sure there's any other coach I've been around before or since that brings the level of intensity and passion that he brings."
As much as they respect what he brings on the field, it's the attributes they took away off the field that many remember.
"He's a really good coach, but he's an even better person," said defensive lineman Alex Ofili, who played for Hoke in 2001 and 2002 and is now an assistant principal at Ypsilanti High School.
"You respect him because he's so knowledgeable, but at the same time, you just want to be around him because he's funny and just a great person to be around. He's one of those people that you see as an uncle or a father figure."
That's how Norman Heuer saw Hoke. Now a police officer in Phoenix, the Peoria, Ariz., native had to move far from home to attend Michigan from 1998 to 2002.
But he thought Hoke's candid nature was refreshing. "When you're getting recruited, everybody was trying to tell you how great you are," Heuer said. "He was the only one that was really honest and told me I could be a great player if I did the right things. He didn't try to BS me."
When Heuer's grandfather, who raised him, died, Hoke helped him through the grieving process.
"He was almost like a father figure to me," Heuer said. "He's a huge part of why I went there, especially being so far from home. I knew I was going to have a person I could always turn to and go to no matter what, because I was so far from home."
Now Hoke is coming home.
"I'm happy for him and his family, and I know they're happy to be coming back now," Orr said. "They're pretty excited about it. I can't wait to get back up there and say hi."
Pete Bigelow covers Michigan football for AnnArbor.com. He can be reached at (734) 623-2556, via email at petebigelow@annarbor.com and followed on Twitter @PeterCBigelow.