Posted on
Wed, Jan 12, 2011 : 7:24 p.m.
Brady Hoke lands his dream job as coach of the Michigan football program
By Pete Bigelow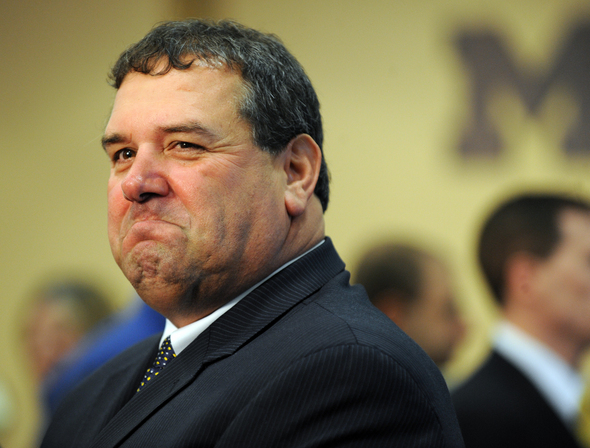 Lon Horwedel | AnnArbor.com
The phone call Brady Hoke had waited a lifetime for came Tuesday in the early morning.
It went unanswered.
Ignoring a call from the prospective boss at his dream job wasn't something in his playbook, but the 52-year-old football coach had to do this right. …
Michigan athletic director Dave Brandon had completed a five-city, six-day search for a new football coach and reached a decision. Now, if he could only get his guy on the phone.
"I spent the better part of an hour-and-a-half playing 'Where's Brady?' Brandon said Wednesday. …
Hoke's wife, Laura, had gone swimming at the YMCA near their house in San Diego. After she finished, she decided to take some extra time in the hot tub to relax after a hectic few days.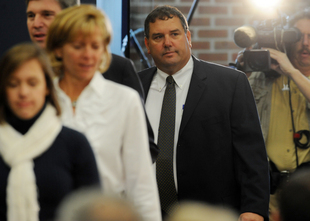 Melanie Maxwell | AnnArbor.com
Her husband seemed on the verge of landing the dream job at Michigan, a school they both had rooted for since their days as seventh graders at John F. Kennedy Junior High School in Dayton, Ohio. She was stressed.
"I needed to regroup," she said. "I took some extra time, and didn't get home when I usually do." …
Hoke sat on the other end of the phone all along.
His wife, his grade-school sweetheart, had been there beside him through coaching stops at Yorktown High School, Grand Valley State, Toledo, Western Michigan, Michigan, Ball State and most recently San Diego State.
She was going to be there for this phone call, he thought. … 8:45 a.m., Pacific Time. Laura Hoke belatedly returned from the gym. The phone rang again. It was Brandon again. This time, Brady Hoke lunged for the chance to answer it. Brandon offered him a six-year contract to be Michigan's next football coach. He accepted.
"Immediately," said Hoke, who told Brandon this was his dream job within the first four seconds of his formal interview. "We would have walked here from San Diego. Getting up the Rockies would have been a little bit difficult, but we could have figured that out." …
They dashed around San Diego for the better part of Tuesday preparing for their new life in Ann Arbor. They flew to Scottsdale, Ariz., where they picked up their daughter, Kelly. …
Back in Ann Arbor, Brandon had called a meeting with players for Tuesday afternoon. The Wolverines have been listless the past seven days, wondering along with everyone else who would be their next coach.
They thought Brandon would update them on the search.
"I thought he would maybe tell us what direction it was going, and the top candidates," wide receiver Darryl Stonum said. "I didn't know he was going to announce the coach. That was a surprise." …
Sometime around 2 a.m., the Hoke family touched down at Willow Run Airport in Ypsilanti and they spend the night at Brandon's house. Hoke caught up on a voicemail stuffed to capacity.
Outsiders viewed the hire with curiosity - a career 47-50 coach who had three winning seasons in eight as a head coach in Muncie, Ind., and San Diego - not exactly football hotbeds.
But those players who called and the players Tuesday night and the ones who overflowed the Junge Family Champions Center on Wednesday vowed that Michigan had done the right thing in side-stepping higher-profile candidates.
They not only knew about the 1997 national championship ring and the Big Ten titles from his eight years as the defensive line coach under Gary Moeller and Lloyd Carr. They knew of his intensity.
"When I talked to Mr. Brandon about the coaching position, I told him if I was picking, my number one guy would be Brady Hoke," said former Michigan offensive tackle Jon Jansen, one of two dozen or so former Wolverines on hand.
Asked if Hoke would add to his jewelry collection here, Jansen said, "No question, no question. He'll win Big Ten championships. He'll win national championships." …
Before he does anything else on day one, Hoke is adamant that he begins his tenure by addressing the team. They meet for a luncheon at Michigan Stadium.
He speaks with great passion about the Wolverines, their history and traditions. He makes them believe again, in a team that endured a tumultuous season that resulted in Rich Rodriguez's dismissal.
"He's got a whole aura about him, know what I'm saying," left tackle Taylor Lewan said. "The way he walks into a room, and he's truly here to coach football, teach us to win games and win championships. That's what I'm here to do." …
Dozens of television cameras are set up across the length of the floor in the Junge Family Champions Center. Seven rows of chairs are stuffed to capacity with reporters.
At 1 p.m., Hoke was introduced as the 19th coach in Wolverines history.
He addresses topics ranging from the rift in the Michigan family to the interview process to Denard Robinson's future to the rivalry with a school based in Columbus, Ohio that he refuses to name.
"It is the most important game on the schedule," Hoke said of the annual Ohio State game. "It. Is. The. Most. Important. Game. On. That. Schedule."
He bangs the podium with each word. …
Behind the rows of reporters and legion of television cameras, about 40 current members of the Michigan football team stood with two dozen former Wolverines, former friends from Ann Arbor and stops beyond.
"We're going to respect the tradition of the University of Michigan and its football program," Hoke said. "We're excited to be here."
It appears he has concluded his opening remarks. But he looks at the assembled crowd containing so many familiar faces and continues.
"One other thank you to the thousands of players we've been able to touch," he said.
He pauses. For the only time of the afternoon, Brady Hoke is speechless. He chokes up. He completes his remarks.
"As a family," he said.
Pete Bigelow covers the Michigan football team for AnnArbor.com. He can be reached at (734) 623-2551, via e-mail at petebigelow@annarbor.com and followed on Twitter @PeterCBigelow.