Posted on
Mon, Nov 28, 2011 : 12:32 p.m.
Brady Hoke on a 10-victory season, beating Ohio State, bowl games and more
By Pete Cunningham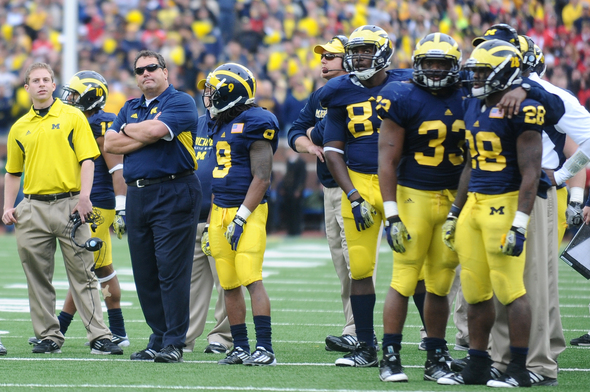 Melanie Maxwell | AnnArbor.com
The regular season is over, and there still is plenty to discuss when it comes to Michigan football.
Brady Hoke will meet the media today, two days after the Wolverines ended a seven-season losing skid against Ohio State with a 40-34 victory at Michigan Stadium. He won 10 games in his first season as Michigan's coach, he has a new rival in Urban Meyer at Ohio State, his team is in position for an interesting bowl game and more.
We'll provide updates in this file throughout the press conference.
Brady Hoke has left the building. Below are highlights from his weekly press conference with player comments below those, starting with Mike Martin, then David Molk:
Brady Hoke: On Saturday night, "I was recruiting down at the Chop House ... with recruits."
Brady Hoke: On his conversation with Luke Fickell after the game. "I just thought he did a heck of a job all season. Tough situation."
Brady Hoke: On how the offense has changed at different points in the season. "Everyone defends you a little differently."
Brady Hoke: Said Brendan Gibbons' 43-yard field goal at the end of the game was huge. "He's grown and he's learned."
Brady Hoke: On if he gets satisfaction from being mentioned as candidate for Big Ten coach of the year, "Any type of awards that are given whether its the Heisman Trophy or best taper taping ankles ... it is never one person or one guy, it's everybody involved in the program."
Brady Hoke: On Robinson's pass to Drew Dileo. "I don't know. I thought it was number one Drew made a tremendous (catch)."
Brady Hoke: On having younger guys paired with older teammates as mentors. "When you force it, it doesn't work, so it kind of has to emerge on its own."
Brady Hoke: Said he expects Brennen Beyer to be ready for the bowl.
Brady Hoke: On handling bowl practices. "When we start will dictate what day you play what day you leave. ... As a group, we'll work fundamentals and technique when we get back on the field."
Brady Hoke: On his players straddling the line between cocky and confident. "What's the term today, 'swag'? I don't even know what that means. You have to be confident in your abilities."
Brady Hoke: On whether program has taken a large step forward this season, "We'll find out. ... The one thing I can tell you is the biggest disappoint is that we didn't win a conference championship, and that's an expectation here."
Brady Hoke: On BCS, whether he's figured out what he wants to happen in various conference championship games to give his team the best chance at a BCS bid. "I don't have that kind of time."
Brady Hoke: On how the bit of downtime will be spent. Said much time will be dedicated to recruiting. "That's the lifeblood of your program. We had (recruits) in on officials (visits) this weekend, and will continue to work in that regard."
Brady Hoke: On Urban Meyer coaching Ohio State. "Neither of us are going to play a down."
Brady Hoke: On being congratulated after win. "There are text messages that I haven't even read yet, to be honest. It's great to be congratulated, but we're not done yet." Mentioned team fell short of its goal of being able to play for conference championship and there are still "improvements to be made."
Brady Hoke: "I think (Denard Robinson) grown and matured as a Michigan quarterback."
Brady Hoke: "It's great to play well enough to win. ... I think our guys responded well, as a team I've said it before they really complement each other."
DAVID MOLK
David Molk: "There's a lot of good things that happened this year, but at the same time there room for improvement that will be achieved in the years to come."
David Molk: On evaluating his own play. "In judging myself, I think I did well, but it's never good enough."
David Molk: On whether Brady Hoke should be Big Ten coach of the year. "He deserves it. I love him. He's a a great coach. ... He's every single thing you want a college coach to be, and he does it flawlessly."
David Molk: "Going into this season I didn't know what to expect. ... I didn't know where it would go it could have gone in two directions. ... It played out well."
David Molk: "I expect great thing to come of this program."
David Molk: On the Ohio State rivalry. "It's a game that whoever plays in it you never forget it."
David Molk: "This is a growing offense, and this is something that's going to grow for years to come."
MIKE MARTIN
Mike Martin: On fans rushing the field. "I kind of expected it to be a little crazy. ... That was cool, and it was a lot of fun to do after."
Mike Martin: "Coach Hoke kept talking about playing hard (in the Ohio State game) for the seniors. ... It was special to win in Ann Arbor."
Mike Martin: "I think about the journey that these guys especially my class has been through. We've been through the mud and back. ... We lost some guys along the way, for whatever reason. That's why I love the phrase, from Coach Schembechler, 'Those who stay will be champions.'"
Mike Martin: Said he hopes the defense can improve on its pass rush heading into the bowl game.
Mike Martin: "(Ohio State) did a little more play action than what we thought they were going to do."
Mike Martin: Said he thinks Quinton Washington and Will Campbell are capable replacements on the defensive line for the graduating seniors. "I have full faith that those guys will fulfill the expectations (of the defensive line)."
Mike Martin: On ending career on a high note after three tough years. "It's special. I have no regrets, my three years up to this point have really made me better as a person and as a player."
Mike Martin: Said he will not cut his hair before the bowl game, which is in full afro mode.
Mike Martin: On his interest in the games this weekend having an effect on Michigan's bowl prospects, "Wherever we end up is where we end up, and we'll be happy about it."