Posted on
Mon, Nov 14, 2011 : 12:35 p.m.
Brady Hoke on new rival Nebraska, the chase for 10 victories and more
By Pete Cunningham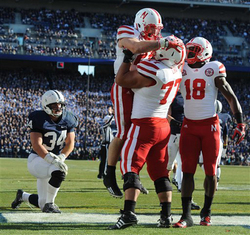 Associated Press
The red pants, white jerseys with red stripes and helmets with a simple "N" are headed to Michigan Stadium.
First-year Big Ten Conference member Nebraska takes on Michigan on Saturday (Noon, ESPN), and that's an added layer of intrigue to a game between teams with identical records of 8-2 overall, 4-2 in the Legends Division.
Michigan coach Brady Hoke said Saturday that the only goal for the Wolverines is to win their two remaining regular-season games. "And we get to be at home for both of them," Hoke said.
Hoke and some Michigan players meet with the media today at 12:30 p.m. We'll update this post throughout the press conference.
Hoke looms in the hallway, he will take to the lectern soon. Little bit of a delay as Michigan staff is going over the details of "Military Appreciation Day" planned for Saturday at Michigan Stadium. Quite the spectacle planned, so fans should show up early.
Check below for comments from Hoke's weekly Monday press conference as well as comments from Big Ten defensive player of the week, Ryan Van Bergen.
David Molk and Kevin Koger are speaking with media as well, check AnnArbor.com later for more stories from the press conference.
Brady Hoke: On Brendan Gibbons' 1-for-2 performance on field goals, "He did a nice job, just pushed on, left it a little bit out there." Said his range has improved and might stick with him even in long-range situations (declared earlier in the season that Matt Wile would be option for longer field goals.)
Brady Hoke: Asked for thoughts on Joe Paterno's name being removed from Big Ten championship trophy, "My thoughts are I'd like to play for it."
Brady Hoke: Said Devin Gardner's play on Saturday makes him more comfortable going to him if Denard Robinson is having problems.
Brady Hoke: On if the offense is moving more toward pro-style with Fitz Toussaint's play, "I don't know." Said the offense adjust from pro to spread and back depending what the team needs to do to win.
Brady Hoke: On play of Desmond Morgan and challenge of playing against Rex Burkehead, "He's a challenge for anybody he plays against. ... downhill runner."
Brady Hoke: Said offense was disappointed at halftime because, "We left some points on the field. ... I had to remind them, we're winning the game. We've got 14, they've got none."
Brady Hoke: On punter Will Hagerup. "He's made progress at times, but at times not made punts that are good for Will." Emphasized a need for more consistency.
Brady Hoke: On having a dependable backup quarterback. "I think both quarterbacks have done a nice job. ... I think they both get better every time they take the field."
Brady Hoke: On Martavious Odums getting more playing time lately. "One thing Tave's done is he's come to work every day." Also said the limitations of a hairline fracture to forearm suffered in fall camp set him back at the beginning of the year.
Brady Hoke: On defending the option. "It's the discipline of what your job is. ... Your inside out flow to the football has to be a big part of it."
Brady Hoke: On Nebraska. "They're a team that's going to play with a lot of passion. ... It's going to be one of those games."
Brady Hoke: "Nebraska's always been a very physical football team, for numbers of years. They take great pride in their football."
Brady Hoke: I don't know if (Denard Robinson's role) changes, I'd say (because of the emergence of Fitz Toussaint) it keeps (Robinson) healthy."
Brady Hoke: "We've got two pretty good opponents left, so I don't think we're in any kind of possession to go on thinking we're the Chicago Bears of '86 (pause) is that the right year?" (No, he meant 1985.) "I was close."
Brady Hoke: Said no limitations on Denard Robinson this week. Said he participated in practice on Sunday and "threw the ball well."
Brady Hoke: On trying to follow up performance in coming weeks. "I think our guys have done a tremendous job of improving week to week. ... The leadership of the senior class has done a great job of moving on to the next game."
Brady Hoke: "I think Greg and the staff on defense do a tremendous job of making the adjustments that may need to be made. ... I thought they did a nice job of staying together no matter what happened."
Brady Hoke: "Proud of the kids how they bounced back, how they reacted how they complemented each other...Yesterday we turned the page (onto Nebraska)."
Brady Hoke: "Defensively, I think we played awfully well defensively."
Brady Hoke: "We're really proud of our kids and how we played on Saturday."
RYAN VAN BERGEN
Ryan Van Bergen: "Everybody on this defense, freshman to seniors, guys who play, to reserve roles has stepped up."
Ryan Van Bergen: "I think our starting four (defensive linemen) is better than any starting four in the country. ... As far as we are concerned, that's what we are."
Ryan Van Bergen: "We were barking at the freshman (quarterback) when he came in because he was looking kind of wide-eyed."
Ryan Van Bergen: Said the team doesn't give any thought to the fact that a win over Nebraska helps Michigan State win the Legends Division, "We can control what we do Saturday. ... Let the cards fall as they may."
Ryan Van Bergen: Said it's a little bizarre that Nebraska is in the Big Ten conference.
Ryan Van Bergen: Said he was given a lot of freedom in terms of "calling stunts" by the defensive staff.
Ryan Van Bergen: "Nebraska presents a different kid of challenge than any team in the Big Ten," in reference to their option offense. "Whichever defense shows up to play I feel like is going to walk away with a win."
Ryan Van Bergen: "The good thing is the mistakes that need to be fixed keep getting smaller and smaller."
Ryan Van Bergen: "There's no reason to be satisfied with what we've done so far. ... You win 10 games at Michigan, and the bowl game after that, you're going to be remembered for a long time after that."
Ryan Van Bergen: Said he could tell J.T. Floyd's focus was at a different level after the Iowa game.
Ryan Van Bergen: On Illinois rushing for under 40 yards on Saturday, "I take tremendous pride in that."
Ryan Van Bergen: "I think that Coach Mattison got kind of emotional because he saw a defense like the kind that played when he used to coach here."