Posted on
Mon, Aug 8, 2011 : 10:01 p.m.
Brady Hoke opens Michigan football practice: 'A ton of things we need to do'
By Kyle Meinke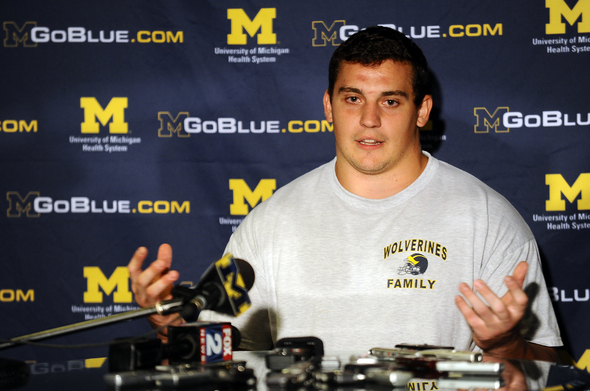 Melanie Maxwell | AnnArbor.com
It took only one day of practice for players to feel a difference between the Rich Rodriguez and Brady Hoke eras of Michigan football.
And hear one, too.
"There's less yelling," center David Molk said. "Coach Rod was a big yeller. I mean, it's nothing against him, great guy, but he liked to yell."
Hoke might be yelling less, but his message is being delivered just fine.
After three lousy seasons under Rodriguez net zero bowl wins, zero wins against Ohio State, one winning season and an embarrassing defensive display, it hasn't taken long for players to buy into Hoke's message.
"I'm coming on my fifth year," Molk said. "I came here under Lloyd (Carr), we had that first season when we went out and beat Florida, but still that wasn't a great hoorah season. We should have been better.
"And then Coach Rod came in, and we had three of maybe the poorest seasons in the past decade or two decades.
"It's time, and everyone is seeing it — and especially for me. This is it. There's nothing more than I want this year than to win every game, and beat every opponent by as many points as possible."
So is the team's pulse as it opens camp.
The Wolverines practiced without pads Monday for the first time as a group since spring. Their first practice with shoulder pads and helmets will be Wednesday, and their first full-padded workout will be Friday.
Players can't wait to start hitting.
"Good to put cleats on, good to put helmet on," Molk said. "Wish we would have had shoulder pads and all the full pads on, because this isn't really practice yet, this isn't really fun yet."
Michigan will have a full camp, as it's implementing a new pro-style offensive scheme and 4-3 defensive scheme, as well as new philosophies that emphasize physicality over finesse.
There's a lot to do before the Wolverines open against Western Michigan on Sept. 3.
"There's a philosophical difference," Hoke said. "We kind of ground ourselves every day when we meet because we have so many things that we know we have to be better at. There's a ton of things we need to do.
"We talk about Michigan every night and being Michigan and those expectations that we all have. As far as us believing anything, we have to prove it every day."
Kyle Meinke covers Michigan football for AnnArbor.com. He can be reached at 734-623-2588, by email at kylemeinke@annarbor.com and followed on Twitter @kmeinke.