Posted on
Mon, Aug 13, 2012 : 9:45 a.m.
Brady Hoke says Alabama game is a business trip, and Michigan's only shot at a great first impression
By Nick Baumgardner
Melanie Maxwell | AnnArbor.com
The
Michigan football
team's 2012 debut will have all the bells and whistles of a bowl game.
There's the neutral site in Arlington, Texas. The massive venue at Cowboys Stadium. The blockbuster opponent in Alabama. And, of course, the national spotlight of a prime time audience on ABC.
If it looks like a bowl game, feels like a bowl game and smells like a bowl game -- it might as well be one, right?
Wrong.
"This is business," Michigan coach Brady Hoke said bluntly Sunday. "We're going down there and playing the defending national champs with a lot of great players. (Alabama) coach (Nick) Saban has done a tremendous job, obviously.
"This is about us preparing to play our best football on Sept. 1."
WIN UM vs. ALABAMA TICKETS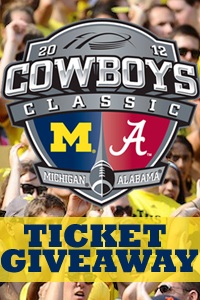 Want to check out Michigan take on defending national champion Alabama?
Click here to visit the AnnArbor.com Michigan Football News and Views Facebook page
and vote for who will be the Wolverines' most important player, besides Denard Robinson, in the 2012 season. That vote will earn you a chance to win three free tickets.
Michigan's Sept. 1 tangle with the Crimson Tide is, without question, the program's most difficult season-opening challenge in more than two decades.
The last time the Wolverines opened the season against an opponent ranked as high as No. 2 Alabama, the year was 1990. Michigan opened that season against then No. 1 Notre Dame, a game the Wolverines lost, 28-24, after the Fighting Irish erased a 10-point second-half deficit in South Bend, Ind.
The year before, 1989, was the last time Michigan opened the season against a defending national champion. That opponent was also Notre Dame, who used two Raghib Ismail kick return scores to grab a 24-19 win at Michigan Stadium.
The season-opening matchup with Alabama isn't something Michigan fans have been used to in recent years, but it's something Hoke says he craved.
After Hoke took the job in 2011, Michigan athletic director Dave Brandon asked him his thoughts about playing a team like Alabama to open his second season. Hoke never flinched.
"You come to play football at Michigan to play in those kind of ballgames," he said. "You're expected to play and perform, and playing the defending national champs is a great challenge and a great opportunity."
For Michigan, the possible gains of a win over Alabama are massive. It would vault the Wolverines in all early-season polls, and could give the team a nice feather in its Bowl Championship Series cap moving forward.
Also, it would further improve the external perception of the program, as Michigan hasn't beaten a top-five team since 2006. And if that weren't enough, it could also give the Big Ten a boost in terms of national prominence -- as the league has been considered widely inferior to the powerhouse Southeastern Conference in recent years.
"We get a chance to represent the Big Ten Conference also, and that's important," Hoke says. "We've got a lot of great schools from the academic side of it and the football side of it.
"We're not just representing the University of Michigan, but we've also got a chance to go out and represent the Big Ten Conference."
But most importantly, of course: Michigan gets to represent Michigan.
The 2012 season may not be defined by the season-opener against Alabama (Hoke hopes it'll be remember for a Big Ten title), but it certainly won't be forgotten.
Michigan gets one crack at a national measuring stick in prime time. And, according to Hoke, it's time to get to work.
"(Alabama's) a storied program with a lot of tradition, just like we have," he said. "You don't get a second chance to make a first impression.
"And our first impression of 'Team 133' will be Sept. 1 against Alabama."
Nick Baumgardner covers Michigan sports for AnnArbor.com. He can be reached at 734-623-2514, by email at nickbaumgardner@annarbor.com and followed on Twitter @nickbaumgardner.