Posted on
Tue, Jun 12, 2012 : 11:15 a.m.
Brady Hoke says Michigan plans to re-issue Gerald Ford's retired No. 48 jersey this year, no plans for No. 1
By Nick Baumgardner
Desmond Howard became the first ever "Michigan Football Legend" last season.
And now, it appears a second "Legend" could be in the works.
Michigan football coach Brady Hoke told Jox 94.5 FM in Birmingham, Ala. on Tuesday that the Wolverines have plans to honor former President Gerald Ford's No. 48 next season.
"We're honoring Desmond Howard now every year with one of our players (senior receiver Roy Roundtree) who really deserves it," Hoke told the station. "We're going to do the same with Gerald Ford's jersey here this year."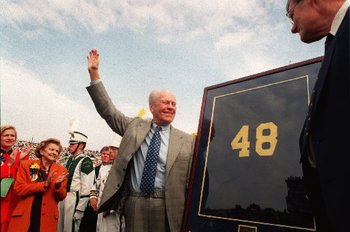 Larry E. Wright | The Ann Arbor News
Ford, who won three varsity letters at Michigan from 1932-34, was named Michigan's Most Valuable Player as the team's starting center in 1934.
His No. 48 is one of five numbers that are retired by the program. The Wolverines retired Ford's jersey in 1994 during a home game against Michigan State.
The last Michigan player to wear the No. 48 jersey was linebacker Dave Dobreff in 1992.
Michigan's other four retired jerseys are: No. 47 (Bennie Oosterbaan), No. 11 (Francis, Albert and Alvin Wistert), No. 98 (Tom Harmon) and No. 87 (Ron Kramer).
Last season, Michigan athletic director Dave Brandon honored Howard, one of Michigan's three Heisman Trophy winners, with the original distinction of a Michigan Legend prior to the team's home win over Notre Dame.
"This is a great way to honor our legends," Brandon said at the time. "Desmond will be the first in what will become a unique way to honor some of our Michigan football greats.
"Many of our current fans and players don't know or remember the five jerseys that we previously retired and who wore them. The concept is a visible representations of iconic figures in our program's storied history that fans across the country will see every Saturday."
As for Michigan's other legendary number, the No. 1, Hoke said there are no immediate plans to have a player don that uniform.
Although, that doesn't mean another won't get a shot to wear it down the road at some point.
"I think in the near future, but I can't tell you it'd be this season," Hoke said. "That's something we're doing a lot of thinking about.
"There's a lot of things we're looking at doing. Right now, that No. 1 is still hanging in the locker."
Nick Baumgardner covers Michigan sports for AnnArbor.com. He can be reached at 734-623-2514, by email at nickbaumgardner@annarbor.com and followed on Twitter @nickbaumgardner.