Posted on
Tue, Nov 22, 2011 : 8:07 p.m.
Brady Hoke wants 2nd BCS bid for Big Ten; will it go to Michigan?
By Kyle Meinke
The Michigan football team is among 30 teams officially being considered for a BCS bid as it prepares to face Ohio State.
And, for the first time in five years, the Buckeyes are not.
Michigan has won two in a row and risen to 17th in the country heading into the final week of the regular season. Ohio State, meantime, has lost twice in a row and is an underdog in this game for the first time since 2004.
It seems roles have reversed as The Game approaches.
"Well, I think it's in life," coach Brady Hoke said Monday. "Things change everyday. Babies are born, people die, things happen all the time. It's just how things are."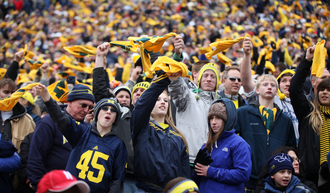 Jeff Sainlar | AnnArbor.com
The Wolverines are 9-2 and 5-2 in the Big Ten, and
are considered the leader to earn the league's at-large BCS bid
, provided it beats Ohio State on Saturday (Noon, ABC). Of course, that also assumes the Big Ten receives a second bid at all.
The league currently has only one team in the top 14 — a requirement of playing in the BCS as an at-large team. The Wolverines, though, are No. 15 and likely would climb into the top 14 if they beat the Buckeyes.
"The biggest problem with that sentence is it's 'if' we win Saturday," senior defensive lineman Ryan Van Bergen said, when asked about the pressure of playing for a BCS bid. "We don't pick that. Nothing we can do influences that decision, aside from us preparing and giving our best effort to win Saturday."
The BCS announced on Tuesday 30 teams it is considering for an invitation to the sport's top-five bowls. The at-large candidates with whom Michigan is battling include Baylor, Boise State, Houston, Kansas State, Notre Dame, South Carolina and TCU.
Michigan would receive the nod for an at-large bid over the loser of the Big Ten title game because that runner-up team is guaranteed to have at least three losses. The Wolverines would be 10-2 with a win against Ohio State.
The question, though, is should the Big Ten be extended an at-large bid? Each team has at least two losses, and Michigan State is the league's highest-ranked team in the BCS at No. 13. Not exactly stellar stuff.
Hoke says: Without a doubt.
"This conference always deserves whatever it can get, to be honest," Hoke said Tuesday during his weekly conference call with reporters. "The competitiveness that's shown every Saturday, I don't know why they wouldn't (give the league a second bid)."
Now, should that second bid be extended to the Wolverines?
Hoke wouldn't go there.
"We don't make any decisions," Hoke said earlier this week. "What's important is what we do (Monday), when they come in to look at some film on the opponent, and then how we practice Tuesday, how we practice Wednesday and Thursday, and how our meetings go on Friday night and how we walk-through Saturday morning.
"We have to finish, and that's what this game is. It's a finishing game."
The prospects of a BCS berth is surprising, considering Michigan's 15-22 record the past three years, 6-18 record in the Big Ten and an off-season coaching change.
Players, though, are not satisfied, even with a possible BCS bowl lingering on the horizon.
"I thought we were going to win more games than this, to be honest with you," quarterback Denard Robinson said, gazing downward, when asked about bowl scenarios.
"Now, we got to be ready for this game."
BCS picture
A list of teams still contending for their conference championships:
ACC: Clemson, Virginia, Virginia Tech
Big East: Cincinnati, Louisville, Pittsburgh, Rutgers, West Virginia
Big Ten: Michigan State, Penn State, Wisconsin
Big 12: Oklahoma, Oklahoma State
Pac-12: Arizona State, Oregon, Stanford, UCLA, Utah
SEC: Alabama, Arkansas, Georgia, LSU

The at-large contenders: Baylor, Boise State, Houston, Kansas State, Michigan, Notre Dame, South Carolina and TCU.
The ACC and Big East will not earn two bids. The SEC will earn two. Additionally, one non-AQ team will qualify, likely Houston.
That leaves two at-large bids for three leagues: Big Ten, Big 12 and Pac-12. That means Michigan fans should root against these teams, who are the Wolverines' biggest competition for a BCS at-large bid:
Big 12
Kansas State (9-2, 6-2): The Wildcats will be a heavy favorite in their finale against Iowa State (6-4, 3-4). They likely are on the outside looking in, regardless of outcome against the Cyclones.
Oklahoma (8-2, 5-2): The Sooners lost their inside track on a BCS bid by being upset by Baylor last week. They close with Iowa State, then a showdown with Oklahoma State.
Oklahoma State (10-1, 7-1): The Cowboys were upset last week by Iowa State, and now must win their finale against Oklahoma to make the BCS. Their candidacy would take a serious hit with a second consecutive loss to end the season.

Pac-12
Oregon (9-2, 7-1): The Ducks likely are a lock, provided they don't stumble in their finale against Oregon State (3-8, 3-5).
Stanford (10-1, 8-1): The Cardinal also likely are a lock. They close with No. 22 Notre Dame (8-3) this week, and would play in the Pac-12 title game with a win.

Bottom line: Root for losses in the Big 12. That's the easiest road for a Big Ten team — that is, Michigan — to crash the BCS party.

Kyle Meinke covers Michigan football for AnnArbor.com. He can be reached at 734-623-2588, by email at kylemeinke@annarbor.com and followed on Twitter @kmeinke.