Posted on
Wed, Jun 13, 2012 : 4:04 p.m.
Brady Hoke welcomes Urban Meyer to Michigan recruiting ground, says competition will forge forward
By Nick Baumgardner
SOUTHFIELD -- Michigan and Ohio State shared the same recruiting field on Wednesday.
The only hitch?
That field was located in metro Detroit, obviously an extremely fertile prospect area for the Michigan football program.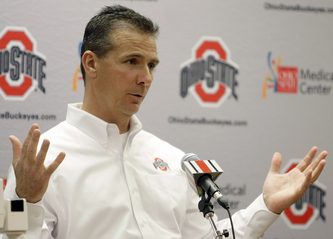 AP Photo
But rather than spit fire or make things awkward, one of the first people Wolverines coach Brady Hoke embraced was his soon-to-be enemy: new Ohio State head coach Urban Meyer.
Keeping your enemies close? Not exactly.
"I've known Urban a long time," Hoke said during the Sound Mind, Sound Body football camp at Southfield High School. "We've got a good relationship.
"But we're going to compete in recruiting, no doubt. And on that last Saturday in November, no doubt about it."
Hoke was at the event -- which featured high-level Michigan 2013 commits Shane Morris, David Dawson and Logan Tuley-Tillman -- with several members of his staff, including offensive coordinator Al Borges and defensive coordinator Greg Mattison.
Meyer and the Buckeyes were also out in force, perhaps even more than any other school -- Michigan or Michigan State included.
The new OSU boss had his entire coaching staff on hand at the instructional camp, and even had a chance to address the hundreds of potential prospects -- on Michigan soil.
Michigan, especially under Hoke, has developed a reputation of having recruiting success in Ohio over the years. Now, Meyer says, it's his aim to return the favor.
"I know this area real well," said Meyer, who once coached at nearby Bowling Green State University. "As for Ohio State ... we have some very good players from this area.
"If we have not, we will."
All friendly competition aside, Hoke said the two-day camp has been a special event each summer due to its unique nature.
Because the Sound Mind, Sound Body event is a charitable camp, college coaches are able to attend and provide instruction to the campers -- something that's outlawed at most public camps throughout the country.
At this event, Hoke and his staff are able to monitor commits and future prospects, but they're also able to catch up with friends inside the business.
"It's fun seeing coaches, there's a lot of guys you cross paths with," Hoke said. "(Eastern Michigan coach) Ron English and his staff I've known for a lot of years.
"It's kind of neat to see all those guys."
Toward the middle of Wednesday's schedule, Hoke -- like Meyer before him and like MSU coach Mark Dantonio on Thursday -- was given an opportunity to speak to the roughly 450 campers about the responsibilities and challenges of playing college football.
And, in his case, doing so at Michigan.
"We're all trying to do what's good for the kids," Hoke said. "We talk about the commitment, the accountability, the respect and the trust -- things we talk about with our team every day.
"It's so important if they want to be great leaders, have an influence and be on a great football team. ... It's an opportunity for us to affirm the things that are important about being a student-athlete."
Nick Baumgardner covers Michigan sports for AnnArbor.com. He can be reached at 734-623-2514, by email at nickbaumgardner@annarbor.com and followed on Twitter @nickbaumgardner.