Posted on
Sun, Jul 29, 2012 : 9:30 a.m.
Brady Hoke won't give hints on 'Michigan Legend' jersey recipients, but does like the concept
By Nick Baumgardner
Four members of the current Michigan football team could have the opportunity to honor legends of Wolverine past this season.
One will be wide receiver Roy Roundtree. The other three? That's still up in the air.
In May, Michigan announced that Roundtree would wear the No. 21 jersey of "Michigan Football Legend" Desmond Howard next season. Shortly thereafter, the school announced it would be un-retiring and recirculating Ron Kramer's No. 87, Gerald Ford's No. 48 and Bennie Oosterbaan's No. 47 beginning this fall.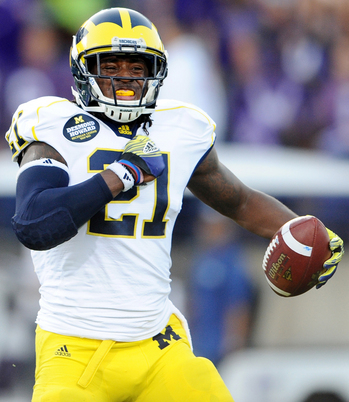 Melanie Maxwell | AnnArbor.com
Who might those players be? Will they be announced this season? When will Hoke decide it all?
"Sometime," he said with a grin. "In the future.
"We'll see."
Howard was named the first "Football Legend" last September, beginning a new tradition and unique way of honoring former standout players.
From now on, anyone who wears the No. 21, 47, 48 or 87 will do so with a commemorative patch sewn on their shoulder.
Hoke has hinted in the past that the legend numbers may be handed out to players with the same positions as the honored athletes. Roundtree and fellow wide receiver Junior Hemingway have worn Howard's No. 21, but no promise or rule has been announced to set that logic in stone.
Additionally, Hoke said he'll also speak with each individual player who is deemed worthy of wearing one of the honored numbers, and make sure they understand what exactly it means when the time comes.
"We've got so many great players through our tradition that have been part of Michigan," Hoke said. "I think it's a way to keep their legacy out there and I think it also is a way to pay tribute to them."
Nick Baumgardner covers Michigan sports for AnnArbor.com. He can be reached at 734-623-2514, by email at nickbaumgardner@annarbor.com and followed on Twitter @nickbaumgardner.