Posted on
Fri, Sep 16, 2011 : 5:59 a.m.
Here comes Michigan football coach Brady Hoke's 100th game: A look at highlights from the first 99
By Nick Baumgardner
In life, first-year Michigan coach Brady Hoke is well-seasoned at 52 years of age. As a head football coach, though? Not as much.
It didn't take Hoke long to land his "dream job" — and for the record, he didn't actually walk to Ann Arbor — as this season is just his ninth overall as a head boss.
He's still relatively young as a coach, but Hoke can knock out a pair of career benchmarks with one stone Saturday when the Wolverines host Eastern Michigan (Noon, BTN).
The game will mark the 100th time Hoke has taken the sidelines as a head coach, and should the Wolverines win, he'll be an even 50-50 in those games — .500 for the first time since the second game of his career, a 35-7 loss to Missouri while at Ball State in 2003.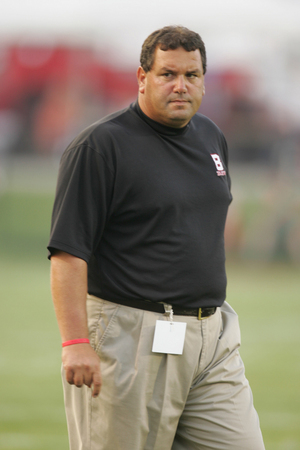 Does Hoke care even slightly about Saturday's milestone? Not surprisingly, he says he doesn't.
But for history's sake, let's take a look at how he got here.
First, though, some historical context.
When coach Bo Schembechler arrived at Michigan in 1969, he had just 60 games of head coaching experience under his belt — but boasted a 40-17-3 record. His 50th career win came one season later on the road at Washington, and by his 100th career game — a 42-0 homecoming win over Minnesota in 1972 — Schembechler's career mark sat at 75-22-3.
Lloyd Carr's collegiate head coaching career began with an interim tag at Michigan in 1995 — immediately following the five-year tenure of Gary Moeller. Carr's 50th career victory came during the 2000 season-opener against Bowling Green. Like Hoke, Carr's 100th career game came during his ninth season. His record, though, was much better at that time — as he hit the head coaching century mark at 77-23.
What the next 100 games has in store for Hoke is anyone's guess.
But the first 100? Let's take a look at how he got here:
First win
Indiana State at Ball State
Aug. 28, 2003
Cardinals 31, Sycamores 7
Ball State quarterback Andy Roesch throws for 204 yards and a pair of touchdowns in Hoke's head coaching debut at his alma mater.
Interestingly enough, the game marked the first time since 1967 that the Cardinals had played a home contest at night. (Sound familiar?) The crowd that day? A then-Scheumann Stadium record crowd of 23,549.
First 'what just happened' moment
Ball State at Western Michigan
Oct. 8, 2005
Cardinals 60, Broncos 57 (4 OT)
Long before last weekend's comeback win over Notre Dame, there was this barnburner in Kalamazoo.
Ball State's Brad Salyer caught a 2-yard touchdown pass with 1 second to play in the third quarter, and Brian Jackson's extra point tied the game at 37-37. No one scoreed in the fourth quarter as Western Michigan comes up empty on a drive that chewed up the final 5:06 of regulation.
Both squads exchanged touchdowns in the first three overtime periods, and Jackson's field goal in the fourth was the difference.
Future Green Bay Packer Greg Jennings hauled in 11 passes for 244 yards and four touchdowns for Western, and Hoke walked out of Waldo Stadium with arguably the wackiest win of his Ball State tenure.
First weather delay
Northern Illinois at Ball State
Sept. 30, 2006
Huskies 40, Cardinals 28
Hoke's career at Michigan began with a lightning-shortened win against Western Michigan this season, but it wasn't his first spat with poor weather.
Hoke touched on this loss following the Western win and here's how it went down.
Ball State built a 14-7 lead in the first half, but then the game was delayed for roughly 40 minutes due to rain.
Following the break, former NIU star Garrett Wolfe took center stage — running for 353 yards and three touchdowns to lead the Huskies. Hoke's bunch put up a fight, as quarterback Nate Davis finished with 298 passing yards and four touchdowns.
First bowl game
International Bowl
Ball State vs. Rutgers
Jan. 5, 2008
Scarlet Knights 52, Cardinals 30
In the capper to a season that saw Hoke's Ball State squad nearly knock off Nebraska and win a share of the Mid-American Conference West Division crown, Rutgers and coach Greg Schiano — who turned down the vacant Michigan coaching job a month earlier — were too much for the Cardinals.
Ray Rice rumbled for 280 yards on the ground, going over the 2,000-yard mark for his career.
The loss didn't set the Cardinals' program back for long, though, as Ball State would win the first 12 games of the 2008 season — Hoke's final year with the Cardinals.
First bowl win
Poinsettia Bowl
San Diego State vs. Navy
Dec. 23, 2010
Aztecs 35, Midshipmen 14
SDSU freshman running back Ronnie Hillman rushed for 228 yards at a rain-soaked Qualcomm Stadium in San Diego. The win was San Diego State's first bowl victory since 1969, and the first bowl win of Hoke's career.
Nineteen days later, Hoke was in Ann Arbor, officially hired as Michigan's head coach.
Nick Baumgardner covers Michigan basketball for AnnArbor.com. He can be reached at 734-623-2514, by email at nickbaumgardner@annarbor.com and followed on Twitter @nickbaumgardner.