Posted on
Fri, Jun 15, 2012 : 11:03 a.m.
Brady Hoke's Michigan football recruiting pitch? All team, all the time
By Nick Baumgardner
Roughly 450 high school football players sit inside a hot, sweaty auditorium in June, ready to hear what one of the most popular college football coach in the Midwest has to say.
But before anyone takes in a life lesson, before anyone shares a laugh, nods a head or makes a mental note, Brady Hoke has a bit of housekeeping to take care of.
"There's an empty seat right here, there's an empty seat here, an empty seat here, an empty seat here and an empty seat here," the Michigan football coach barks out while pointing to various gaps among the hundreds of wide-eyed youths. "I need five guys from that back row to get their butt down here."
It is Hoke's first lesson in teamwork and togetherness. Within seconds, all five seats are filled.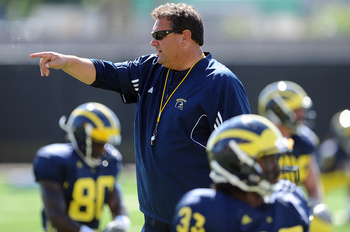 Melanie Maxwell | AnnArbor.com
Speaking earlier this week at the Sound Mind, Sound Body football camp in Southfield, Hoke had the opportunity to send out roughly the same message he delivers to each and every recruit he sees throughout a calendar year.
He doesn't quote Bo Schembechler's "The team, the team, the team," speech -- but then again, he doesn't have to.
The chairs are full, postures are upright and every pair of feet are planted firmly on the floor. The building filled with 450 strangers minutes earlier, now suddenly looks like a team.
Exactly the way Hoke likes it.
"The first meeting I went into as the head football coach at the University of Michigan," Hoke recalled, "I went into our full team meeting room, and our guys were scattered. They were all over the room. That wasn't the impression I can remember from being an assistant at Michigan.
"And (now), when we go to work every day -- whether it's in the classroom, the community, socially, the field or in the weight room -- we're going to do it as a team. That means we're going to be side-by-side. That's how it starts."
Asked by reporters earlier in the day if his speech to the hundreds of potential prospects -- which included five-star 2013 Michigan quarterback commit Shane Morris in the front row -- would be a recruiting pitch, Hoke goes quiet.
He says he wouldn't treat the speech as a recruiting tool, but rather a chance to inform college prospects what it takes to become a student-athlete.
Hoke says it's not a Michigan recruiting pitch, but that doesn't mean he's not about to leave a rather large maize and blue imprint on the brain of anyone in the room that's paying attention.
The foundation of Hoke's presentation is based on a team meeting. And, with that in mind, he walks the players through the introduction of every team meeting he conducts inside Schembechler Hall.
Hoke talks about Michigan's 42 Big Ten championships, and how it's important to remember the conference title is the program's main goal each and every season.
He talks about how Michigan is the winningest football program in the history of the sport, and how this September, the Wolverines will take the field and celebrate their 133rd anniversary in Ann Arbor.
And, last but not least, he goes over the team's three most important games of the season. A year-to-year series with Notre Dame, an in-state fight with Michigan State and, of course, "that last Saturday in November" and the Wolverines' longstanding rivalry with Ohio State.
After a few minutes of teaching, Hoke's team of 450 kids have already bought into how things work at Michigan.
"Good afternoon," Hoke shouts.
"Good afternoon," they respond in unison.
"Championships?" he asks.
"Forty-two."
"Years?"
"One hundred and thirty three."
"Beat ..."
"... Ohio."
Not a lot of flash. Not a lot of sizzle. Not too much preaching. But more than effective.
With no gaps in the seats and no eyes wandering around the room, Hoke wraps up his 18-minute speech the same way he started it.
Straight and to the point.
"Commitment, accountability, respect and trust," he says. "Thank you.
"And go blue."
Nick Baumgardner covers Michigan sports for AnnArbor.com. He can be reached at 734-623-2514, by email at nickbaumgardner@annarbor.com and followed on Twitter @nickbaumgardner.