Posted on
Thu, Aug 11, 2011 : 10:35 p.m.
Brandon Herron moves to weak-side linebacker in Michigan football team's first known position change
By Kyle Meinke
Michigan defensive coordinator Greg Mattison said Tuesday he wouldn't hesitate to make position changes if doing so would give him a better shot at playing the best 11 players.
Two days later, linebacker Brandon Herron became the first known change.
Herron said in an online video published by the school Thursday he has slid over to weak-side linebacker. The fifth-year senior from Stafford, Texas, began the spring at strong-side linebacker, but moved to the middle after a week and a half of practices.
Now, the 6-foot-2, 221-pounder is making the move to weak-side.
"Coach told me, 'You're the linebacker that has the brains, so it's easy for you to make that switch and be comfortable,'" Herron said in the video. "I'm still trying to get a fit for the (weak-side), but I'm taking it a day at a time. Right now, my role is the (weak-side), and he told me that will be the best fit to get (me) on the field."
Herron appeared in seven games last year at linebacker and on special teams, but battled an ankle injury that limited his effectiveness and playing time. He played in all 12 games in 2009, recording 20 tackles and recovering one fumble.
Mattison said he's seen more improvement from the linebackers since spring than any other position group.
"Now, is that because they weren't very talented to begin with, or is it because they are really, really improving?" Mattison said. "I'm still not sure."
Junior Kenny Demens is expected to be the starter at middle linebacker, with seniors J.B. Fitzgerald and Marrell Evans jockeying for playing time behind him.
Returning starter Cam Gordon, a sophomore, is battling spring standout Jake Ryan, a redshirt freshman, for the job at strong-side linebacker.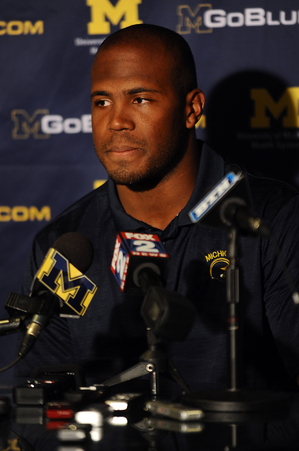 Melanie Maxwell | AnnArbor.com
Incoming freshman linebacker
Frank Clark
also has impressed Mattison, and could vie for playing time. Clark is a three-star prospect from Cleveland.
"Nothing is better than competition for a football team," Fitzgerald said. "We're all out there competing, but helping each other as well, and coaches are helping. That's how it has to be if you're going to have success."
Part of the uncertainly at so many positions is due to Michigan changing its defensive scheme from a 3-3-5 to a 4-3.
"This is my fourth year and pretty much fourth different defense," Fitzgerald said. "When you learn so many different defenses, you stop comparing and just start learning."
The coaching staff has stressed patience as it implements its scheme and players learn their roles in it. Mattison is pleased with the progress of his unit, but it still "has miles and to go to be where we want to be."
Competition open at cornerback
Michigan coach Brady Hoke said Troy Woolfolk and J.T. Floyd, who were expected to be Michigan's top two cornerbacks before going down with injuries last year, aren't guaranteed their starting spots back despite being at full health.
"I told Troy, 'I haven't seen you play,'" Hoke said. "I don't revert to how they did in the past. There's different coaches and schemes, and it's just not fair to the kids.
"We believe in competition and evaluation on a daily basis. That's what made us good football teams."
Hoke said sophomore Courtney Avery and freshman Greg Brown have practiced well at the position.
Getting their kicks
Hoke said kickers Seth Broekhuizen and Matt Wile have punted well in practice. Both are expected to be candidates to fill in at punter while sophomore starter Will Hagerup serves a four-game suspension (undisclosed team violation) to start the season.
The comment was the first time Hoke named those who are working out at punter, although Wile was seen taking snaps with the first unit at Tuesday's practice.
Broekhuizen, a sophomore from Holland, was 3-for-9 on field-goals last year, and he punted poorly in the Ohio State game.
Wile is an incoming freshman from San Diego. He averaged 36.2 yards per punt as a senior last year and 40.2 yards as a junior.
Odds and ends
Friday's practice will be Michigan's first workout with full pads. The team will have its first two-a-day Saturday. ... Hoke reiterated the team's competition for starting tailback remains open, and nothing has changed while the team has practiced with no or partial pads. It moves to full pads and hitting today. ... With the change in coaching staffs, as well as offensive and defensive schemes, there are more position battles than otherwise would be common for a team with 17 returning starters. Hoke, though, said he's not concerned so many spots remain up for grabs.
Kyle Meinke covers Michigan football for AnnArbor.com. He can be reached at 734-623-2588, by email at kylemeinke@annarbor.com and followed on Twitter @kmeinke.