Posted on
Tue, Apr 10, 2012 : 5:59 a.m.
After 4 quiet years, Brandon Moore becoming leader of Michigan football team's tight ends
By Kyle Meinke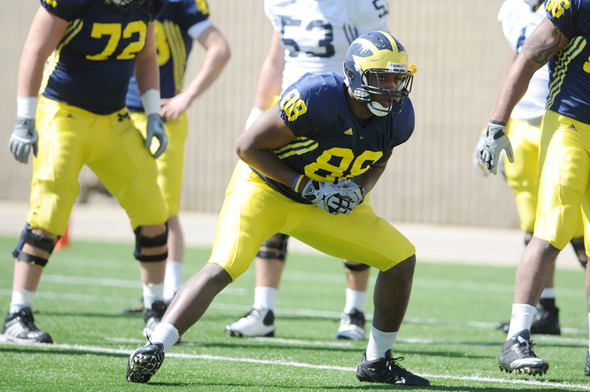 Melanie Maxwell | AnnArbor.com
When Al Borges was hired as the Michigan football team's offensive coordinator last year, he touted the return of a pro-style offense in Ann Arbor -- and with it, the re-emergence of the tight end.
Only, a year later, the Wolverines are devoid of experience at the position after the graduation of starters Kevin Koger and Steve Watson.
Consider this pool of tight end candidates in spring camp:
• Senior Brandon Moore: 17 career games, 16 at tight end, two catches


• Junior Ricardo Miller: Eight career games, two at tight end, zero catches


• Senior walk-on Mike Kwiatkowski: Two career games, zero catches


• Sophomore Jordan Paskorz: Zero games


• Sophomore walk-on Chris Eddins: Zero games


Moore has spent his four-year career buried behind Koger and Watson on the depth chart, yet suddenly finds himself the ranking elder of his position. However unfair, he likely will be expected to take the reins of the position, whether or not he's ready.
He knows that's his reality.
"Of course there's responsibility on my shoulders, because I'm a veteran," Moore said last week. "I'm a senior, and this is our team, so there's pressure right there."
The Wolverines need the fifth-year senior to get comfortable with that role, considering their woeful depth at the position. Coach Brady Hoke said earlier in camp he's particularly concerned about the tight ends' ability to block.
That's a key to keeping Michigan's 13th-ranked rushing offense churning.
As it happens, Moore said his biggest improvement this spring has been his blocking. He also is thinking less about the playbook and his assignments, which has helped tighten his game. Borges has noticed.
"In terms of understanding what we do, I don't think there's any issues there," Borges said. "He's a smart kid. Now that he understands it, the paralysis through analysis should be gone, and pretty much is. He's as aggressive as I've seen him."
Borges said he likes Moore's talent level, but his consistency has been "a little erratic." He has two more practices this week to work on that, then the spring game Saturday at Michigan Stadium.
"He's still got a little ways to go, but when he is technically sound, takes the right steps and comes off the ball with a little bit of an attitude, he's a pretty good player," Borges said.
Moore has no experience being a leader, and is soft-spoken by nature, but has picked up some tips from working alongside Koger, one of last year's most vocal leaders, and receiver Roy Roundtree.
Roundtree and Moore attended Trotwood-Madison High School in Ohio together, and now live together in Ann Arbor. Roundtree, also a fifth-year senior, is one of Michigan's most loquacious players.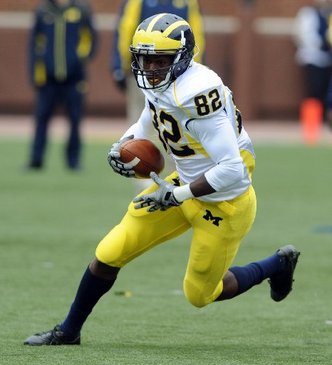 AnnArbor.com file photo
"Coming here with Roy and (ex-tailback
Mike) Shaw
, those were my two best friends," Moore said. "Those were my brothers. Having them here as support was one of the best things that could happen for me."
Moore's primary competition for the job is Miller, a converted receiver who uses his athleticism well at tight end. But he's not as physical as Moore and has been practicing more at H-back (the second tight end, which plays off the line).
"Ricardo's a pretty athletic kid," Borges said. "Runs better than any of our tight ends. Still has a ways to go as a blocker."
Meanwhile, Borges said Kwiatkowski, a little-used walk-on, has been one of the biggest surprises of spring camp. Although he's an unknown to the public, Watson and Koger both said recently they think the senior will play at least a small role next year.
"Mike's always been a very good receiver," Borges said. "His only issue has been his ability to play on the line of scrimmage, because of the bigger guys, but he's improved that."
Given the inexperience at the position, freshmen A.J. Williams and Devin Funchess also could make cases for playing time once they arrive on campus this summer.
Kyle Meinke covers Michigan football for AnnArbor.com. He can be reached at 734-623-2588, by email at kylemeinke@annarbor.com and followed on Twitter @kmeinke.