Posted on
Fri, Nov 4, 2011 : 12:20 p.m.
Iowa 'awful against mobile QBs' but offers some challenges to Michigan, says Hawkeyes beat writer
By Kyle Meinke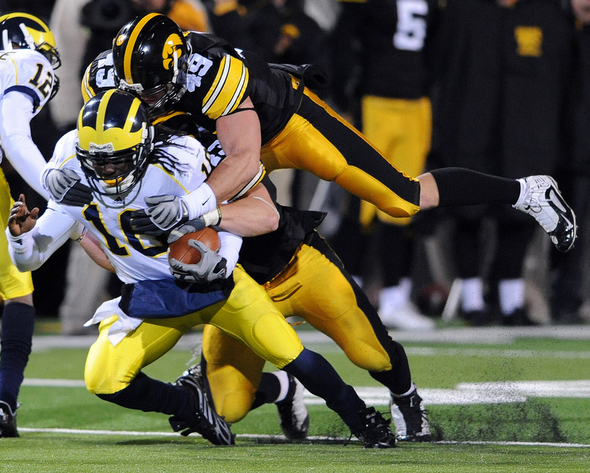 AnnArbor.com file photo
Remember how bad the
Michigan football
team was at containing outside runs against
Northwestern
and
Michigan State
?
That's what Iowa's been like all year -- especially against running quarterbacks -- and it could be an advantage for No. 13 Michigan (7-1, 3-1) when it faces the Hawkeyes (5-3, 2-2) at noon Saturday on ESPN.
Iowa beat writer Marc Morehouse of the Cedar Rapids Gazette says the Hawkeyes could send an extra player into the box to spy on quarterback Denard Robinson, but still expects them to struggled against Michigan's junior quarterback.
But, for as much as Iowa might struggled to contain Robinson, Morehouse thinks Michigan will struggle to contain Hawkeyes receiver Marvin McNutt.
We caught up with Morehouse, who broke down the matchup for us:
Um, so... Iowa lost last week to Minnesota, one of the worst BCS teams in the country. What happened, how are the Hawkeyes taking it and is there a chance there will be a hangover against Michigan?
Marc Morehouse: Iowa let it happen is what happened. So many times you'll hear from coaches "that one play didn't win/lose the game." Generally, that's true, but the onside kick Minnesota pulled off brilliantly with 8:22 left in the game unplugged everything that worked for Iowa at TCF. The Gophers came off an impressive 80-yard drive. Then, stole a possession with the onside. Thus, Marcus Coker and his 252 yards sat on the sidelines for nearly the entire fourth quarter. Time of possession was 13:25 to 1:35 in favor of UM. In baseball terms, that's giving a team a 15-out inning.
Hangover? Matter of pride now. If they flatline, something is seriously broken.
A bright spot for the Hawkeyes was Coker, who now has cracked 100 yards four times. What's his style like, and does he have the speed to exploit Michigan's soft perimeter rush defense?
MM: Coker is a power back. Think a fit Jerome Bettis. Decent feet, but straight-line battering ram at 6-0, 230. He started slowly after injuring a shoulder in camp, but has really started to "see" the game at a much higher level. He's not a great "zero to 60" running back. He's faster than he is quick. Michigan will need to be very "hat on ball," because Coker will win a lot of one-on-ones.
Denard Robinson had decent numbers against Iowa last year -- 13-of-18 passing for 96 yards, one TD and one interception, as well as 105 yards rushing -- before leaving with an injury. Do you expect the Hawkeyes to do anything differently this year to try to contain Robinson? How are they against mobile quarterbacks this year?
MM: Iowa has been awful against mobile QBs this year. Remember Steele Jantz from Iowa State? He's benched now, but against Iowa he was Cam RGIII Newton Denard. Iowa has had contain issues on the edge from minute one this season and is still vulnerable there. Indiana true freshman Tre Roberson cut up Iowa for 278 total yards. MarQueis Gray had a pass efficiency of 179.49 last week, his best since mop-up duty against Ohio State in 2009.
I could see Iowa trying a spy, but that would only open it up to explosion plays. And, I'm not sure Iowa has a player capable of spying Denard. I see Iowa trying to maintain leverage and lane discipline.
Where on the field will be Michigan's biggest matchup disadvantage Saturday?
MM: Michigan's secondary will have a hard time containing WR Marvin McNutt. He's legit 6-3, 215. He's physical with great feet and big, strong hands. He can beat you on the slant, fade and is an excellent route runner. Michigan's secondary is on the short-ish side, so that could be a problem. If I'm Michigan, though, I try to rattle junior QB James Vandenberg. He's a huge positive for Iowa's offense, but Iowa is susceptible to blitzes off the edge. The final series against Minnesota spelled that out quite succinctly.
What is the best-case/worst-case scenario for Iowa? In other words, what needs to happen for the Hawkeyes to upset Michigan? Suffer another loss?
MM: Best case: Iowa's D produces turnovers and makes Denard somewhat one-dimensional. The Hawkeyes have been surviving on fumes of stats -- red zone defense, turnover margin and penalties. Iowa is still plus-3 in turnover margin, but the 10 takeaways are 11th in the Big Ten. I'm not sure how realistic it is, but if Iowa can force Robinson to throw the ball, well, you've seen it. It's better than it was last year, but it's still not his best move. But again, I don't know how realistic that is for Iowa.
Worst case: Iowa loses a possession either through turnover or special teams meltdown and the defense is asked to play two series in a row. Iowa's depth on D is ankle deep. Quality depth leaves the room in a Dixie Cup. Injuries have piled on the LB corps, which is taped together now almost literally. If this defense is forced to extend beyond convention, it will be a step behind the rest of the game. It's a tough-minded group, but it's vulnerable in space, which is where Michigan's offense lives.
Marc Morehouse's prediction:
I think defensive stops will be a key number. Whichever D has more probably wins and I think that will be Michigan. Michigan 38, Iowa 27
Marc Morehouse covers Iowa football for the Cedar Rapids Gazette. Follow him on Twitter @marcmorehouse. Kyle Meinke covers Michigan football for AnnArbor.com. He can be reached at 734-623-2588, by email at kylemeinke@annarbor.com and followed on Twitter @kmeinke.