Posted on
Fri, Sep 17, 2010 : 6 a.m.
Breaking down the UMass-Michigan football game with Matt Vautour of the Daily Hampshire Gazette
By Michael Rothstein
The Michigan football team faces its second team in three weeks from the Northeast. However, UMass is not expected to be as competitive as its neighbor to the south and former FCS school-turned-Big East team, Connecticut.
Matt Vautour of the Daily Hampshire Gazette covers UMass football and took a few minutes to chat about the FCS-FBS letter jumble of a matchup taking place Saturday at noon on the Big Ten Network.
Q: What's been the feeling around this Massachusetts team this week, especially after James Madison winning last week? Matt Vautour: It seems like a CAA team or two upsets an FBS team every year, but those wins have usually come over lower-level FBS teams - Northwestern, Temple, etc. Virginia Tech is certainly the best team a CAA school has knocked off. That said, I'm not sure how much inspiration UMass really draws from it.
I think the players and the coaching staff (are) pretty happy to be 2-0. UMass was picked eighth in the CAA preseason poll coming off a year where it was 5-6, so having a winning record and being ranked seem like significant accomplishments. The UMass fan base is excited about this game because its Michigan, but I think most fans would be happy if the Minutemen can simply avoid getting injured or badly blown out.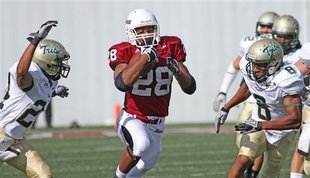 Associated Press
Q: What would you say is the biggest strength of this UMass team? Its biggest weakness?
MV:
Strengths would be running backs and linebackers. When Northeastern and Hofstra both dropped their football programs, UMass picked up a handful of their former players, including John Griffin. He's a senior running back who rushed for 1,009 yards last year for Northeastern. His arrival has given the Minutemen a nice one-two punch at tailback with Jonathan Hernandez.
I think junior linebacker Tyler Holmes is the best overall football player on UMass roster. He makes a ton of tackles most games and has a great knack for being in the right place to make big momentum plays.
"The biggest obvious weakness is inexperience. Nobody on the defensive line had ever started a game there before this year, and four of the eight guys that will play are redshirt freshmen. Beyond that, UMass has done a nice job of masking (its) weaknesses so far. But I have a feeling there will be issues that get exposed on Saturday that William & Mary and Holy Cross weren't able to exploit.
Q: Can anyone on UMass stop Denard Robinson? MV: Can anyone anywhere stop Denard Robinson? UMass hasn't faced anyone like him in a long time, and it's not like UMass has someone who can replicate what he does in practice. I'm curious to see what sort of scheme the Minutemen will use in an attempt to slow him down.
Q: What's the best case/worst case scenario for UMass? In other words, what needs to happen for the Minutemen to win? How does a blowout happen? MV: For UMass to have a chance, it would obviously need to minimize mistakes as much as possible. The Minutemen would need to avoid turnovers of their own and perhaps force a few. UMass needs to be effective on first down on offense to avoid being in long passing downs. A touchdown on defense or special teams would be big as well. They need Michigan to perhaps have a little post-Notre Dame lull and not be as focused or as sharp. After that, they'll need to be a little lucky.
A blowout seems more plausible. UMass hasn't faced a good dual-threat quarterback in a while, and if Robinson gets going early, things could unravel fast. The Minutemen can't afford to turn the ball over. Naturally, if they can avoid falling behind early, their confidence goes up. An early hole could drain their belief in their ability to win pretty fast. Q: How much will the Kansas State experience from a year ago help this UMass team? MV: I'm guessing not much. UMass has a lot of players in key spots that didn't play much in that game.
Follow Matt Vautour's stuff online at the Daily Hampshire Gazette and check him out on Twitter @GazetteUMass
Michael Rothstein covers University of Michigan basketball for AnnArbor.com. He can be reached at (734) 623-2558, by e-mail at michaelrothstein@annarbor.com or follow along on Twitter @mikerothstein